Bats fall quiet in Hudson's rough bid for history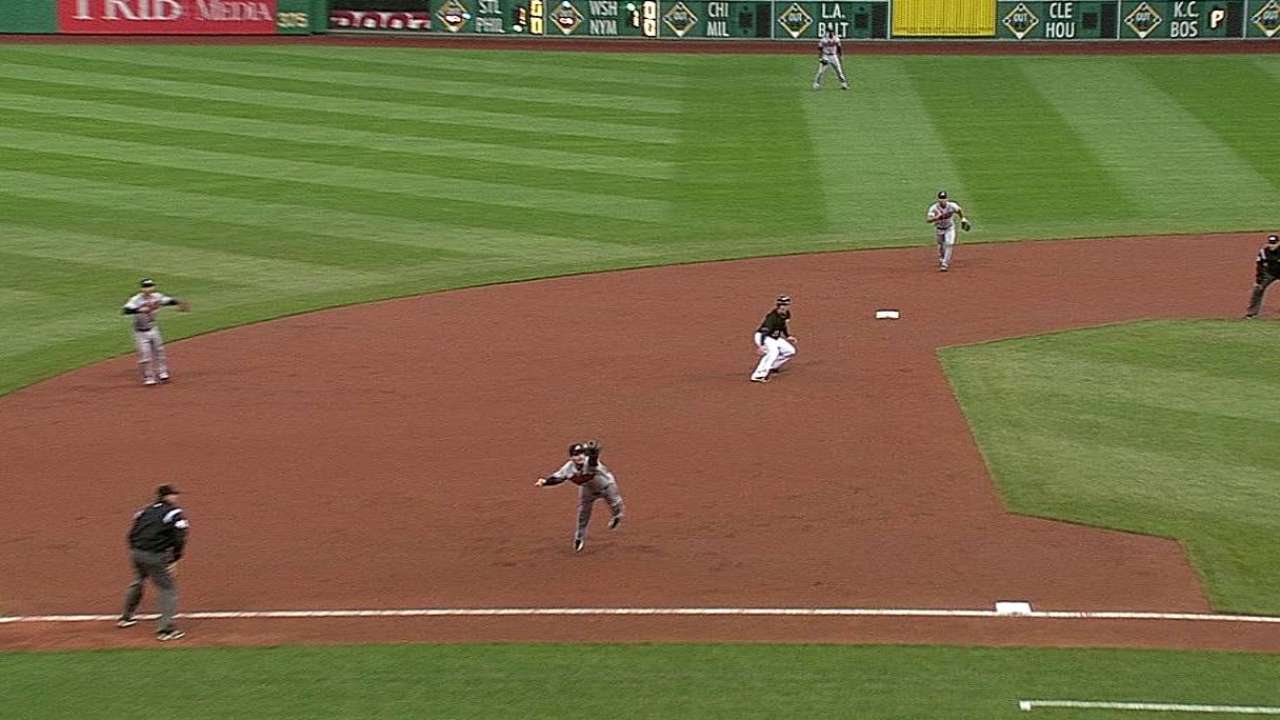 PITTSBURGH -- Tim Hudson will have another opportunity to notch the 200th win of his career next week. But the Braves will have to wait much longer to exact revenge against Wandy Rodriguez, who stands as the latest pitcher to blank Atlanta's potent offense.
As Hudson was enduring his worst start of the young season on Friday night at PNC Park, Rodriguez was leading the way for the Pirates, who faced the minimum 27 batters while claiming a 6-0 win over the Braves.
"They were pretty good tonight," Hudson said. "They had a guy on the mound tonight who was giving us fits. I had to be pretty good tonight to win, and I wasn't."
Rodriguez allowed one hit over seven innings and the Pittsburgh bullpen surrendered just one more single against the Braves, who are still undefeated when they score at least one run. They have been shut out in each of the three losses they have endured through this season's first 16 games. Two of those shutouts have occurred in the past three days
On the way to being limited to two hits for the second time this year, the Braves were limited to 27 plate appearances in a nine-inning loss for just the seventh time in franchise history. The most recent occurrence had been the perfect game Randy Johnson threw at Turner Field on May 18, 2004.
The Pirates threw just two pitches with a runner on base. They turned double plays immediately following Jason Heyward's fourth-inning single and Andrelton Simmons' ninth-inning single.
"We didn't do anything offensively to help [Hudson] out or to get back in the game," Braves manager Fredi Gonzalez said. "Wandy was pretty good. That was pretty much the game there."
While Rodriguez was breezing through Atlanta's lineup, Hudson never seemed to find comfort amid the chilly and windy conditions. The Braves veteran was charged with a season-high six earned runs and nine hits in just four innings.
"Obviously, I didn't make some pitches in some situations," Hudson said. "I just wasn't very good tonight. I didn't make some pitches. They had some pretty good at-bats. They hit some decent pitches. But it was a night where I just wasn't very good from the start."
Hudson was bidding to become the 110th pitcher in Major League history to record 200 wins. His next opportunity will come Wednesday at Coors Field, where he is 0-2 with a 8.04 ERA in five career starts.
"I obviously think about it because it's there," Hudson said. "But I don't change anything I do because of that. At some point this year, I'll get it."
Rodriguez, who has compiled a 1.88 ERA in his past 10 starts against the Braves, retired the first 10 batters that he faced before Heyward singled through the right side to account for one of the three hits he has recorded in 24 at-bats against left-handed pitchers this year. One pitch later, Justin Upton grounded into an inning-ending double play.
B.J. Upton accounted for two of the five strikeouts recorded by Rodriguez. He became the first Braves player ejected this year when he objected to plate umpire Sam Holbrook's called third strike in the seventh inning. This marked the first time Holbrook was behind the plate for a Braves game since making his infamous infield fly ruling in last year's Wild Card playoff game against the Cardinals.
"As sharp as you ever want to see a guy," Pirates manager Clint Hurdle said of Rodriguez. "From pitch one to the 82nd pitch he threw, he wasn't just getting his first pitches in for strikes, but the location of the strikes. He worked the ball glove-side. It was like throwing darts."
Hudson pitched around Travis Snider's first-inning double and then fell apart while surrendering four extra-base hits in Pittsburgh's three-run second inning. Neil Walker began the eruption with a triple that got past Justin Upton after he dove toward the left-field foul line. Pedro Alvarez followed with a two-run home run that cleared the right-field bleachers.
"He's a sinkerball guy," Gonzalez said. "I think Huddy can live with groundballs getting through the infield. That means your sinker is working and sometimes they find a hole. But the balls were up."
Jose Tabata capped the second inning with an RBI double and then began a three-run fifth with one of the two walks issued by Hudson in the fifth. The 37-year-old pitcher ended his 85-pitch outing after Garrett Jones hit an opposite-field, two-run single down the left-field line.
After lasting just 4 1/3 innings in his Opening Day start against the Phillies, Hudson allowed just two earned runs and completed 13 1/3 innings in the two starts that followed. The 37-year-old hurler has lasted fewer than five innings in four of the 19 starts he has made since last year's All-Star break.
"You've got to tip your hat to those guys," Hudson said. "They came in with a pretty good gameplan and I didn't make very good pitches. They had a guy on the other side of the field that was pretty good too. It just wasn't a very good night all the way around."
Mark Bowman is a reporter for MLB.com. This story was not subject to the approval of Major League Baseball or its clubs.