Wandy returns with masterful gem as Bucs roll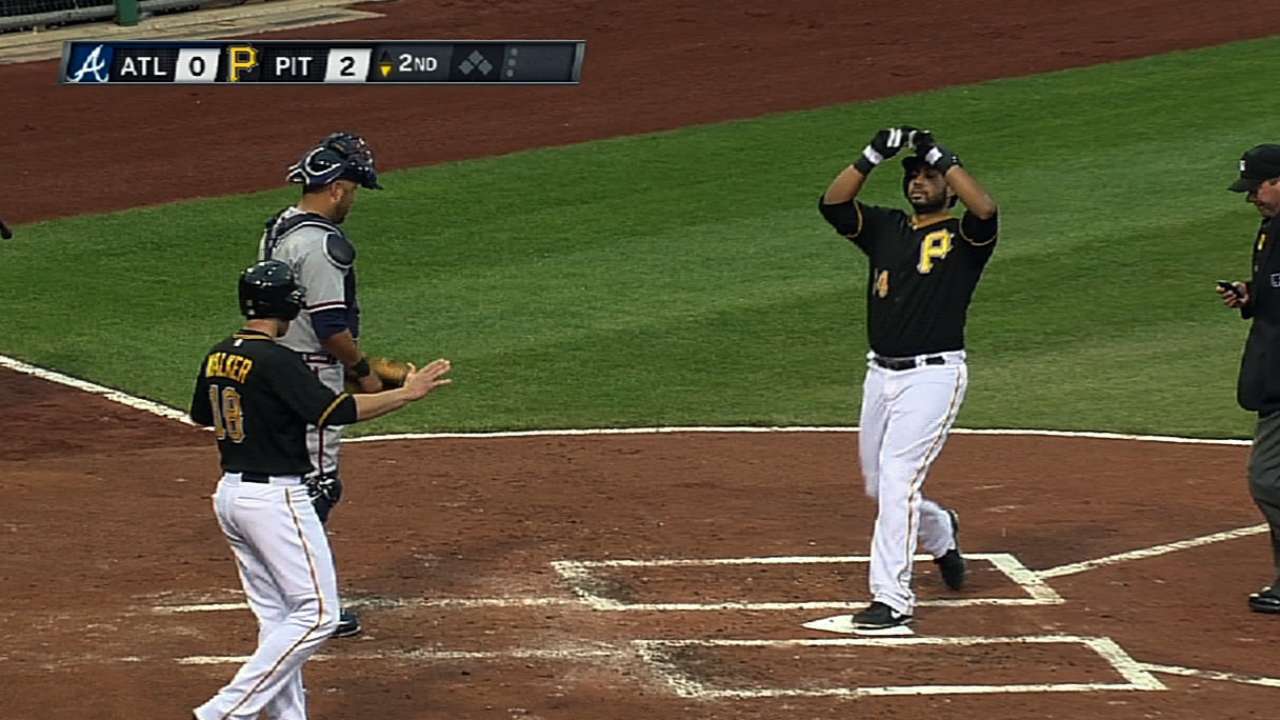 PITTSBURGH -- Pitching on a healthy left hamstring, Wandy Rodriguez hamstrung the Atlanta Braves.
Jumping back into the fray after having to skip one turn due to a strain of his left hamstring muscle, Rodriguez utterly silenced the team with the Majors' best record and most home runs, holding them to one hit through seven innings of the Pirates' 6-0 victory at PNC Park.
In becoming the second Pirates starter in three days to hurl seven innings of one-hit ball -- allowing only a fourth-inning single by Jason Heyward to echo A.J. Burnett's mastery on Wednesday -- Rodriguez faced the minimum of 21 batters. He struck out five without a walk.
After Mark Melancon and Vin Mazzaro each contributed an inning of relief while themselves facing the minimum, the Pirates had their first 27-man game since July 25, 1982 (when John Candelaria's four-hitter against the Braves came with three double plays and a caught-stealing).
Yes, it was that special, this treat for a chilly crowd of 18,705.
"It was like throwing darts, man," manager Clint Hurdle marveled about Rodriguez. "As sharp as you ever want to see a guy -- from Pitch One to the 82nd pitch he threw."
Pitching 101, Rodriguez indicated.
"The key was that my fastball location was really good," Rodriguez said through an interpreter, Pirates bullpen coach Heberto Andrade. "I could spot it wherever all the time."
The lefty's pitching and some lusty hitting spoiled Tim Hudson's first go at career win No. 200.
So, both things to which Hurdle had looked forward came up rosy.
In one pregame breath, Hurdle had said, "I'm looking forward to seeing Wandy pitch," and in the other he had said, "It will be an exciting opportunity for us not to let [Hudson] get to 200."
Rodriguez's one-hit pitching lacked the suspense of Burnett's earlier gem. Burnett sustained a no-hitter against the Cardinals until two outs in the seventh when Carlos Beltran doubled. Heyward filled the Braves' hit column with a one-out single in the fourth. Justin Upton followed with an inning-ending double play to keep Rodriguez's workload at a minimum.
"That fastball command … he was throwing on a downhill plane, getting that and the breaking ball to both sides of the plate," Hurdle said. "Just excellent. Very aggressive, really good with the first-pitch strikes, working ahead and avoiding deep counts against a good hitting team. It was just what we needed."
It also was what Rodriguez has been giving the Pirates since general manager Neal Huntington acquired him from Houston a few days prior to last July's Trade Deadline. Since beginning his Pirates tenure with a couple of shaky transition starts, Rodriguez has gone undefeated in 10 starts with an ERA of 2.14.
"He's pitched some pretty good games for us," Hurdle nodded, "but this one jumps right out."
When Rodriguez felt the hamstring strain 11 days ago in Chase Field, he tried to loosen the tightness by going through gyrations that Hurdle likened to "some kind of a Pilates class."
Rodriguez took the Braves to a different sort of class Friday night. Of the 21 men he faced, he started off 15 with first-pitch strikes.
"I've never seen him not pitch well," said Braves manager Fredi Gonzalez. "It seemed like when he was with Houston and faced us, he was a guy who gave us fits. He's a left-hander that cranks up 91, 92 mph, has a good curveball and knows how to pitch. You never get a good pass at him."
Hudson's 200th win began to elude him early, with an extra-base barrage in the second inning. Neil Walker tripled, Pedro Alvarez yanked his second homer in as many games over the right-field stands, Russell Martin doubled and another double by Jose Tabata scored him for a 3-0 lead.
"You've got to tip your hat to those guys," Hudson said. "They came in with a pretty good gameplan and I didn't make very good pitches. They had a guy on the other side of the field that was pretty good too. It just wasn't a very good night all the way around."
Three innings later, Garrett Jones' two-run single chased Hudson on a 5-0 hook. The opposite-field liner continued an impressive spree by Jones, who has hit .428 (12-for-28) in his last nine games, raising his overall average from .167 to .326.
"We're doing a good combination of everything right now: Hitting with some power to do some damage, but also grinding out at-bats and taking our singles," Jones said. "It's good to get off to a good start; in the past, it's taken our offense a while to get going."
By the time of Hudson's departure without recording an out in the fifth, the only remaining intrigue concerned Rodriguez's ability to perpetuate a rather odd Braves trend: Through 15 games, when they scored, they won, their only two losses coming in 2-0 and 1-0 shutouts by Philadelphia and Kansas City, respectively.
Rodriguez did his part, then Melancon and Mazzaro did theirs to let the Braves keep that weird distinction. Mazzaro gave up a leadoff infield single in the ninth to Andrelton Simmons but he, too, was erased on a double play, off Gerald Laird's bat.
Tom Singer is a reporter for MLB.com and writes an MLBlog Change for a Nickel. He can also be found on Twitter @Tom_Singer. This story was not subject to the approval of Major League Baseball or its clubs.