Pagan clubs winner in Giants' walk-off victory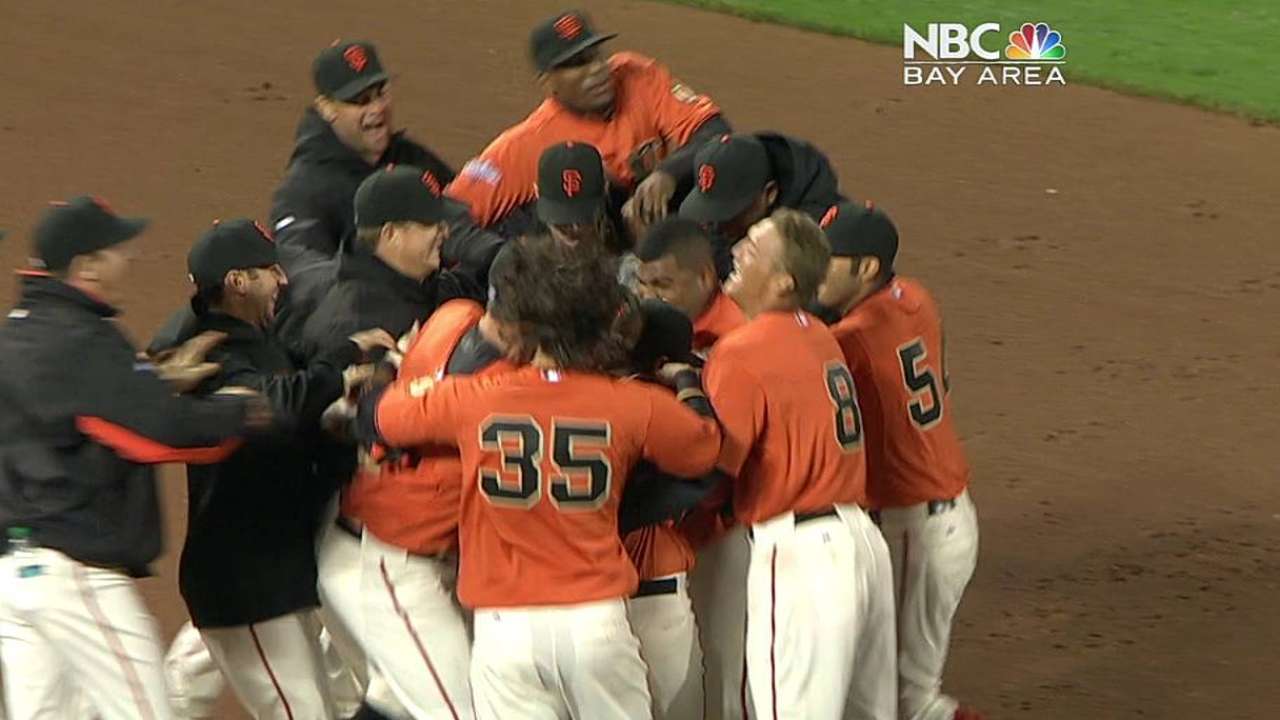 SAN FRANCISCO -- The Giants prevailed Friday night over the San Diego Padres, 3-2, but they did just as much to lose the game as they did to win it.
Madison Bumgarner threw 25 pitches in the first inning. Giants hitters went 0-for-8 with runners in scoring position against Padres starter Edinson Volquez, who began the game with an 11.68 ERA. Bumgarner executed a slug-bunt attempt perfectly in the sixth inning but nearly hit into a triple play. And Andres Torres botched a sacrifice-bunt try in the ninth.
None of that mattered as Angel Pagan drove in Torres with a one-out double in the ninth inning off Luke Gregerson, breaking a 2-2 tie and vanquishing any lingering disappointment from the three-game sweep San Francisco absorbed in Milwaukee.
The climactic ninth typified the Giants' performance. Gregor Blanco led off by attempting one of his self-described "push/slaps," in which he breaks from the batter's box as he tries to punch the ball on the ground by an infielder. Much to his dismay, Blanco popped up.
"I was disappointed," he said.
But his dejection quickly vanished as the ball fell between shortstop Everth Cabrera and left fielder Kyle Blanks for a bloop single. It was Blanco's third hit of the game.
Up came Torres, who bunted directly to Gregerson -- the one man he was trying to avoid. Gregerson forced Blanco at second base. Torres ached for a chance to atone for his poor execution as he listened to first-base coach Roberto Kelly.
"You want to try to get your job done," Torres said. "But I forgot about that. [Kelly] told me to get a good jump and go."
Torres did exactly that, dashing to second base to record his first steal of the season. Impressed by Torres' clean break, Pagan didn't want to spoil his teammate's theft by fouling off a pitch.
"I wasn't going to swing," Pagan said. "I could see him in the corner of my right eye. He got an incredible jump."
It paid off as Pagan lined Gregerson's 2-0 slider to the right-field wall. Torres scored easily, giving Pagan his sixth go-ahead RBI of the season. He ranked second in that category among National Leaguers entering Friday.
"In those situations, you want to be the guy," Pagan said.
Earlier, Bumgarner wasn't just the guy for the Giants. He was The Man. Seeking his fourth consecutive victory, Bumgarner settled for an impressive no-decision. The left-hander struck out 10 batters in six innings, the ninth double-figure strikeout game of his career.
"We had some good swings early but in the middle part of the game, he locked in," Padres manager Bud Black said. "He got it together. We couldn't get anything going. It was good to get on the board early against him."
Bumgarner left with the score even, 2-2, though he nearly gave himself a lead before he officially left the game. Brandon Belt and Blanco singled to open the Giants' sixth, setting up a sacrifice-bunt situation. Nick Noonan, the would-be pinch-hitter, was called back from the on-deck circle so Bumgarner could bat. Instead of bunting, Bumgarner swung and hit a sharp grounder past third baseman Headley. But Cabrera, moving over to cover third base, was in perfect position to field the ball. He tagged Belt and relayed the ball to second baseman Jedd Gyorko, whose throw to first was in the dirt. Hustling up the line, Bumgarner might have been safe anyway. But the Giants knew that they barely avoided the ignominy of a triple play, despite Bumgarner's admirable effort.
"He did what you're supposed to do on that play. He smoked the ball," Giants manager Bruce Bochy said. "It was a smart play on his part. It was just bad luck."
Buster Posey provided encouragement for the Giants by showing signs of emerging from his offensive funk. He doubled in two at-bats and was involved in generating San Francisco's first two runs. Posey lifted a first-inning sacrifice fly before walking and scoring in the third on Hunter Pence's double.
Current events made this evening at AT&T Park more emotionally charged than usual. A pregame moment of silence was observed for the victims of the Boston Marathon bombings and for Mae Louise Allen Mays, the wife of Giants great Willie Mays, who died Friday at 74.
Everybody in the park, it seemed, knew of the capture of the second Boston Marathon bombing suspect. That was apparent as fans stood between halves of the eighth inning and, instead of being serenaded by Journey, enthusiastically sang Neil Diamond's "Sweet Caroline," the unofficial Red Sox anthem.
"That was touching," Bochy said. "It was nice to honor Boston."
Chris Haft is a reporter for MLB.com. This story was not subject to the approval of Major League Baseball or its clubs.