Rested Angels roll against Torii's Tigers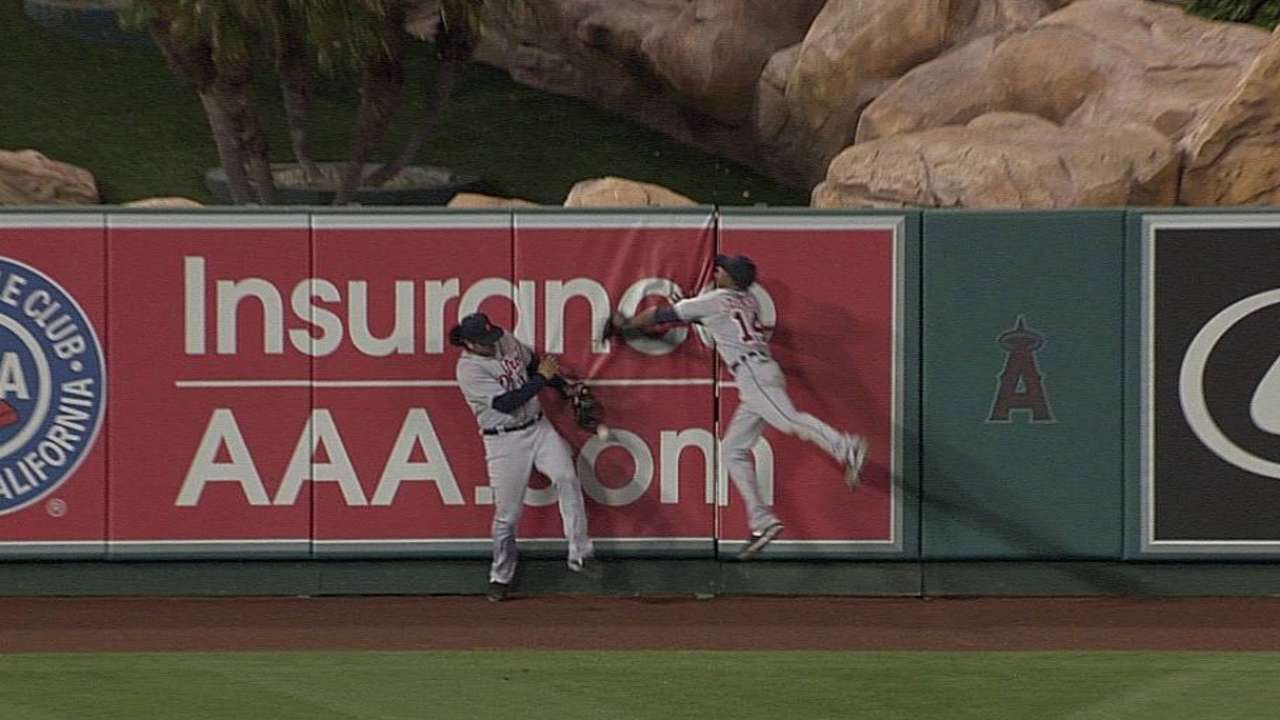 ANAHEIM -- Prior to Friday's contest, Angels manager Mike Scioscia said Wednesday's postponed game was a disappointment because "when you're trying to find it, as we are, you want to get right back out there and keep playing."
As it turns out, the extra day of rest -- coupled with a return home -- may have been exactly what the team needed as it defeated the Tigers, 8-1, to open a six-game homestand. The Angels have now won three in a row at Angel Stadium.
Albert Pujols, Mike Trout and Peter Bourjos combed for seven of the Angels' 16 hits and seven RBIs, Tommy Hanson turned in six scoreless innings, the defense delivered some key plays and Sean Burnett escaped a tough late-inning jam in what may have been the club's most complete game of the season -- the type of game it has needed badly.
"It was a total team effort," said Hanson, who improved to 2-1. "We pitched well, played good defense and put up some runs against a really good Tigers team. Obviously that's what we all want to see, and I don't feel like anyone has panicked in this clubhouse. We know we have a good team and we know we are going to play well. It was a good day for all of us."
After allowing five runs in five innings during his last start, Hanson worked around trouble against the Tigers. He allowed runners to reach base in each of the first five innings, but stranded all of them. The right-hander threw 102 pitches, allowed six hits, walked four and recorded his 600th career strikeout.
"Tommy was on the edge for a while, and he had some good hitters he had to get out," Scioscia said. "He was walking that tightrope, walked four guys, but when it was all said and done, that's a strong outing against a good offensive team, and Tommy pitched well."
The Angels used five pitchers to shut down the defending American League champions, who began the game with five players batting over .300, including Torii Hunter, who received a standing ovation prior to his first at-bat at Angel Stadium since departing the club in free agency over the winter.
"There's not a lot of rocket science to this stuff," Tigers manager Jim Leyland said. "It's pretty simple, we just didn't have a very good game all around. We got hits, we just couldn't get the big hit. We didn't make a couple of plays that we normally make. We just didn't have a good time. We didn't have a very good game tonight."
Hanson was not the only Angels pitcher who had to escape trouble on the night. While the Angels' bullpen has been maligned all season, Burnett came in during a seventh-inning jam and produced the kind of results the Angels were hoping for when they signed him.
With two on and one out -- and the Angels clinging to a 2-0 lead -- Burnett came on to face Miguel Cabrera and Prince Fielder. Cabrera singled to load the bases, but Burnett got Fielder to ground into a double play, ending the threat.
Offensively, the Angels entered the game hitting a Major League-worst .155 with runners in scoring position, but went 5-for-9 with a sacrifice fly on Friday. They have 10 hits in their last 22 at-bats with runners on second and/or third.
Hitting with runners in scoring position was not the only sign of the Angels' bats coming to life, as the team scored seven of its runs with two outs.
Offensively, the Angels gave their pitchers a 1-0 lead in the third inning, but really blew the game open in the eighth, when Bourjos' three-run triple highlighted a five-run inning.
"There's no doubt as the game went on I think our at-bats got better and we had our share of clutch hits tonight," Scioscia said. "It made a big difference."
William Boor is an associate reporter for MLB.com. This story was not subject to the approval of Major League Baseball or its clubs.