Offense breaks free to back Halladay's strong outing
Phillies snap streak with no walks, losing streak at four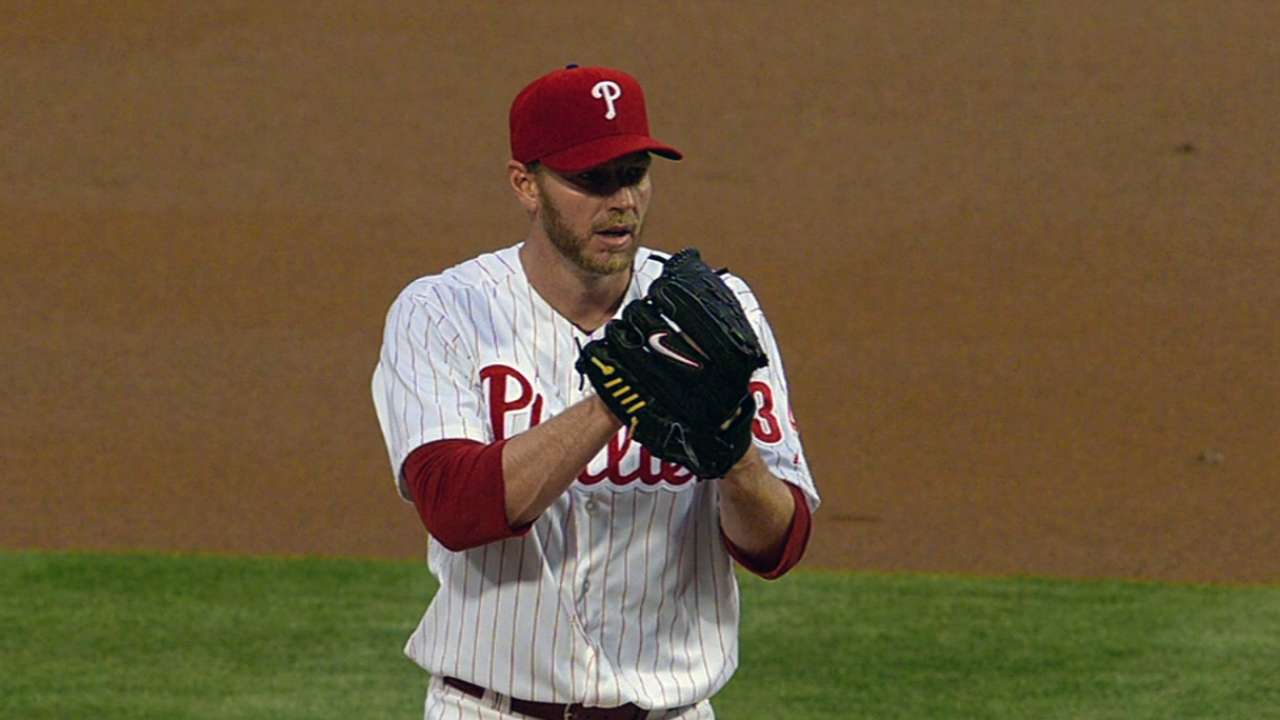 PHILADELPHIA -- The Phillies promised they eventually would work a walk, make a pitcher sweat and maybe even score a few runs.
It had been a while since the offense showed much of a pulse. But the Phillies finally backed up their words Friday night in an 8-2 victory over the Cardinals in a game at Citizens Bank Park called before the middle of the seventh inning because of rain. An anemic offense, which entered the night 26th in baseball with 3.44 runs per game, finally did the things it is paid to do. And in the process it accomplished something else: it nearly pushed one of those obsessively dissected Roy Halladay starts to the side.
"It is a big difference pitching with a nice lead," said Halladay, who allowed two hits, two runs, two walks and struck out six in seven innings. "Get five early, give one back and they come back and get you three more. It doesn't happen very often, but it makes it a lot better because you can be aggressive and you are a lot less tentative and tight. You can be aggressive and attack guys."
The Phillies took a 5-0 lead in the first inning. It started with Chase Utley's two-out walk, which snapped their streak of four consecutive games without a free pass. The Phillies were just the fourth National League team since 1935 to go that long without a walk. They also avoided tying the single-season record of five consecutive games without a walk, which the Phillies set in 1920.
"We finally got a walk," Phillies manager Charlie Manuel said.
Michael Young followed, and singled in a 10-pitch at-bat against Cardinals left-hander Jaime Garcia to put runners at the corners.
"When you see someone battle that long and get a hit and do something, I feel like that always changes a lot of approaches on guys," Kevin Frandsen said. "I think it just started right there."
John Mayberry Jr. doubled to score Utley, but the Phillies got a big boost when former teammate Ty Wigginton committed a throwing error from third base to allow two runs to score to give the Phillies a 3-0 lead. Ben Revere tripled for his first extra-base hit of the season and Humberto Quintero doubled to make it 5-0.
The Phillies scored their first runs before the sixth inning since April 10 and scored four or more runs in a game for the first time since April 10. They hit Garcia in the process, which was no small feat. They entered the game hitting .131 against left-handers, which was the worst mark in baseball.
Halladay got some positive results, which is encouraging for him. Both hits and runs came on solo home runs from Carlos Beltran and Matt Holliday. He worked behind in the count most of the night, throwing first-pitch strikes to just 11 of 25 batters he faced, but he persevered.
"I already looked at all my at-bats during the rain delay," Wigginton said. "I got one pitch to hit in three at-bats. He looked good. You see a lot of pitches at the knees on the outer corner. We got two hits in the game, so obviously he was doing something right."
"He wasn't sharp as he can be early," Cardinals manager Mike Matheny said. "We had an opportunity to make a couple things happen, but once he got on a roll, he is the caliber of pitcher who can stay on the roll for a while. He was working deeper counts, but we just weren't able to capitalize."
But it was a good follow-up to Sunday's start against the Marlins, when Halladay allowed five hits and one run in eight innings. The Marlins have the worst offense in baseball, averaging only 2.06 runs per game. The Cardinals were a much better test, ranking fifth at 5.53 runs per game.
"Today was about as close as I felt that I wanted to be," Halladay said. "There were some times when I got away from it just trying to do too much. I think when I stay within myself and execute the mechanics the way it should be done, I feel good and feel good where I'm at."
Halladay threw 109 pitches, but just 59 were strikes, which is out of character for him. He has room to improve.
"You're always that way," he said. "I think that if anybody ever tells you that they're right where they want to be, then there's going to be hard times coming up. You always want to improve. You always want to get better. You always want to be more consistent. That's the goal. That's always been the goal. It was a little tougher this winter because of all the changes we made and all the different things we did, so it was definitely tougher. It took longer than I wanted it to. It feels good when you have the good feeling and you know you're doing things right and that you know you can correct it when you don't do it right."
Todd Zolecki is a reporter for MLB.com. This story was not subject to the approval of Major League Baseball or its clubs.