Mariners fall after Saunders' rocky outing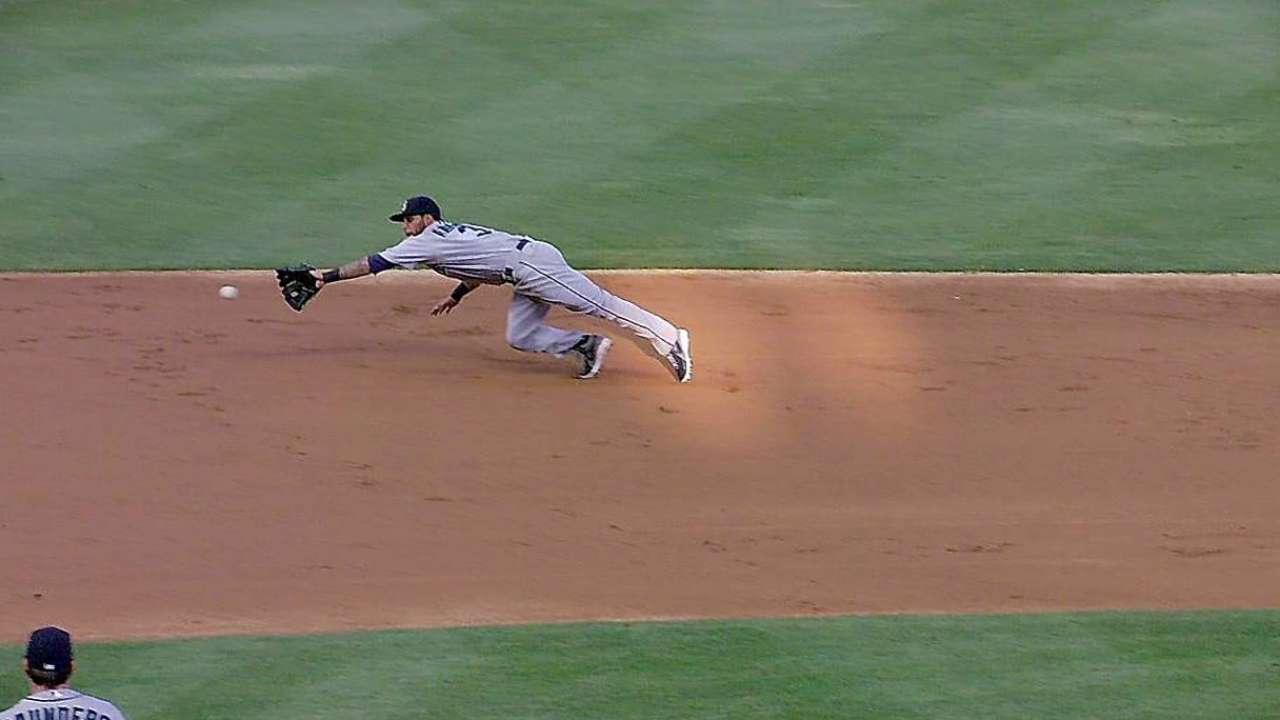 ARLINGTON -- Yu Darvish has had his difficulties with the Mariners since joining the Rangers last season, but the Japanese ace turned that around Friday as Texas steamrolled Seattle, 7-0.
Darvish came into the game with a 2-3 record and 6.21 ERA in five starts against the Mariners while going 16-7 with a 3.41 ERA against the rest of baseball. That trend was nowhere to be seen in the series opener at Rangers Ballpark, however, as the 26-year-old threw seven scoreless innings with just three hits and 10 strikeouts.
"I thought he pitched a little different today and was probably better this time," said Mariners skipper Eric Wedge, whose team topped Darvish 3-1 a week earlier in Seattle. "You saw all the breaking balls he threw last time. I think he used his fastball more effectively and still used his breaking ball good. He had better command. He pitched a good ballgame."
Darvish allowed baserunners in each of the first four innings, but kept Seattle off the board and then retired 11 of the last 12 batters he faced. He's now 3-1 with a 2.03 ERA for a Rangers team that improved to 10-6.
Mariners southpaw Joe Saunders took the loss, allowing nine hits and seven runs in 4 2/3 innings as he fell to 1-2 with a 4.50 ERA. Saunders hadn't given up an earned run in 13 1/3 innings over his previous two starts, but his night ended early when Texas erupted with a six-run fifth.
"It was just one of those weird innings where you make a pitch and they find a hole," said Saunders. "You just have to tell yourself to keep making pitches and hitting spots and things will turn around. But it just snowballed on us and we just couldn't get out of it."
Wedge is more concerned with his team's lackluster offense than the pitching, given his starters had posted a 1.40 ERA and five quality starts over the previous six games.
"I thought Saunders had good stuff tonight. I really did," Wedge said. "That one inning he just came up a little bit and started working behind. They're a good-hitting ballclub and that's when they got to him."
Saunders has a history of problems at Arlington, where he's now 0-7 with a 9.90 ERA in seven regular-season starts, the first six coming with the Angels. He did beat the Rangers in the American League Wild Card game last October at Rangers Ballpark while with the Orioles, but that fortune didn't carry over for long with his newest club.
After first baseman Jeff Baker smoked a 421-foot opposite field homer in the second inning for the Rangers' first run, Saunders held Texas in check until getting knocked out by four hits and two walks in the fifth.
The final blow was a hard line drive by Craig Gentry that was ruled a two-run triple after it bounced over the head of left fielder Raul Ibanez as he slipped while running to his left to cut it off.
Saunders' biggest regret was the two walks that inning, which added fuel to the Rangers' fire.
"That wasn't too good. Walks don't help," he said. "They were close pitches where they just missed. At that point, you tell yourself not to be too fine, but when stuff starts to not go your way, subconsciously you try to get more perfect than it needs to be."
Hector Noesi, just promoted from Triple-A Tacoma on Thursday, replaced Saunders and immediately gave up a run-scoring double to Ian Kinsler that made it 7-0 before getting the final out in the fifth.
The six runs doubled the Rangers' highest-scoring inning of the season and the seven total runs equaled their season-high.
"We haven't been really performing offensively like we feel we can and it's good to come home and start the series off swinging the bats a little bit," said Gentry, who doubled and tripled for two of his team's five extra-base hits.
Noesi wound up retiring the last 10 batters he faced to keep the score at 7-0, one of the lone positives on a lackluster night for Seattle.
"That was big," Wedge said. "Hector really stepped up for us because we've been pushing those guys in the 'pen. So for us to be able to give them a night off like that, that's why we brought Hector up here and that will make us stronger tomorrow and the next couple days."
Mariners third baseman Kyle Seager doubled in the third to run his hitting streak to eight games. Of his 14 hits this season, nine have been doubles, the most in the Majors.
But the Mariners totaled just five hits and advanced just one runner past second when they loaded the bases in the eighth. With 13 strikeouts, the club has now whiffed 44 times in 32 innings over the last three games while facing Max Scherzer, Justin Verlander and now Darvish.
"That's three pretty good arms and that's kind of what they do," said Seager. "But that's on us. We obviously need to do a better job putting the ball in play. But you've got to give credit to Darvish tonight. He threw the ball well."
Greg Johns is a reporter for MLB.com. Follow him on Twitter @GregJohnsMLB as well as his Mariners Musings blog. This story was not subject to the approval of Major League Baseball or its clubs.