Chisenhall's homer not enough against Astros
Indians' lack of timely hits costly as Myers struggles on mound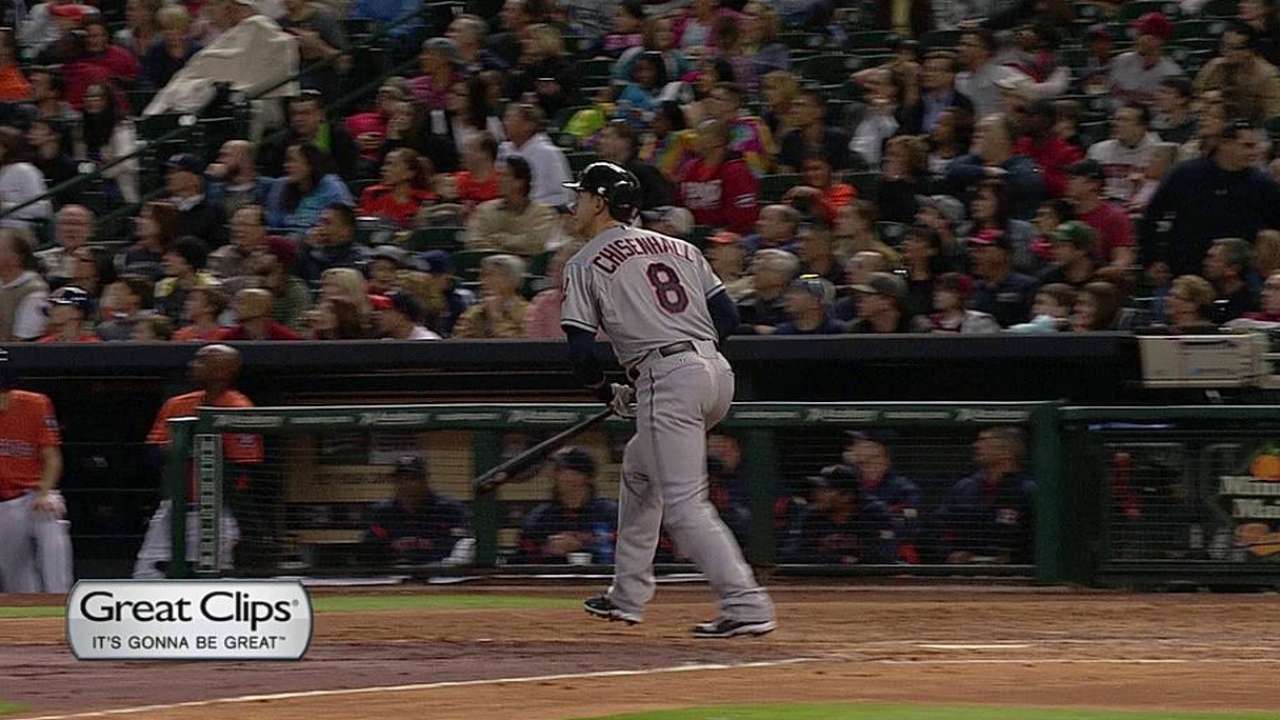 HOUSTON -- Friday night's 3-2 loss to the Astros left the Indians searching for answers. No one doubts the amount of talent on this team, but the offense has been missing in action.
Cleveland dropped its fifth straight without scoring more than three runs in any of those losses.
"We did have opportunities," manager Terry Francona said. "I think what happens, sometimes guys try too hard."
It's a very old baseball cliché that teams that aren't scoring, start pressing at the plate.
"A little bit," second baseman Jason Kipnis said. "That's just the nature of the game. Guys at this level know how to handle it. That's where veterans come in to play and help the younger guys.
"We're struggling a little bit. No one is that worried here yet. No one likes to use the saying 'it's still early.' We know the potential this team has. We can start rattling off wins."
Friday's loss dropped the Indians to 5-10.
"There's no excuse," veteran right fielder Nick Swisher said. "We're just not getting it done. We're still trying to find the identity of this team. As a team in general, we're starting to learn. We're having better approaches at the plate. We've got to put up three runs in the game tonight. Hey man, it is frustrating."
The Indians can sense they are close to doing something good.
"One thing turns around, and then it grows into something big," Swisher said. "The talent this team has [is good]. Our job as the veteran guys is to step it up and get everybody going in the right direction. We've got a lot of young guys here. We're trying to get on the same page. This team does have a very, very good chance of doing some special things. We haven't been doing it."
When given chances, the Indians came up empty, except for Lonnie Chisenhall's two-out, two-run homer in the fourth inning that closed the gap to 3-2.
Swisher ground into a double play with two runners on in the third, Asdrubal Cabrera ground into a double play in the fifth with two runners on and Mark Reynolds grounded into another double play with two on to end the eighth.
"They turned some double plays that took us out of chances to score some runs," Francona said. "We had opportunities to win that game because of our pitching."
The Indians simply couldn't deliver with the bats.
"There's going to be different break points in the game, and when you win those break points you put yourself in the best position to win the ballgame," Astros manager Bo Porter said. "We were able to do that tonight and [our] guys continued to make quality pitches to get out of those tough jams, and defensively, we made the plays when we needed to make them." Cleveland starter Brett Myers (0-3) gave up back-to-back homers in the second inning, a two-run shot by J.D. Martinez and a solo home run by Rick Ankiel, and that was about all.
"The second inning the balls were a little slick," Myers said. "When it's windy like that, the balls are slick. That's not an excuse. It didn't cost me with the pitches I threw. It was just being behind. The 1-0 pitch [to Martinez], I just fell behind. The 3-2 pitch to Ankiel, I didn't want to walk him.
"When I was able to throw the ball after the second inning, got a grip on the ball, it was a little better. I battled, trying to keep my team in the game."
Myers isn't completely healthy.
"I've been fighting some tendinitis in the flexor tendon," he said. "My velocity went down. I don't know why. I don't feel any [pain] when I pitch. I lost. I'm never encouraged by a loss. That's baseball. You get them next time."
The home runs off Myers were the fifth and sixth he's allowed this year.
"I've been a fly-ball pitcher my [whole] career," he said. "I've given up homers, but not at this rate. Have to get the ball down and make better pitches."
Francona knew he wasn't watching vintage Myers.
"His velocity is a little bit down tonight," Francona said. "So there's less margin for error. Once he gave up the home runs early, he kind of buckled down and gave us five [innings]. He threw an assortment of offspeed, breaking ball, sneak a fastball in there. He was pretty effective. He got us to the point where we thought we could turn it over to the bullpen, which we did."
Kipnis, recovering from a sore left elbow, played for the first time in a week. He felt fine, going 2-for-4 with a walk and his first stolen base.
"Not bad," he said. "There was a little bit [of pain] in the first inning. I think the adrenaline took over after that. I had no problems the rest of the game."
Kipnis entered the game hiting a mere .125.
"I almost doubled my season total [for hits]," he joked. "Hopefully, it's a sign of things to come."
Francona was happy to see Kipnis back in the lineup.
"He's a big part of what we're doing," Francona said. "He felt good, he felt healthy. He can help you with his legs, he can help with his glove, he can help you with his bat."
Gene Duffey is a contributor to MLB.com. This story was not subject to the approval of Major League Baseball or its clubs.