In marquee matchup, Harvey outduels Strasburg
Backed by two-homer games from Ike, Duda, righty goes seven strong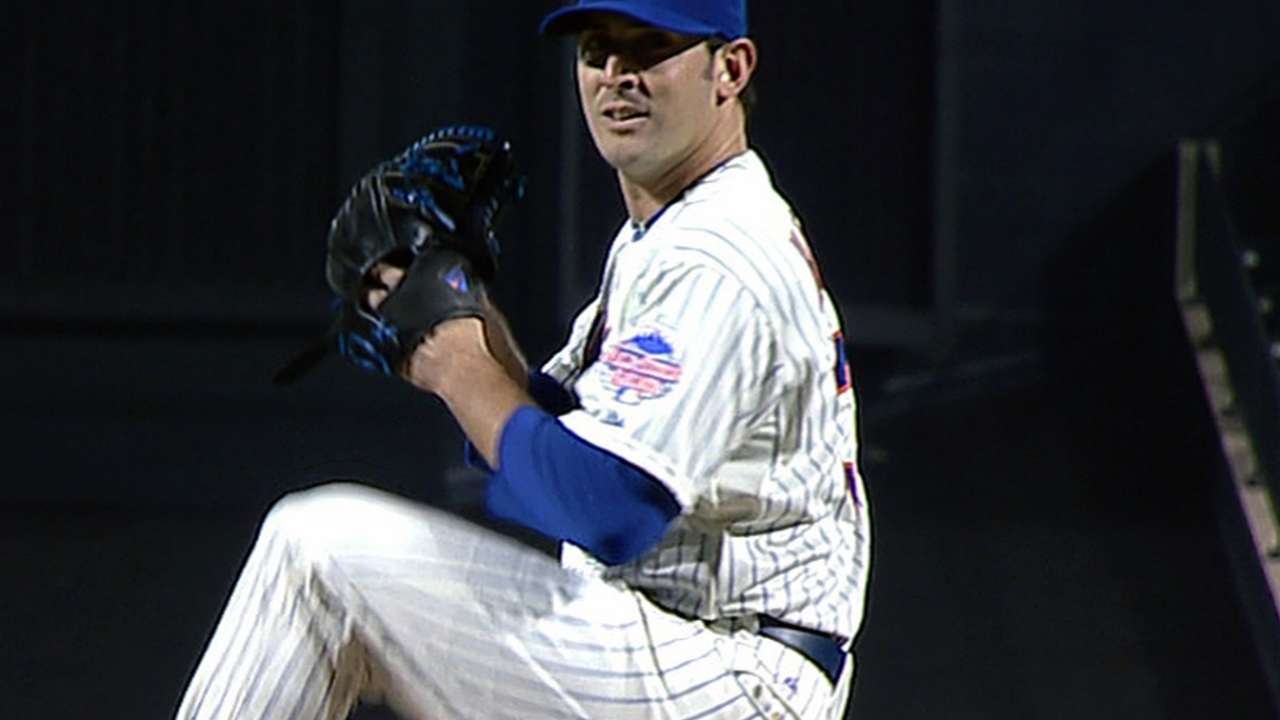 NEW YORK -- Throughout his first nine months as a big leaguer, Matt Harvey's outward intensity has served as one of his defining characteristics. But even the Mets had rarely seen him like this. Hours before his most-anticipated start of the season, Harvey, in the words of his manager, "was a little grouchy."
"He's usually not quite that grouchy," Terry Collins said Friday afternoon, eyes wide. "When your manager walks up to you and the first thing you want to do is bite his head off, you're a little bit on edge."
If anyone had a chance to funnel that intensity against Stephen Strasburg and the Nationals, it was Harvey, whose goal of becoming the best pitcher in baseball no longer seems like a pipe dream. Harvey responded to his marquee billing by striking out seven over seven innings of one-run ball at Citi Field, outdueling Strasburg in a 7-1 Mets victory that included multihomer efforts from Ike Davis and Lucas Duda.
"That's what's fun about our game is when you have two aces -- two guys who are very, very good -- facing each other," Collins said. "It makes for a great night for the fans and for each team."
Brilliant from the start, Harvey's most impressive work came after Daniel Murphy committed a throwing error on a potential double-play ball in the seventh. With one run already on the board, that gaffe allowed the Nationals to load the bases with no outs in a three-run game.
But approaching 100 pitches for the evening, Harvey struck out Kurt Suzuki on a slider off the plate, induced pinch-hitter Roger Bernadina's popup and forced Denard Span to ground out. He walked off the mound to a standing ovation.
"That was a big challenge," Harvey said. "At any point it felt like it could have unraveled and things could have gone the other way. That was definitely a big part of winning the game."
"We had the right guys," Nationals manager Davey Johnson said. "We had pitches. We didn't get the hit."
Attempting to beat Strasburg for the first time in four career tries, the Mets received all the offense they would need during an error-aided rally in the first. After Ian Desmond's bobble allowed Jordany Valdespin to reach base with no outs, Murphy singled and Valdespin scored on a wild pitch. With two outs, catcher John Buck then reclaimed the National League RBI lead (20) with a run-scoring single.
The Mets hit Strasburg relatively hard all night, shooting balls to the warning track in the first and fifth innings. But it was not until the sixth that they broke the game open on solo home runs from Davis and Duda. Both sluggers added their second home runs of the night off Drew Storen in the eighth.
"Strasburg obviously made me look foolish the first two at-bats," said Davis, who drew a smattering of boos from the Citi Field crowd following strikeouts in the first and third innings. "I didn't want to miss the fastball over the plate."
He didn't, and those boos quickly turned to cheers from a stadium full of fans that did not need much encouragement. Despite cool temperatures and whipping winds at Citi Field, an announced crowd of 26,675 seemed to grow louder as the game progressed.
After Duda crossed home plate following his first home run, Mets fans began chanting, "Harvey's better!" as Strasburg attempted to regroup on the mound.
At least on this night, Harvey clearly was. Relying more than usual on his slider and changeup early in the game, Harvey struck out three of the first six batters he faced and five of the first 13. He finished with seven strikeouts and three walks, increasing his total to 32 strikeouts in 29 innings this season. Harvey is now 4-0 with a 0.93 ERA.
"There was definitely some electricity out there tonight," Duda said.
Harvey seemed so amped early that Collins worried about his stamina. Throwing his fastball no slower than 96 mph in the first inning, Harvey, in the words of his manager, seemed to be engaging in a "Who can throw harder?" contest with Strasburg.
"He functions on such a high octane already," said Buck. "To be honest, I really don't think he cares who he's facing."
Of course, if Harvey keeps pitching like this, who he is facing will not often matter.
Anthony DiComo is a reporter for MLB.com. Follow him on Twitter @AnthonyDicomo. This story was not subject to the approval of Major League Baseball or its clubs.