Fernandez has rough introduction to Cincinnati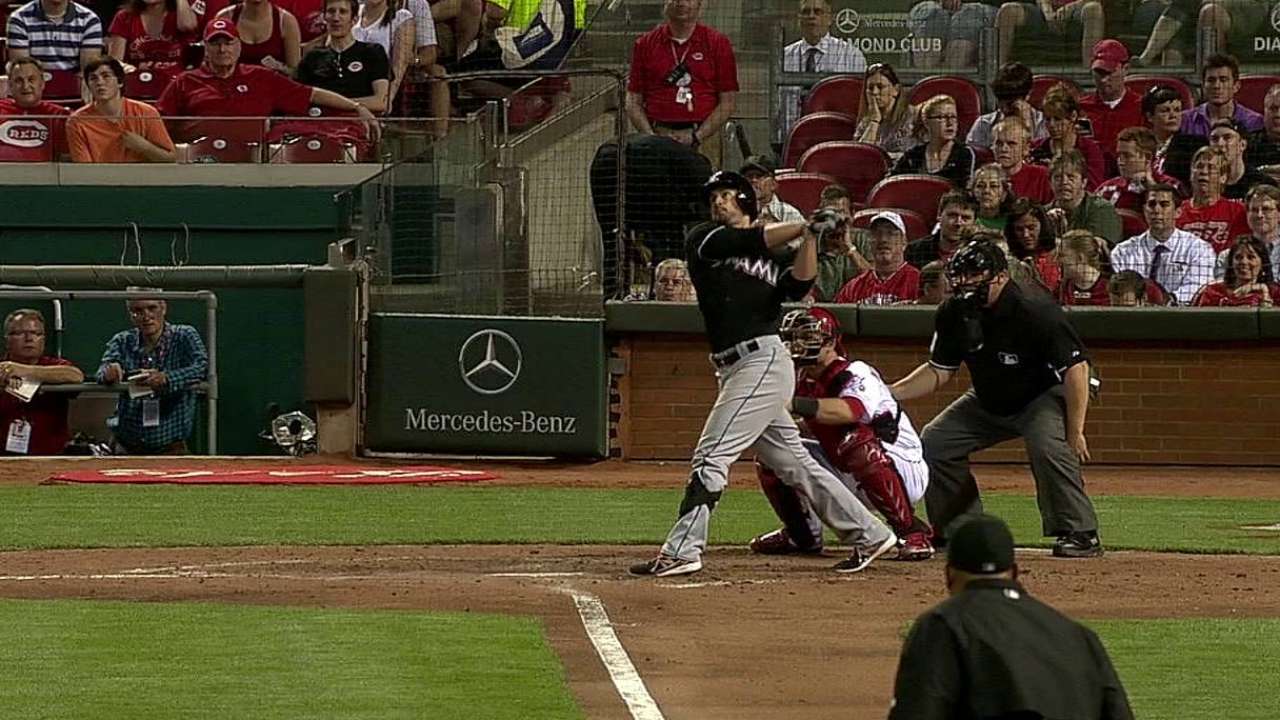 CINCINNATI -- If his first two outings were any indication, Jose Fernandez is going to have a promising big league career. His third outing, however, is one that the Miami Marlins rookie will likely want to forget.
Fernandez -- who is rated seventh among MLB.com's Top 100 Prospects -- allowed only one run in each of his first two Major League starts, but he gave up five in four innings on Thursday as the Marlins lost, 11-1, to the Reds at Great American Ball Park.
"Today was one of those days that whatever you throw is going to get hit," Fernandez said. "It doesn't matter where you throw it or how you throw it. It's going to get hit."
The 20-year-old didn't allow a hit in his first trip through the order before yielding back-to-back singles to Shin-Soo Choo and Zack Cozart with two outs in the third. Choo scored on a wild pitch, but Fernandez limited the damage by striking out Brandon Phillips.
"Anytime you face somebody new and the guy is pumping in 95-plus and throwing -- for the most part -- sliders for strikes, [it's tough]," Cozart said.
In the fourth inning, however, Fernandez ran into trouble. The Reds sent eight batters to the plate, scoring four runs on four hits -- two of the two-out variety -- to take a 5-1 lead. Choo, Cozart and Xavier Paul all had RBI hits, while Devin Mesoraco's sacrifice fly scored Todd Frazier.
"That's part of learning in the big leagues," Marlins manager Mike Redmond said of Fernandez. "You realize how fast things happen. You learn how fast things can head south."
Miami's offense couldn't keep up.
The Marlins put a runner on second base in each of the first four innings but scored just once -- on a homer by Justin Ruggiano to lead off the fourth. Chris Coghlan doubled to lead off the third, but Chris Valaika struck out, Placido Planco popped out to second and Greg Dobbs struck out.
The Marlins entered Thursday's game with the worst run-differential in the Majors (-32) and were last in batting average (.209), OBP (.272) and slugging percentage (.271). They've now scored three runs or fewer in 14 of their 16 games, including one run or fewer in eight.
Facing a rookie who was making his first big league start couldn't buck the trend.
Tony Cingrani, who was called up after Johnny Cueto was put on the disabled list, got into trouble in seemingly every inning but worked his way out of it. The 23-year-old lefty -- No. 66 on MLB.com's Top 100 Prospects List -- allowed one run on five hits in five innings, striking out eight and walking three. He threw 102 pitches -- 65 for strikes.
"He looked good," Redmond said. "He's got a pretty effortless 95. He's got good stuff. He's aggressive with his fastball. I thought he looked good."
Cingrani, who had a 0.00 ERA and 26 strikeouts in 14 1/3 innings in three Triple-A starts this season, outdueled Fernandez. The Marlins rookie allowed five runs on six hits in four innings. He had three walks and four strikeouts and has thrown between 79 and 85 pitches in each of his three big league outings.
"He's got great stuff," Redmond said of Fernandez. "The big leagues are tough. It's tough to pitch. You've got scouts, you've got video. Believe me -- it's not like he's a secret anymore. The word's out on him. Like any good pitcher, you've got to always be adjusting, working on your game, changing your patterns up. That's a process that'll happen.
"He got a little frustrated today, but hey, he's young," Redmond continued. "It's the learning process. But he's got tremendous stuff. He's got the pitches to have success up here."
Fernandez's ERA went from 0.82 to 3.60.
"He's going to be good. He's already is good," Cozart said. "Luckily, we got to him those couple of innings and put it away."
The Reds tacked on four more runs in the fifth off Marlins reliever John Maine to take a 9-1 lead. Frazier followed with his fifth homer of the season -- a 421-foot shot to straightaway center off Maine in the sixth to cap the scoring.
Cincinnati had 12 hits.
"I try to go against every team like they're the best team in the world," Fernandez said. "Any team in the big leagues has a chance to score 10 runs against everybody. They're big league hitters. That's what they do every day."
The Marlins (3-13) fell to 1-6 on the road.
Tony Meale is a contributor to MLB.com. This story was not subject to the approval of Major League Baseball or its clubs.