Wieters' walk-off grand slam lifts O's in 10th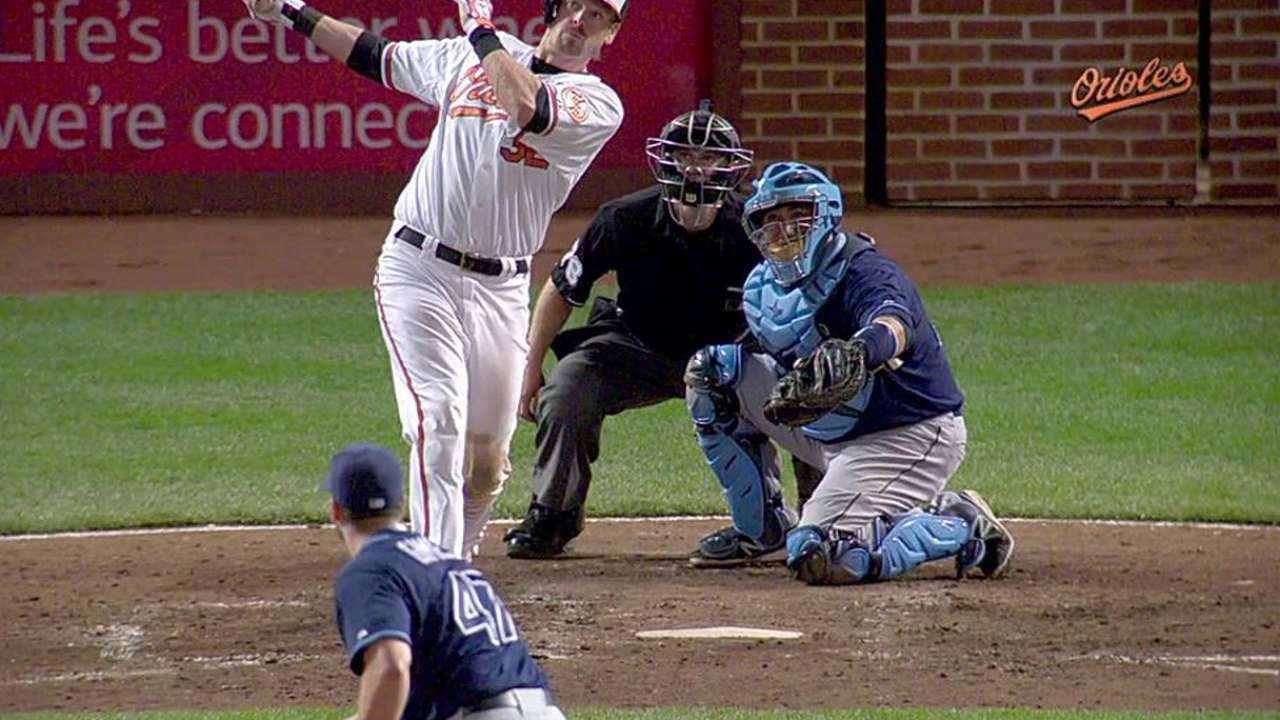 BALTIMORE -- After rounding third and heading toward a mob of teammates waiting for him at home plate, Orioles catcher Matt Wieters gleefully flicked off his helmet and jumped right into the celebration.
Wieters is not the type of player to show much emotion, but even he could not hide his excitement after hitting a walk-off grand slam in the 10th to lead Baltimore to a 10-6 victory over Tampa Bay on Thursday night.
The victory clinched the second series win over the Rays this season. The teams combined for seven home runs. It was the first walk-off grand slam by the Orioles since Harold Baines in 1999.
"I felt it was going to go, but more importantly, I knew it was going to get the run, whether or not it went out," Wieters said. "I knew the game was going to be over. That's a good feeling, and now we'll move forward to tomorrow."
The Orioles were also able to overcome a shaky outing by starter Miguel Gonzalez, who allowed two of his three home runs in the first inning. Gonzalez did not get a decision after allowing four earned runs on eight hits with one strikeout and two walks over 5 2/3 innings.
Tampa Bay starter David Price also had an unsteady outing. He allowed five runs on eight hits with six strikeouts and no walks through six-plus innings.
The Orioles trailed, 5-4, in the seventh when J.J. Hardy led off with a double that ended Price's night. Jake McGee entered and immediately gave up a two-run homer to Steve Pearce, who snapped out of an 0-for-15 skid to start the season.
"I've been swinging good, having good at-bats, just wasn't able to find a hole," Pearce said. "I just told him that to try and psych us both up, and fortunately I was able to get something going for myself and for the team."
Prior to that home run, the Orioles' designated hitters were 3-for-49 with one homer and one RBI.
The Rays, however, responded in the eighth, tying the game on a homer by James Loney off Darren O'Day. It was the first home run O'Day had allowed in eight appearances.
Orioles reliever Jim Johnson pitched a scoreless ninth, helped by Wieters' throwing out Desmond Jennings trying to steal second with one out. Wieters has now thrown out seven of nine runners attempting to steal this season.
The Orioles broke the deadlock in the 10th, when Nick Markakis led off with a single and Manny Machado reached on a bunt up the first-base line. Adam Jones hit another long single to load the bases. The runners were all moving on Jones' hit, and Tampa Bay manager Joe Maddon argued Jones did not re-touch second base on the way back to first.
The umpires overruled Maddon, and that set up Wieters' heroics off right-handed reliever Brandon Gomes.
"I just have to do my job there," Gomes said. "I haven't seen the pitch to Jones, but I'm assuming that slider was left up. Then I tried to go back-door slider to Wieters, and it caught way too much of the plate. So, you're going to get hurt when you're facing the middle of that lineup."
Asked if Gomes' approach would have been different had Jones been ruled out, opening up first base, Gomes said: "It could have. But I'm not going to play that game. I just didn't execute the pitches I needed to; that's really all it is."
After having just five home runs on the season entering the series, Tampa Bay had nine round-trippers against the Orioles over the three days.
"I just wanted to put it down somewhere, get Nicky over," Machado said. "I got a hit out of it. It was a perfect bunt. I couldn't have placed it better. I've been working on bunting, not really sacrificing. It's just something you can't practice. It's in the heat of the moment. Adrenaline pumping. You've just got to lay it down there."
For the second time in the three-game series, Jennings led off the game with a home run to left center. It was the sixth leadoff homer of his career. Two batters later, Evan Longoria homered to almost exactly the same spot for a 2-0 lead.
Orioles starters allowed first-inning home runs in all three games of the series after not having allowed a first-inning homer in their opening 12 games. Gonzalez struggled in the second as well, loading the bases on singles by Loney and Jose Molina before hitting Yunel Escobar. A sacrifice fly by Jennings increased the Rays' lead to 3-0.
The Orioles tied the game in the second when Wieters opened with a double and scored on a single by Chris Davis. Nolan Reimold then hit a two-run homer with two outs that just cleared the deepest part of the center-field wall.
Tampa Bay regained the lead in the third after a throwing error by Hardy botched a double play that would have ended the inning. The Orioles again tied the game in the fifth on a two-out double by Machado and could have taken the lead, but Markakis hesitated rounding third and was tagged out in a rundown.
The Rays made them pay an inning later as Molina provided a 5-4 lead with his first home run this season. Singles by Escobar and Jennings then ended Gonzalez's night.
Gonzalez was the only Orioles starter to pitch more than five innings in the series. Jake Arrieta got the win Wednesday night, allowing one run on 112 pitches in five innings, while Chris Tillman took the loss Thursday after giving up four runs in five innings.
"It was a good game for us." Orioles manager Buck Showalter said. "To beat them in the series at home, and we knew it was going to be a really tough challenge with Price out there. It was a good win, to be down, 3-0, there with Price and being able to figure out a way. There was a lot of frustration funneled in the right direction after we got down. I'd like for them to get a good night's sleep and feel good about themselves, and we've got a challenge getting ready for the Dodgers."
Todd Karpovich is a contributor to MLB.com. This story was not subject to the approval of Major League Baseball or its clubs.