Cingrani gets first win as Reds rout Marlins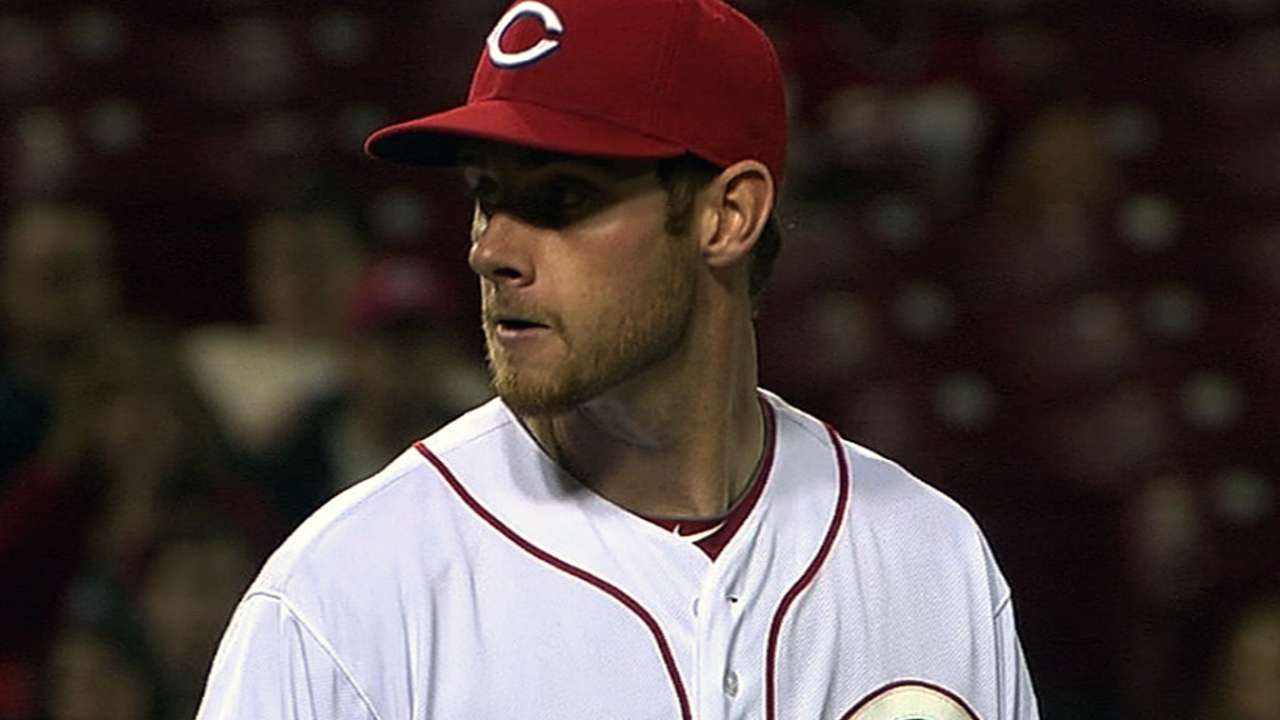 CINCINNATI -- The only big league starting pitcher in the building Thursday night with less experience than prized Marlins rookie Jose Fernandez was coveted Reds lefty Tony Cingrani.
Fernandez, a 20-year-old who pitched in Class A last season, had 98-mph heat and only two Major League starts under his belt. That was two more starts than Cingrani, 23, could boast.
But it was Cingrani's five innings and another heaping of generous run support that led to an 11-1 Reds win over the Marlins at Great American Ball Park.
"It could have been a little better overall, but I'm happy with it," said Cingrani, who gave up one run and five hits with three walks and eight strikeouts. He was the first Reds lefty to win his first Major League start since Tom Browning in 1984.
Cincinnati nabbed its fourth straight victory and for the second night in a row, it scored 11 runs, following the 11-2 thumping given to the Phillies on Wednesday.
While Cingrani doesn't have Fernandez's elite velocity, the fastball was his bread and butter in college and during his fast rise up the Minor Leagues. He used it often during his first big league start.
"He's got good stuff. He's aggressive with his fastball. I thought he looked good," Marlins manager Mike Redmond said.
Of the 102 pitches Cingrani threw, 83 were fastballs. In the first inning, 20 of his 21 pitches were fastballs. Overall, they were generally in the 89-93-mph range.
"It seems like they never get a good swing on it," Reds shortstop Zack Cozart said. "They know it's coming and they can't really do anything with it. When you have a good fastball, you're going to be successful. He pitched well."
Miami rallied quick in the first inning with a leadoff single by Chris Coghlan and Giancarlo Stanton's one-out single. Cingrani escaped with a strikeout of Placido Polanco and a Greg Dobbs fielder's choice.
"I told him 'this first inning is probably going to be the hardest one.' He got out of it and I was happy for him," said Reds third baseman Todd Frazier, who hit a 421-foot two-run homer to center field in the sixth.
The only blemish of Cingrani's outing came in the fourth inning. A leadoff homer came from a 3-2 fastball to Justin Ruggiano and made it a 1-1 game.
Against Fernandez, the Reds poured on the offense in the bottom of fourth while eight men batted. With runners on first and second and no outs, Xavier Paul sharply lined an RBI single to right field and went to second base on Stanton's error in right field. A Devin Mesoraco sacrifice fly to center field scored Frazier, and Shin-Soo Choo's two-out double to left field added another run. Cozart's RBI single scored Choo to make it a 5-1 game.
"You can't ask for anything more. They got that four-spot after I gave up one in the fourth," said Cingrani, who had three big league relief appearances as a September callup last season. He was the first lefty to start for Cincinnati after a stretch of 180 straight games with righties.
The offense added four more runs in the fifth against reliever John Maine and gave Cingrani room to breathe as he ran up a high pitch count in the early going.
"He was probably overthrowing just a little bit because he was throwing high, and that's usually not him," Reds manager Dusty Baker said. "That's to be expected in his first start. He gave us what we needed. We gave him what he needed, which was a cushion I was hoping for."
In the top of the fifth as he approached the 100-pitch plateau, the only question was whether Cingrani could stay in the game to qualify for the win. He issued a two-out walk to Polanco, which brought out pitching coach Bryan Price.
Cingrani's final pitch, coincidentally, wasn't a fastball. He struck out Dobbs with a 78-mph slider into the dirt. It avoided a very tough choice for Baker.
"They had the dangerous Ruggiano coming up there," Baker said. "He already hit one in the seats and could have hit another to make it 5-3. Then we've got a real ballgame. I'm just glad he got Dobbs out and then we didn't have to make the decision. You always want the kid to get the win but you can't do it to sacrifice the team win."
Cingrani, who was called up to replace injured ace Johnny Cueto in the rotation, kept alive a string of strong starting pitching. During the four-game win streak, Reds starters have allowed only three runs in their last 28 innings.
"I wasn't throwing too many strikes. I was getting 3-2 counts on everybody," Cingrani said. "First-pitch strikes and getting ahead of them is what I have to do the next time."
Mark Sheldon is a reporter for MLB.com. Read his blog, Mark My Word, and follow him on Twitter @m_sheldon. This story was not subject to the approval of Major League Baseball or its clubs.