Beltran's homer barely holds up for Cardinals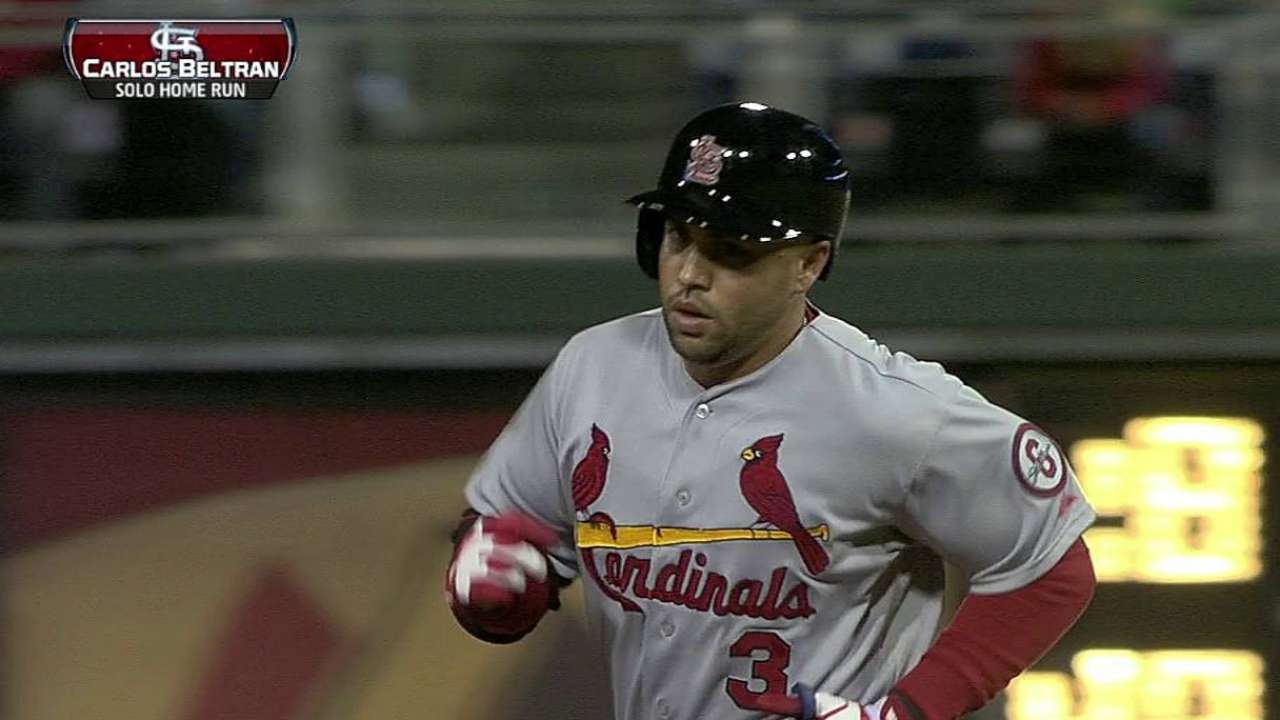 PHILADELPHIA -- Beleaguered, a word that has fairly described a Cardinals bullpen without Jason Motte, vastly understated their situation in the bottom of the ninth Thursday night.
Consecutive hits to lead off the ninth by Ben Revere and Erik Kratz put the Cards, leading by a run on Carlos Beltran's opposite-field home run in the eighth, facing first and third with nobody out. Presumably, this was no place you would want to be with a bullpen that has yielded a .296 batting average by opponents this season. Yet when manager Mike Matheny went to the mound to discuss what to do next, crying was not an option. He says he knew the game was in the right hands.
"The crowd is going crazy, but you could sense the pulse there," said Matheny after the Cardinals held on for a 4-3 victory. "Edward [Mujica] was ready to make pitches, and he and [Yadier Molina] were on the same page. That's a nice place to be when the heat gets turned up."
Matheny felt so good about it, he pulled his infield up rather than playing for the double play that could keep his team alive into the 10th.
"I'm pretty aggressive by nature," he said. "I wanted to go for the win.
"I understand the road-home [strategy] and people take different viewpoints in that regard. But I thought we could have a couple things go our way and we could pull out a win, and it happened to work out that way."
Pinch-hitter Kevin Frandsen hit the ball right at shortstop Pete Kozma. Revere didn't break, even after Kozma slightly bobbled it. Frandsen was out at first, leaving second and third with one out for Jimmy Rollins.
Cardinals starter Adam Wainwright, watching on television in the clubhouse, said he was not afraid to watch and turned out to be rather glad he did. Mujica struck out Rollins with what Mujica insists is a change and everybody else thinks is a splitter. Whatever you want to call it, the same pitch got Freddy Galvis to ground out to seal the victory.
"His change was just dropping off the table; the one to Rollins looked like a Nintendo pitch," said Wainwright. "First and third, then second and third, that's a tough spot and he manned up."
To a man, the Cardinals thought their victory might have been the best of their young season.
"We did a lot of the little things right and that's why you end up winning a game like that," said Matheny. "This is the team we say we want to be, but you have to prove it."
Wainwright's stretch of shutout innings ended at 18, but the streak without a walk is now at 29 frames. He had finished his final inning of work when Beltran's drive, the quintessential Citizens Bank Park homer, barely made it over the railing.
"I stayed away and I didn't show in or think in," said Phillies reliever Mike Adams, who gave it up. "I made the mistake of staying out there too long and made the mistake that he could get a good pass on it. He took a pretty good swing and it went out.
"I thought it was over the left fielder, didn't think it would be over the wall," said Beltran.
He was no more sure that a Rollins liner -- hit with two outs just after Kratz's single had tied the game, 3-3, in the seventh -- was going to wind up in the glove Beltran extended well above his head.
"You throw your glove out, it happens so fast," said Beltran.
Almost as fast as Wainwright's heart was beating.
"It looked like his arm extended a couple feet longer than it actually is," said the starter. "Then he hit the home run.
"He almost got more than a hug from me. I gave him a big high five as well."
The Cardinals won this one by the inch. Yadier Molina lined a two-run double down the right-field line in the fourth that landed close enough to the foul line to make replays of umpire Alan Porter's call inconclusive. But they also executed, not just during the high-wire act in the ninth, but in getting David Freese, who had doubled to start the seventh after the Phillies had scored twice to tie the game in the sixth, around on Jon Jay's bunt and Kozma's sacrifice fly.
The Phillies came back again on a tiring Wainwright, and the Cardinals needed a hero. Beltran stepped up, as did Mujica, who inherited two runners from Trevor Rosenthal in the bottom of the eighth and struck out pinch-hitter Laynce Nix.
"One of the better team wins I have been a part of," said Wainwright. "It's the close ones that bring a squad together."
Jay Greenberg is a contributor to MLB.com. This story was not subject to the approval of Major League Baseball or its clubs.