Rangers can't rally after Ogando's brief start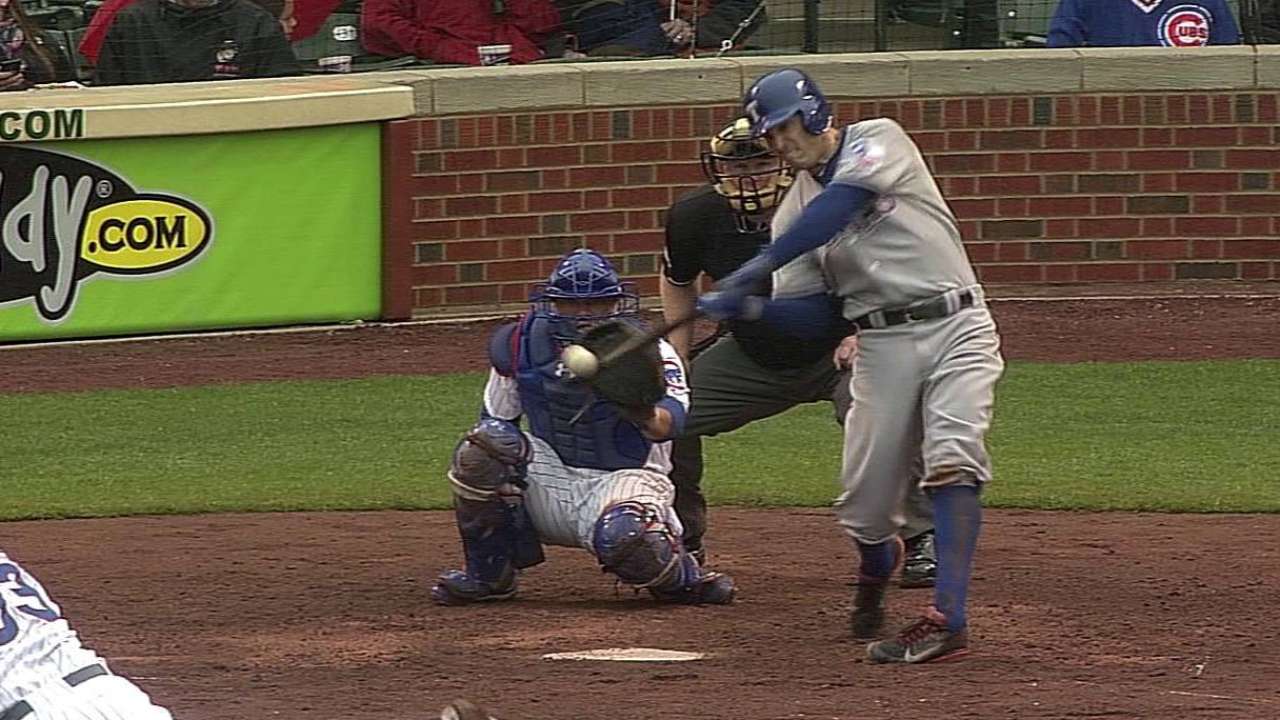 CHICAGO -- Rangers manager Ron Washington keeps saying that Alexi Ogando's fastball command has been off lately. The Rangers found out Thursday what happens when command of all his pitches are off.
Ogando, on another cold and wet day during this six-game road trip, turned in the third-shortest start of his career and the shortest by a Rangers starting pitcher this year. That's not going to work when the Rangers' offense is still struggling to score runs.
Ogando allowed five runs in just 2 1/3 innings as the Cubs thumped the Rangers, 6-2, at Wrigley Field. The Rangers finished the road trip with a 3-3 record -- plus one rainout -- and will open a three-game series against the Mariners on Friday at the Ballpark in Arlington.
"Ogando just didn't have it today," Washington said. "He was hanging his breaking ball and got his fastball up, and they didn't miss it. In other games he has been able to go to other pitches and then find his fastball. Today he couldn't find anything."
Cubs manager Dale Sveum noticed the same thing.
"It didn't even look like he had his good fastball today," Sveum said. "I don't even know if he threw a ball over 94 mph that I saw, and we all know he can get it to 98. Obviously he just looked a little out of whack, and I think we probably had a little bit to do with that. We were hitting his slider and laying off some of the fastballs that he was keeping down in the zone."
Ogando faced 14 batters and allowed six hits and two walks. He threw 71 pitches before Derek Lowe took over with one out in the third. Ogando is 2-1 and his ERA shot up from 1.08 to 3.32 after a club-high four starts.
"It was difficult to command my fastball, and that affected all my pitches," Ogando said. "This was by far the worst of all my outings. When I was trying to throw strikes, they took advantage of the pitches that were up."
Washington was glad the Rangers were able to play the game. It rained all morning in Chicago and there was widespread flooding all through the state. But the rain slackened off enough to get in nine innings and the gametime temperature was 58 degrees. The Rangers have played in worst conditions lately, but Ogando said he struggled with the mound conditions as well.
"On top of being out of control, that mound didn't really help being so wet," Ogando said.
Cubs starter Carlos Villanueva didn't let it bother him. He earned his first win by holding the Rangers to two runs on four hits and a walk through seven innings. He struck out six, and the Cubs turned three double plays behind him.
Villanueva made the big defensive play. After Nelson Cruz led off the second with a single, A.J. Pierzynski ripped a line drive back up the middle on a hit-and-run play. The Rangers should have had runners at the corners, but Villanueva snagged it and threw to first for the easy double play.
"It was just one of those days when things weren't meant to go our way," Pierzynski said. "There's no hanging our heads or time to feel sorry for ourselves. We've got to come back and be ready to go tomorrow."
The Rangers are hitting .209 with 17 runs scored in their last seven games. Both their runs came on home runs by Cruz and Ian Kinsler, and the Rangers did not have one batter come to the plate with a runner in scoring position. The Rangers also didn't have a runner left on base for the eighth time in club history.
"There are no excuses, but when you run into the cold [weather] spell we have lately, it makes it tough," Kinsler said. "We'd like to see some good weather when we get back home."
Ogando got through the first inning but ran into trouble when Nate Schierholtz doubled with one out in the second. He scored following singles by Welington Castillo and Luis Valbuena, although Ogando got out of that inning by striking out the next two hitters.
That was only a temporary reprieve. David DeJesus led off the third inning with a triple into the right-field corner and scored on a wild pitch while Starlin Castro drew a walk. Anthony Rizzo then was still able to crush a 2-1 fastball to deep right-center for a two-run home run.
"Ogando was just behind in the count to every guy it seemed," Pierzynski said. "It was just a bad day. He threw some pitches in the middle and they didn't miss."
Rizzo's shot was the first home run given up by Ogando this season. But he gave up a second one right away as Alfonso Soriano hit a 2-2 slider into the left-field bleachers.
That gave the Cubs a 5-0 lead. Ogando retired the next hitter on a grounder to second, but was then replaced by Lowe. This was only the eighth time in 34 career starts Ogando has failed to pitch at least five complete innings.
T.R. Sullivan is a reporter for MLB.com. Read his blog, Postcards from Elysian Fields, and follow him on Twitter @Sullivan_Ranger. This story was not subject to the approval of Major League Baseball or its clubs.