Another fine Villanueva outing leads to a Cubs win
Righty hurls seven strong innings; Rizzo, Soriano hit back-to-back HRs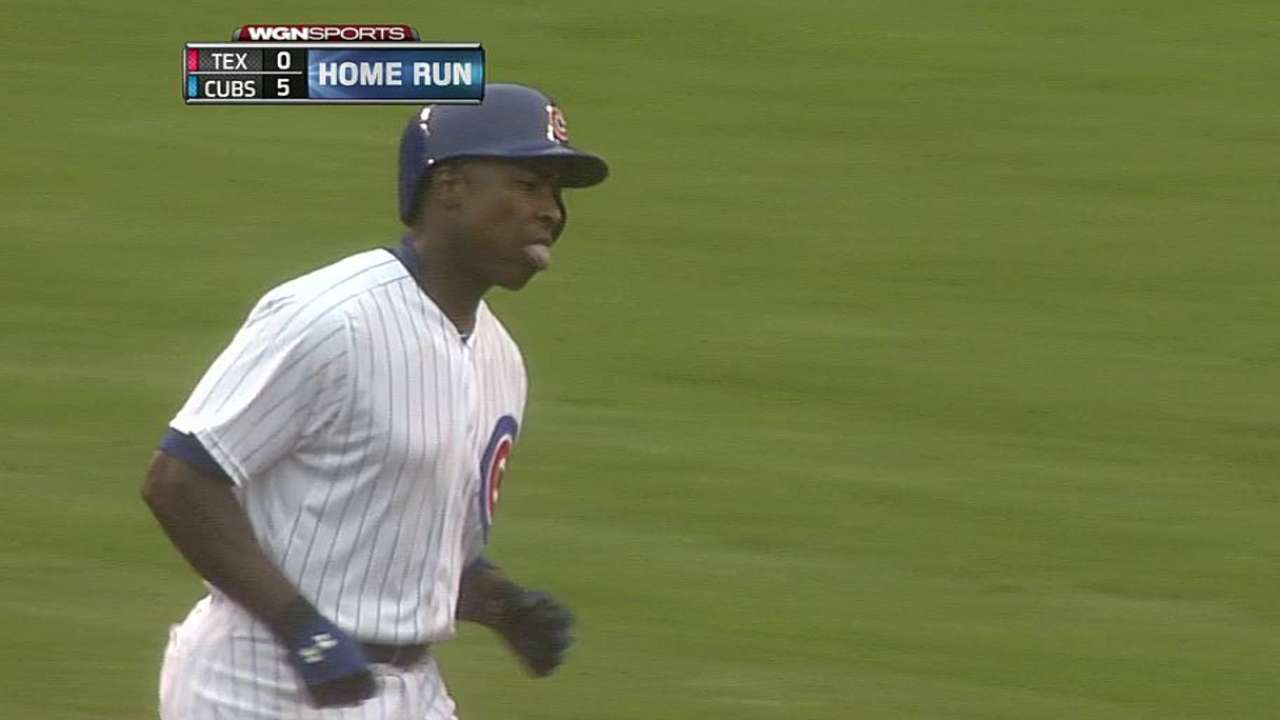 CHICAGO -- After the Cubs and Rangers were rained out Wednesday, the projection for Thursday afternoon's series finale looked just as bleak. People in Chicago awoke Thursday morning to heavy flooding, nearly half a foot of rain and the forecast called for more.
But as gametime drew nearer, the two teams felt they had a window of time to sneak in the ballgame, with both teams prepping for a getaway day and the Rangers not scheduled for another trip to Wrigley Field this season.
By about 5 p.m. CT, under mostly clear skies, no one was happier that they squeezed in nine innings than Carlos Villanueva and his Cubs teammates.
Villanueva was sharp again -- it only goes to show how good he's been this season that two earned runs in seven innings inflated his season ERA from 0.64 to 1.29 -- while Anthony Rizzo and Alfonso Soriano provided the offense with the team's first back-to-back homers of the year in a 6-2 win.
"Yesterday, today, it was ugly," Villanueva said. "We had no idea. We heard yesterday that we weren't going to get the game in, that it was going to be tough. I tried to keep my guard up, just in case. You never wanna let down your guard and then say, 'Hey, 20 minutes, the game's starting.' And I'm just sitting in my locker not thinking about the game.
"But I kept hearing, 'It's gonna come at 1:35, it's gonna come in the fourth [inning], it's gonna come in the fifth,' and I just said, 'You know what, don't tell me. Just go out there and when it comes, it comes.'"
The heavy stuff never fell, and Villanueva was as locked in as ever. The only blemishes in his seven innings were two solo home runs, to Ian Kinsler and Nelson Cruz. In three games, the only runs he's allowed in 21 innings have been on solo homers (also to the Braves' Justin Upton on April 6).
He's the first pitcher to start his Cubs career with three consecutive quality starts since Carlos Silva had four in 2010, and he helped keep the Cubs' rotation's ERA at a strong 3.15 this year.
Villanueva got a hand from Rizzo and Soriano, whose homers accounted for two of the Cubs' nine extra-base hits. Nate Schierholtz had the first, a double in the second inning, and scored the game's first run to give Chicago a 1-0 lead.
The Cubs then got to Rangers starter Alexi Ogando in the third, scoring four runs before Ogando recorded an out. David DeJesus led off with a triple and scored on a wild pitch before Starlin Castro walked to set the table for Rizzo.
The first baseman crushed a 2-1 fastball from Ogando about 475 feet into the right-center-field bleachers and nearly out of the ballpark. According to ESPN's Stats & Info, it was the longest home run hit in the Majors this year.
"Oh, cool," Rizzo said calmly. "I'm sure that won't last very long. There's a lot of good hitters in this league. It was just one of those things -- I got a good swing, a good pitch to hit and didn't try to do too much with it."
Soriano followed six pitches later with a solo shot to left for his first homer of the season. Ogando would be done just one batter later, allowing five runs on six hits in just his third career start of 2 1/3 innings or fewer.
"It was difficult to command my fastball, and that affected all my pitches," Ogando said. "This was by far the worst of all my outings. When I was trying to throw strikes, they took advantage of the pitches that were up."
Welington Castillo singled with one out in the fifth off Derek Lowe and scored on a Luis Valbuena double to make it 6-1. Castillo, known as a defensive catcher, recorded his first career four-hit game and has hit safely in nine of his first 11 games.
"If he can swing the bat like this all year long, we've got something really special," manager Dale Sveum said. "Because the defense he has behind the plate is one of the best in baseball."
It was just the Cubs' third win in their last 11 games. They'll now embark on a 10-game, three-city road trip that begins in Milwaukee on Friday.
"It's a nice little test, getting away from home," Villanueva. "We need to win some series, take two out of three from [the Brewers and Reds] and then hopefully go to Miami and take the series there, too. We'll come back home on a positive and hopefully come back with a lot better weather than we've had this week."
‪Joey Nowak is a reporter for MLB.com. Follow him on Twitter at @joeynowak.‬ This story was not subject to the approval of Major League Baseball or its clubs.