Bucs drop battle of bullpens with Braves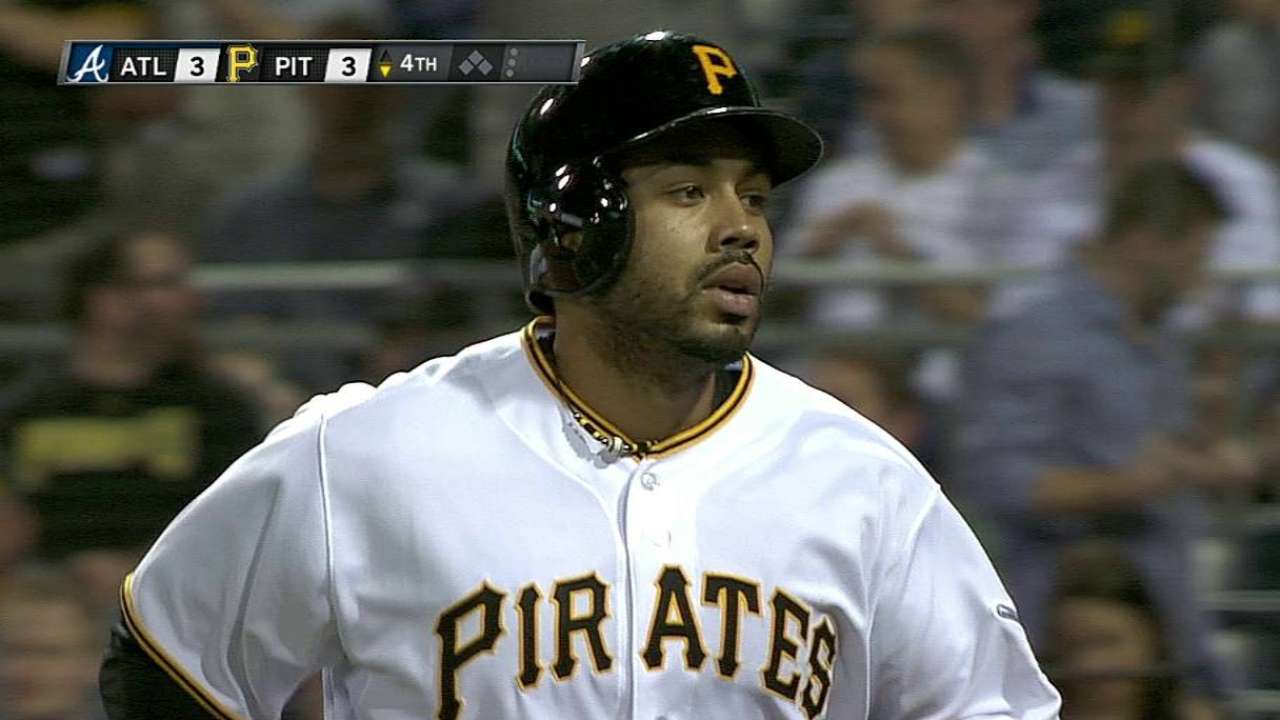 PITTSBURGH -- The game, predictably, turned into a long staredown between short arms -- until the Braves' Evan Gattis swung, and the Pirates' Jared Hughes blinked.

Atlanta folk hero Gattis connected on a pinch-hit two-run homer in the eighth inning, breaking a 4-4 tie, and the Braves went on to a 6-4 victory in the opener of a four-game series at PNC Park.

Able to appreciate a great human-interest story as much as anyone, manager Clint Hurdle digs Gattis' meteoric rise from obscurity.

"Unfortunately," Hurdle said, "I didn't dig the swing too much."

Gattis' fifth homer of the season scored Andrelton Simmons, who'd drawn a leadoff walk off Hughes, and it came on a 2-and-0 count that had painted Hughes into a corner.

"I fell behind, and I had to come in with a ball over the plate," Hughes said. "It didn't sink as much as I'd hoped, just hung up, and he did a good job getting his hands under it."

"I felt it was a good matchup against him and what he has," Gattis said. "That's what I was looking for, what he was throwing. I'm glad I got to see two pitches before that for balls. That helps. I was fortunate and lucky. I'm glad I got it on the barrel enough."

Short nights by both starters created a savory battle between the two stingiest bullpens in the National League. Braves relievers led with a collective ERA of 1.36, and right behind them was the Pirates' relief corps, at 2.10.

The Braves' Anthony Varvaro, Eric O'Flaherty and Craig Kimbrel pulled rank on the Bucs' Justin Wilson, Hughes, Tony Watson and Vin Mazzaro.

The first home runs of the season for Pedro Alvarez and Russell Martin helped neutralize the trio Atlanta smoked off left-handed starter Jeff Locke, and had the score tied at 4 into the late innings.

The Braves showed up leading the Majors in home runs, which normally do not plague Locke. Atlanta, however, provided the answer to which tendency has the upper hand in such a case.

B.J. Upton began the game with a homer.

"It's deflating to start off the game like that," Locke said of the first game-opening homer he allowed in his brief (13 starts) Major League career. "It's tough, takes the wind out of your sails. But you've got to keep competing, which I did, although the long ball obviously hurt me."

In the third, Locke issued a two-out walk to Justin Upton, then served up a two-run blow to noted Pirates nemesis Chris Johnson. Two innings after that, Justin Upton got his own long ball.

Johnson's homer came on a 1-and-0 count, J. Upton's on 3-and-1. Those sequences were exceptions for Locke on a night when he was sharp overall, starting 14 of the 22 batters he faced with strikes.

But because he doesn't have overpowering stuff, it isn't enough for Locke to get ahead in the count. He must stay ahead.

"The one thing that continues to challenge him is overall consistency," said Hurdle. "Some sequences are sharp, but there are too many misses. He's got to get ahead of more counts, to pitch competitively up here."
Locke agreed.

"Biggest thing for me, I need to get ahead of those people," said the young lefty. "It goes back to basics: Get ahead and make them hit your pitch; that goes back to Little League. Just poor execution."
But the Bucs took similar bites out of the Braves' Julio Teheran.

Garrett Jones lifted a sacrifice fly in the first and doubled for a run in the fifth. In between, Martin went deep in the second and Alvarez went really deep in the fourth.

At 448 feet, Alvarez's homer was about 125 feet longer than any of his previous hits. According to people who track such things, the longest drive of his prior 46 at-bats measured 325 feet, not enough to reach any warning track. On Thursday he almost reached the Clemente Bridge.

"It's a start … and a long one," Hurdle said. "That'll catch your attention and take your breath."

Locke went 4 2/3 innings -- giving up six hits and four runs, with four walks and three strikeouts -- and allowed more homers than the two he did in 38 1/3 previous innings this year, including Spring Training. The three match his big league high, first allowed on Sept. 28, 2011, in Milwaukee.

Counterpart Teheran followed soon after, showing an almost identical line (seven hits and four runs, three walks and four strikeouts) for his five innings.

Johnson has been with the Braves only two weeks (he came as part of the Justin Upton deal with Arizona), but he's been on the Bucs' case a lot longer. With both the Astros and D-backs last season, he hit .310 off Pittsburgh pitching, with four homers and 10 RBIs in 11 games.
Tom Singer is a reporter for MLB.com and writes an MLBlog Change for a Nickel. He can also be found on Twitter @Tom_Singer. This story was not subject to the approval of Major League Baseball or its clubs.