Mariners fall in 14 after Felix starts impressive duel
Ace misses bid at 100th win on night of 40 combined strikeouts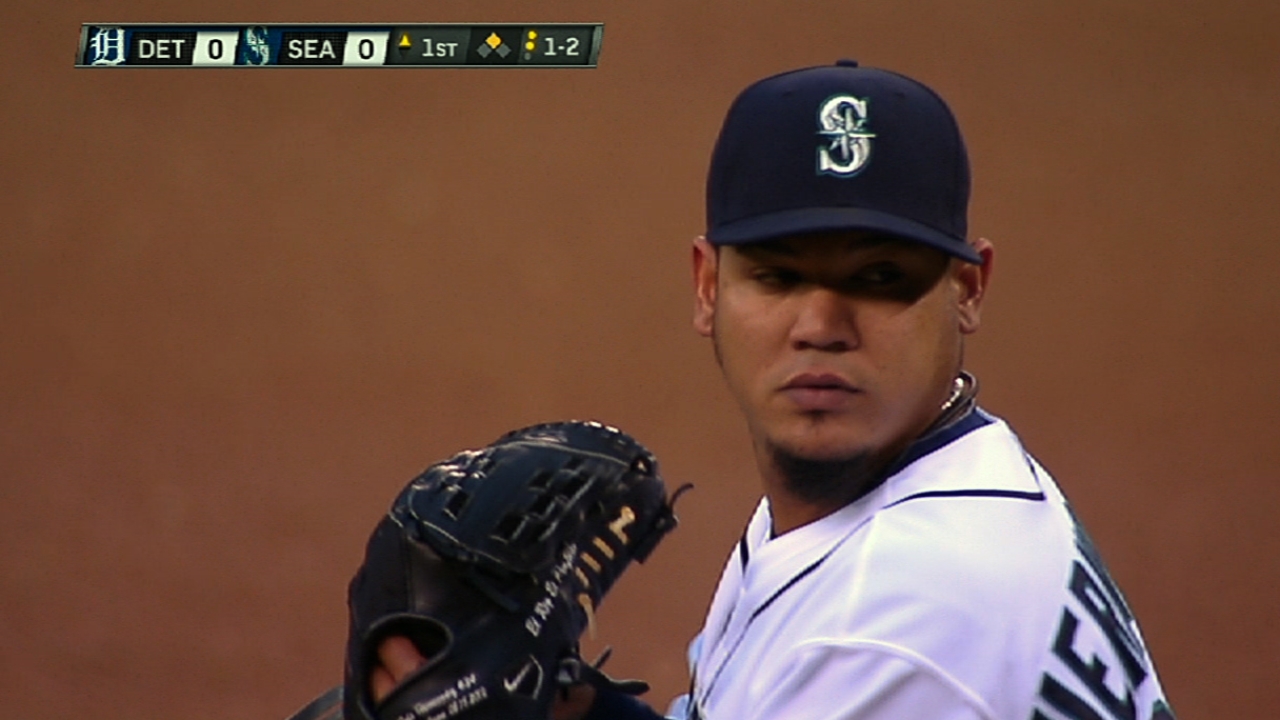 SEATTLE -- Felix Hernandez has had the Tigers' number in recent years, but even that history didn't help the Mariners ace reach an elusive 100th career victory on Wednesday.
Hernandez dueled Detroit's Max Scherzer to a draw for eight innings on a chilly night at Safeco Field before the Tigers finally pulled out a 2-1 win in the 14th with a bases-loaded groundout pushing home the go-ahead run.
The Mariners nearly tied the game in the bottom of the 14th, but Justin Smoak was thrown out at the plate trying to score from first on a double by Dustin Ackley for the final out as catcher Brayan Pena held onto the ball after a big collision with Smoak.
"I knew off the bat I was trying to score," Smoak said. "They had to make a perfect relay throw to get me. He was up the line there and I really had nowhere to go. I had to do what I had to do. I just lowered my shoulder and hoped for the best. I hope he's all right, but it's part of the game."
Manager Eric Wedge had no problem with third-base coach Jeff Datz's decision to send Smoak in an attempt to win a game where the two teams combined for 40 strikeouts and just 18 hits.
"We're working all night to try to score a run and you've got a chance to potentially do it, you've got to send him right there," said Wedge. "Either it's a bad relay and you're in there, or it's that type of play where you've got to bang at home plate and maybe he drops the ball. The catcher did a good job of hanging on."
Pena said he was dizzy for a few moments after the collision, but immediately held up the ball for the umpire to see after taking Prince Fielder's relay throw from right fielder Torii Hunter.
"My main goal in that situation was to hold onto the baseball and absorb the hit," Pena said. "It was one of those plays that was do or die. I knew he was coming after me, and credit Prince Fielder. He made a good throw and Torii made sure he got the baseball as fast as possible."
Hernandez has dominated Detroit over the years, going 9-0 with a 2.55 ERA now his last 11 starts dating back to 2007, but he wound up a with a tough no-decision in the four-hour, 27-minute marathon.
Relievers Tom Wilhelmsen, Carter Capps, Oliver Perez and Charlie Furbush shut out the Tigers from the ninth through the 13th innings before Detroit cracked the code. The Tigers' first two batters reached base against Furbush in the 14th and newly converted reliever Blake Beavan came on and couldn't quite stem the tide.
Jhonny Peralta laid down a sacrifice bunt, but catcher Jesus Montero threw late to third to load the bases. Pena then pushed across the go-ahead run with a hard grounder that shortstop Robert Andino stopped with a dive to his left, but only had time to get the out at first while pinch-runner Don Kelly scored.
The six Mariners pitchers combined for club-record-tying 21 strikeouts and just four walks, with Detroit hitters tying their own franchise record for most strikeouts in a game.
The Mariners struck out 19 times themselves and had four walks on a night they outhit the Tigers 11-7.
"Great starting pitching tonight," Wedge said. "Felix was outstanding. It was a great effort and tight ballgame throughout, obviously. Both teams were fighting offensively, but it went all the way to the end there on the last play. We had multiple opportunities with one hit to win the ballgame, just nobody really stepped up for us."
The win was the fourth straight for Detroit (9-5), while the Mariners fell to 6-10.
The Tigers only tally off Hernandez was an unearned run in the fifth and he allowed just four hits with no walks and 12 strikeouts.
It was the third straight time Hernandez came up shy of his milestone victory since kicking off the season with his 99th win on Opening Day in Oakland. He remains 1-2 on the season while lowering his ERA to 2.20.
After giving up 16 hits in back-to-back 4-3 losses to the White Sox and Rangers, Hernandez was razor sharp in front of 14,981 fans and a boisterous King's Court rooting section.
But Scherzer was every bit his match, allowing just a lone run in the seventh while holding Seattle to six hits with one walk and 12 strikeouts in his eight matching innings.
"That was a great game for both sides," Hernandez said. "Scherzer was pretty good, too. He was changing speeds, throwing good breaking balls. I was trying to match it up and do my job. With that kind of lineup, you've got to be aggressive and be in attack mode. And that's what I did today."
It was just the sixth game in Mariners history where both starters reached double-digit strikeouts and the first ever at Safeco Field. The last time two starting pitchers allowed one or fewer earned runs with 12-plus strikeouts was Randy Johnson and Mark Langston in 1992.
The Tigers got their unearned run in the fifth after Victor Martinez led off with a hard-hit one hopper that deflected off Brendan Ryan for a rare error on the shortstop. Andy Dirks then doubled to right-center to put runners on second and third with no outs.
Hernandez got Peralta on a grounder to short and Ryan looked home and appeared to have a shot at Martinez, but instead opted to go to first for the sure out as the run scored. Hernandez shut the door there with two quick outs and the Mariners held the hard-hitting Tigers scoreless for the next nine innings.
The Mariners' only run came in the seventh when Michael Morse doubled and scored on a single by Raul Ibanez.
It wasn't a new story for Hernandez. The 27-year-old is 92-24 with a 2.95 ERA in 153 career starts when the Mariners have given him two or more runs of support, but he's received one run or less of support in 89 of his 242 starts.
Greg Johns is a reporter for MLB.com. Follow him on Twitter @GregJohnsMLB as well as his Mariners Musings blog. This story was not subject to the approval of Major League Baseball or its clubs.