Moore continues dominance as Rays top O's
Solid pitching, homers by Johnson, Duncan help end slide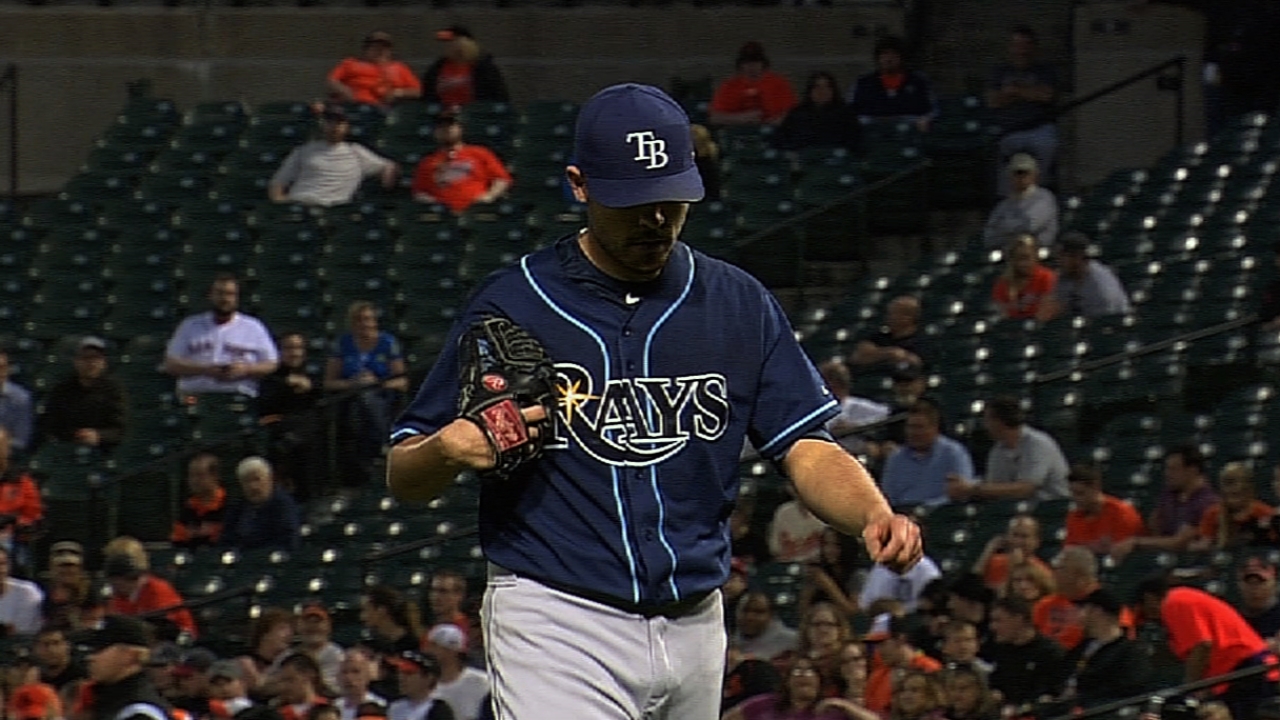 BALTIMORE -- Good pitching can help end the worst of slides, particularly if the offense kicks in like it did for the Rays on Wednesday night.
Making his third start of the season, Matt Moore gave the Rays his second quality start, while homers by Kelly Johnson and Shelley Duncan and two James Loney doubles led the offense in a 6-2 win over the Orioles at Camden Yards in front of 13,591 fans.
Tampa Bay ended a four-game losing streak while moving to 5-9 on the season -- and 2-6 on the current road stretch as the Rays head into the final game of their three-game series with the Orioles. They will wrap up their three-city road journey Thursday night before beginning a six-game homestand against the Athletics and Yankees.
Moore had easily his best command of the season, allowing two runs on five hits and three walks while striking out seven en route to his third win. Tampa Bay's offense put some wind in the 23-year-old left-hander's sails in the early going.
"I was able to get ahead," said Moore when asked about the key to his success Wednesday. "I was throwing my breaking ball; I was throwing my breaking ball a lot. That just set up my other pitches, too. It allowed me to miss over the plate a little bit. They're obviously a very good hitting team, and very aggressive, so it was very important to get that first pitch over for a strike."
Moore did not get his second win last season until June 2. He attributed this year's early success to finding a nice tempo with his delivery.
"Especially out of the windup," Moore said. "It's been pretty quick. ... It's allowed my release point to be a lot more consistent with all of my pitches."
Johnson homered for the second consecutive night when he reached the center-field stands in the first on an 0-1 pitch from Orioles starter Chris Tillman, and Duncan added a solo homer to left in the second to put the Rays up, 2-0. But Adam Jones answered in the bottom of the third with a two-run homer off Moore.
Jones' second home run of the season was initially ruled a double. But after being reviewed by the umpires, the call was reversed.
Loney came through in the fourth when he doubled home Evan Longoria and Duncan with one out to put the Rays back on top, 4-2.
"We've seen [Moore]," Orioles manager Buck Showalter said. "You can see why they've got such a good chance to be in the thick of things; the starting pitching they run out there, and the bullpen. They do some other good things, too. I think we were disappointed we got back in it with Jonesey's blow and gave them two right back. That hurt."
Duncan walked with one out in the sixth before Loney doubled to the corner in right. Duncan might have scored on the play, but he missed second base and had to return to touch the bag before advancing to third. Jose Molina then hit into a fielder's choice that saw Duncan get caught in a rundown for the second out.
Fortunately for the Rays, Yunel Escobar -- who entered the game in the midst of a prolonged slump -- stroked a single to right field off T.J. McFarland to push the lead to 5-2.
Loney added an RBI single in the eighth that scored Matt Joyce to give the Rays a four-run cushion.
The Rays finished with 11 hits. They hit five home runs in the first 11 innings of the series after hitting that same number in their first 12 games, including just two in their last 10 games prior to their arrival in Baltimore.
"We finally got double-digit hits; we scored some runs," Johnson said. "We scored first, they tied it up and we responded right back. I think it was just a really good offensive ballgame for us, and we've been struggling to have those. So it was nice to be on the winning end. Of course when Matt Moore pitches like that and the guys clean up behind him, you have to win those games."
All of Tampa Bay's runs were accounted for by newcomers to the team. Loney, Escobar, Johnson and Duncan went a combined 8-for-14 with six RBIs, two doubles and two home runs.
"We're sitting there before the game and MLB Network was on, and they're kind of making fun of everybody outside of [Zobrist] and [Longoria]," Duncan said. "So I think we stepped it up a little bit."
Duncan credited Johnson for getting the offensive kick-started with his first-inning home run.
"You come out there and you do that, it allows everyone to relax a lot and go out there and be aggressive," Duncan said. "And that's what I really think set the tone."
Bill Chastain is a reporter for MLB.com. This story was not subject to the approval of Major League Baseball or its clubs.