Masterson roughed up early, takes first loss
Swisher, Giambi go deep, but Tribe squanders several scoring chances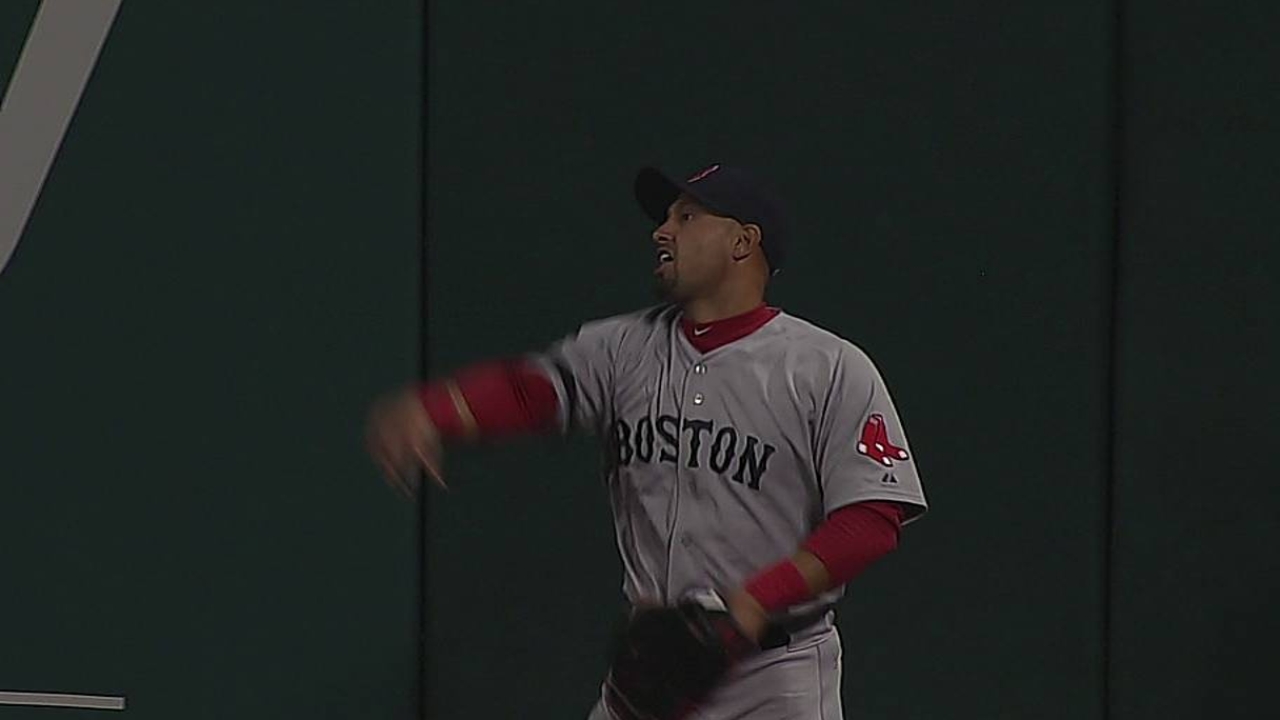 CLEVELAND -- It was the perfect time for Asdrubal Cabrera to break free from his early-season slump. The Indians had bases loaded with two outs in the fifth inning, giving the shortstop a prime chance to pull his team back into the ballgame with the Red Sox.
Cabrera sent a pitch from Boston's Alfredo Aceves screaming into right field, where outfielder Shane Victorino tracked it down on a dead sprint for a tough catch. As Cabrera slowed into first base, he clutched the brim of his helmet with two hands and flung it hard into the ground. It was that kind of night for Cleveland in a 6-3 loss to Boston at Progressive Field on Wednesday night.
"I knew I hit it good. I felt I hit it really good," Cabrera said, "but they've got a good outfield out there, too. Fast."
Starter Justin Masterson saw his near flawless start to this season end and the Indians (5-8) dropped their second straight game in this three-game set with the Red Sox. The Tribe's offense had one loud outburst -- back-to-back home runs from Nick Swisher and Jason Giambi in the sixth -- but it was hardly enough to avoid an eighth loss in 11 games.
Masterson played with fire throughout his five innings, but he did well in limiting the damage.
The Red Sox (10-4) loaded the bases with no outs in the first inning and could have easily come away with more than the three runs they plated. Mike Napoli delivered a two-run single and Daniel Nava brought in another run with a base hit, but then Masterson settled in and retired the next three Boston batters in order with some help from his defense.
For the second out in the frame, first baseman Mark Reynolds gloved Jarrod Saltalamacchia's grounder and fired the ball to home plate, cutting down Napoli on the play.
"I had to continue to battle," said Masterson, who is 3-1 with a 1.67 ERA this year. "The guys made some good plays in order to keep things close. Mark Reynolds throwing the ball home -- great job keeping a run from scoring. In the end, unfortunately, they got too many too early."
Masterson faced a bases-loaded, none-out jam again in the second inning, and he again wiggled out of it unscathed. Boston had 10 hits, including seven with runners in scoring position, through four innings against Masterson, but it had also stranded eight runners in that span. In the fourth, the Red Sox loaded the bases against the sinkerballer for a third time, but Masterson again sidestepped any damage.
Mike Carp, who doubled in the second and fourth innings, broke through against Masterson in the fifth. Following a two-out walk to Stephen Drew, Carp sent a pitch from the Indians starter to deep center field, where it bounced high off the wall for an RBI triple.
"I thought we had an excellent approach against Masterson," Red Sox manager John Farrell said. "We stayed inside the baseball on a number of base hits the other way. Couple of bases-loaded opportunities that we couldn't cash in on. Just a very good game tonight."
Masterson exited after five innings, in which he surrendered four runs on 11 hits and ended with five strikeouts and one walk. The right-hander's career-best scoreless streak of 19 innings came to a close with Boston's three-run first inning and he was saddled with his first loss.
"They made him work really hard," manager Terry Francona said. "Their approach to him was very good. They all stayed in the middle of the field or went the opposite way. ... There's a lot of trust in him. That's what I told him when I took him out. He didn't give in and it was a hard five innings, but when he left, we had a chance to win the game."
It certainly did not help that Cleveland could do little early on against Aceves, who finished with three runs yielded on seven hits in his five-plus innings.
In the sixth, Aceves issued a leadoff walk to Carlos Santana and then Swisher hit a towering two-run home run to center field. The 42-year-old Giambi followed by crushing a 2-2 offering to right-center, where the baseball landed several rows into the stands for his first shot of the season. Giambi became the third oldest player in Indians history to launch a home run.
Trailing, 4-0, in the fifth inning, Lonnie Chisenhall singled, Drew Stubbs doubled and Michael Brantley drew a walk, setting the table for Cabrera. The All-Star shortstop flew out, squandering the prime scoring chance.
Francona thought Cabrera had extra bases off the bat.
"I sure did," Francona said. "There's not a ball that's hit when we're hitting that I don't think is going to be a hit. Saying that, yeah, he took a nice swing."
On the season, Cabrera is hitting just .118 with two home runs and three RBIs through 13 games. Part of the shortstop's struggles might be attributed to bad luck, considering he had a .133 batting average on balls in play heading into Wednesday's game. Over the past three years, Cabrera has posted a .306 mark on balls in play.
Francona did not sound overly concerned with Cabrera's cold start to the campaign.
"I try to keep an eye on everybody," Francona said. "He looks to me like he's OK. He's been through this. He's played a lot of baseball. His outlook in the dugout, he's OK. You watch. As cold as he has been through maybe 50 at-bats, his next 50 he'll be just that hot.
"That's just the way it is with good players, and he's every bit of that."
Cabrera was also confident he would turn things around soon.
"That's the game. This happens to everybody," he said. "I'm just trying to keep working hard and doing what I'm doing, and help the team later."
Jordan Bastian is a reporter for MLB.com. Read his blog, Major League Bastian, and follow him on Twitter @MLBastian. This story was not subject to the approval of Major League Baseball or its clubs.