Leake leads way on hill, with bat as Reds rout Phils
Righty goes seven shutout innings, totals three hits to cap sweep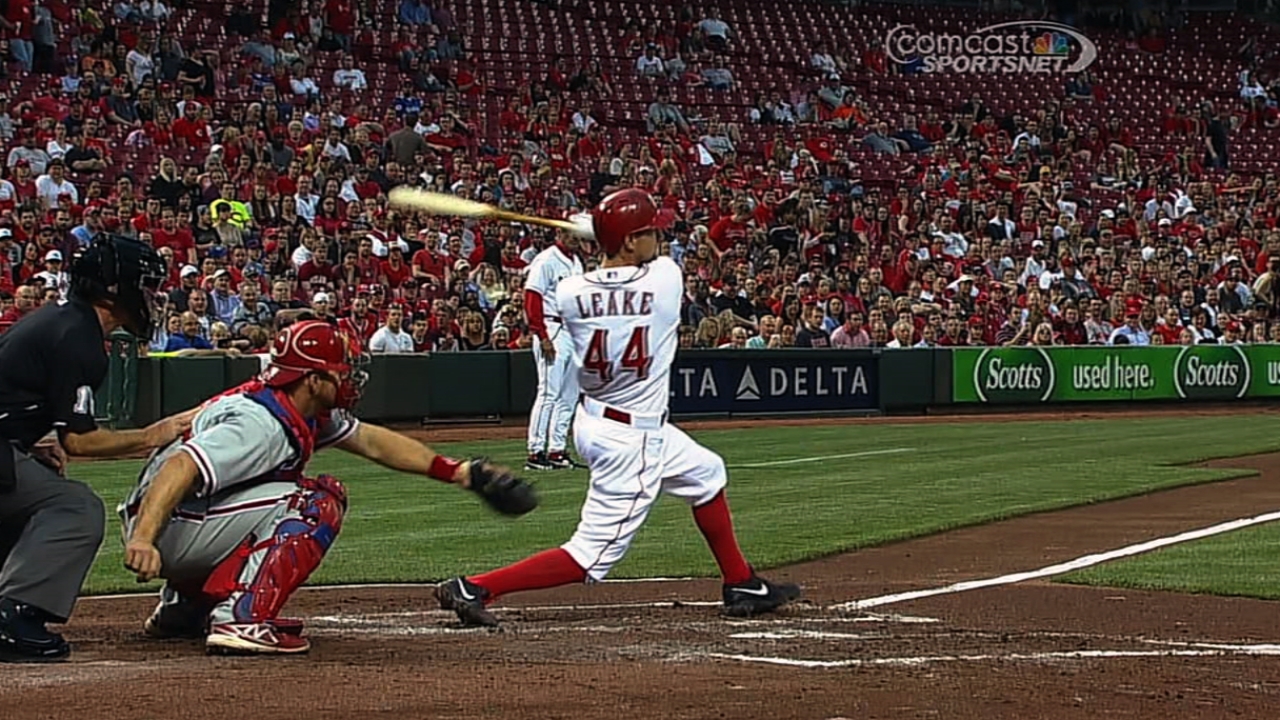 CINCINNATI -- It's very possible the Reds' rotation will eventually miss injured ace Johnny Cueto at some point, but that time is not yet. Not when the team saw the three performances it got while burying the Phillies for a three-game sweep.
Following the efforts of Bronson Arroyo and Homer Bailey before him, Mike Leake not only pitched a fantastic game, he was a dual threat, too, during an 11-2 Reds rout of the Phillies on Wednesday at Great American Ball Park. Leake not only provided seven scoreless innings on the mound, but he tied a career high with three hits at the plate and scored three runs.
"He had everything going on tonight," said Reds manager Dusty Baker, whose club moved back over .500 at 8-7.
During the three wins over Philadelphia, which came on the heels of a five-game losing streak to end a road trip in St. Louis and Pittsburgh, Reds starters allowed two runs and no walks in 23 innings. Leake and Bailey combined for 15 scoreless innings.
All of this smooth work happened after Cueto went on the disabled list Monday with a strained right lat muscle.
"This is how you get it done," Baker said. "This is how you get your bullpen well. We couldn't ask for anything better, considering how this stretch of 20 days in a row started out. We're not out of the woods yet, but we could have been upside down, big time."
The timing was good for Leake, who came in with a less-than-stellar 6.75 ERA through his first two starts. He was tapped for five runs and 10 hits against the Pirates on Friday.
With prized prospect Tony Cingrani being called up to replace Cueto on Thursday, more good performances from Leake should block any thoughts of making a change.
"As long as we keep this going, it should be a good season," said Leake, who allowed just three hits and a hit batsman with no walks and seven strikeouts. "I needed the good performance rather than the hits, but [the hits] definitely helped."
Cincinnati, which completed a suspended game with a narrow 1-0 win over Philadelphia less than two hours before beginning the finale, dispensed with the drama and jumped lefty John Lannan for a 6-0 lead through two innings.
It was already 1-0 before the Reds sent 10 men to the plate during a five-run second. Todd Frazier started the rally with a leadoff homer to right field. Leake soon was helping himself with the first triple of his career, as his drive over center fielder Ben Revere scored Devin Mesoraco. Rookie Derrick Robinson notched the first RBI of his career with a single to right field.
With two outs and the bases loaded, Jay Bruce finished Lannan's night with an RBI single to right field. It was a similar hit to his game-winner in the completion of the suspended game. Lefty reliever Raul Valdes did not fare much better than Lannan, as he began the Reds' third inning with back-to-back doubles, including Mesoraco's RBI two-bagger off the left-field wall. Brandon Phillips added a two-out single into right field for his team's 12th hit and a nine-run lead.
Leake, who added two infield hits, was on first base with two outs in the fifth when Zack Cozart went deep to the left-field upper deck for a two-run homer. That made him the first Reds pitcher since Danny Jackson in 1988 to score at least three runs in a game.
"Obviously, the road trip wasn't too good for us," Cozart said. "To come in and face the Phillies and get a big sweep was important. We know we're a good team. Especially when Johnny goes down, just like last year when Joey [Votto] went down, we're going to keep proving we're still a good team even though you lose your big guys like that. A good step in the right direction."
The night marked the first time the Reds have swept a series from the Phillies since sweeping a pair of four-game series in 1996. Their last three-game sweep came in 1995. On the Phillies' now completed six-game road trip, they scored only 10 runs.
Although Leake came in 0-3 with a 9.33 ERA lifetime vs. Philadelphia, he was no tonic for their faded bats. Following a one-out double by Valdes in the third, he faced one over the minimum the rest of the way. Seven of his last eight outs came via the ground ball.
"I was mixing and matching, going after them and staying convicted to your pitch rather than being scared," Leake said. "It's an attitude thing for me."
Mark Sheldon is a reporter for MLB.com. Read his blog, Mark My Word, and follow him on Twitter @m_sheldon This story was not subject to the approval of Major League Baseball or its clubs.