Phillies' offense continues to stall in finale vs. Reds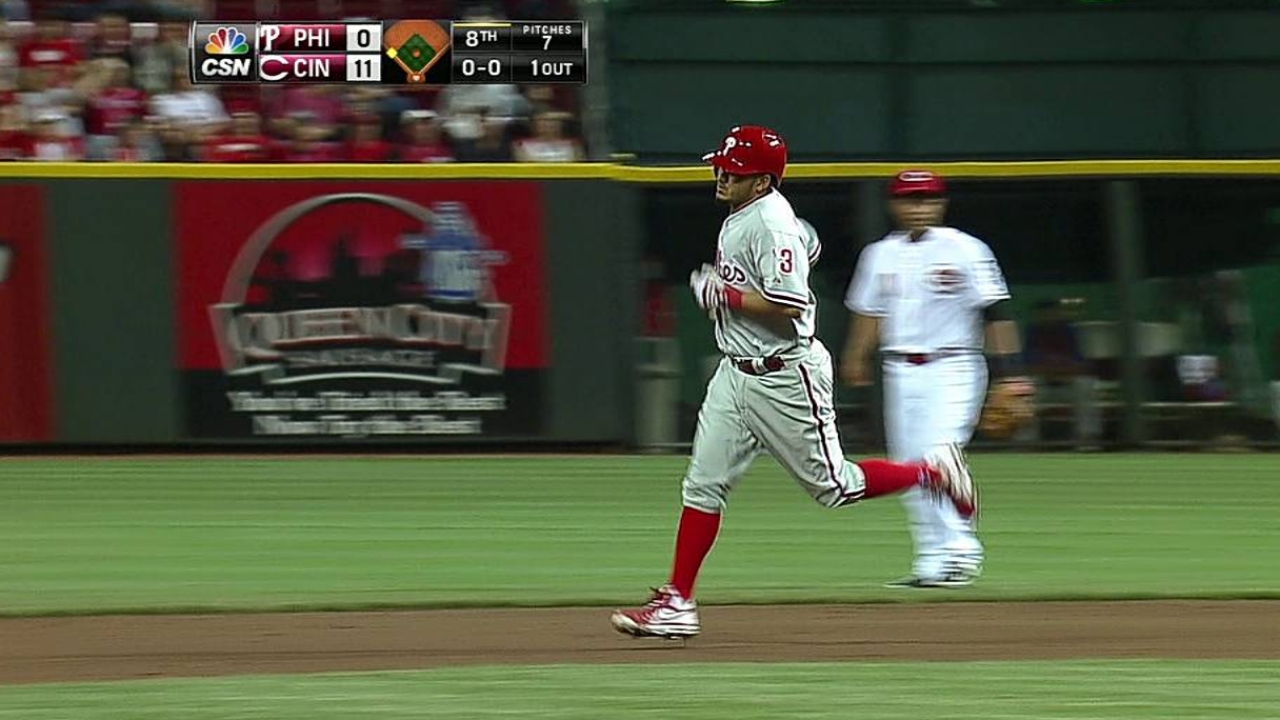 CINCINNATI -- This seemed like a fitting ending to a truly ponderous and forgettable road trip.
The Reds needed just nine minutes Wednesday evening to beat the Phillies in a game suspended late Tuesday night because of rain. Then they needed just two innings to bury them in the series finale, 11-2, which began about 90 minutes later at Great American Ball Park. The Reds swept the Phillies in the three-game series, as the Phillies finished 2-4 on the trip to drop to 6-9.
It could have been worse.
Well, it could not have been much worse for the offense. The Phillies did not score a run before the sixth inning in any game during the trip through Miami and Cincinnati. They hit just .205 and scored a mere 10 runs overall. They managed just three hits through seven innings Wednesday, with Phillies reliever Raul Valdes providing the team's first extra-base hit since the eighth inning Monday, when he doubled to left-center field in the third.
"Tough," Ryan Howard said. "It's been a tough trip. We've had games when we got hits. We just needed those situational hits. I was telling [hitting coach] Steve Henderson, 'Man, I've never seen where we've just missed pitches.' Their pitchers attacked the zone. They got ahead in the count. They made pitches they needed to make. But at the same time, we had good swings and good passes on balls. I had three balls I just missed that could have potentially been home runs. Overall, it's a tough road trip. It's a little disappointing. We keep swinging, and hopefully, we'll start to connect."
Freddy Galvis hit a two-run home run to right field in the eighth inning to prevent the Phillies from being shut out in consecutive games for the first time since three shutout losses to the Mets from May 25-27, 2010.
But the Phillies simply could not put anybody on base. In fact, they failed to walk once in the entire series against the Reds. It is the first time since Aug. 13-15, 1995, they had no walks over a three-game span. It is just the second time it has happened in the past 50 years.
"We got guys in our lineup that have been good hitters," manager Charlie Manuel said. "We've got [Chase] Utley, we've got [Michael] Young, we've got Howard, we've got [Jimmy] Rollins. Really. Those guys have been good hitters. They still are. We've just got to do better. We've got to get better consistently, play the game better. That's pitching, offense and defense. That's the three phases of the game we have to do better at."
The Phillies actually pitched well on the trip, until left-hander John Lannan allowed eight hits, six runs, one walk and one home run in 1 2/3 innings Wednesday. Lannan said afterward he tweaked his left knee on the third pitch of the game, aggravating some soreness he started to feel during his last start. He said it prevented him from pushing off his back leg, which prevented him from keeping the ball down in the strike zone.
He will see team physician Michael Ciccotti on Thursday in Philadelphia.
"It was tough, because coming in, we'd like to salvage one," Lannan said about the series. "I was fully prepared to do that. But then something like that happens and there's not much I can do about it really."
Phillies starters had a 1.66 ERA in their previous seven games, but they've had little to show for it. The team wasted fine pitching performance Saturday from Cole Hamels, Monday from Cliff Lee and Tuesday from Kyle Kendrick because they could not score.
The options for the Phillies? There are few, other than hope a trip home for an eight-game homestand against St. Louis and Pittsburgh gets their offense rolling in the right direction. Manuel could tweak his lineup, although he has said several times during the trip he is limited in what he can do. Leadoff hitter Ben Revere is hitless in his last 14 at-bats to drop his average to .194, but former leadoff hitter Rollins had just one hit in 18 at-bats on the road trip to drop his average to .232.
"Lot of our guys had a tough time on this road trip," Manuel said. "We can talk about Jimmy. He can't do it all."
Manuel's options will improve April 28 when Carlos Ruiz returns from his 25-game suspension for using a banned stimulant, and whenever the Phillies decide Delmon Young is healthy enough and ready to play right field.
But they need to find a way to score in the meantime. It isn't like the Braves and the rest of the National League East will just wait for them to get hot.
"We have to play better," Manuel said. "We have to hit better. And if we don't get good balls to hit, we should be adding some walks in there somewhere. Because the pitcher would be walking us if we have plate discipline and work the count and everything. That's kind of how I look at it. Bottom line is we have to play better. Our game is not together."
Todd Zolecki is a reporter for MLB.com. This story was not subject to the approval of Major League Baseball or its clubs.