Kershaw stumbles as LA's skid reaches four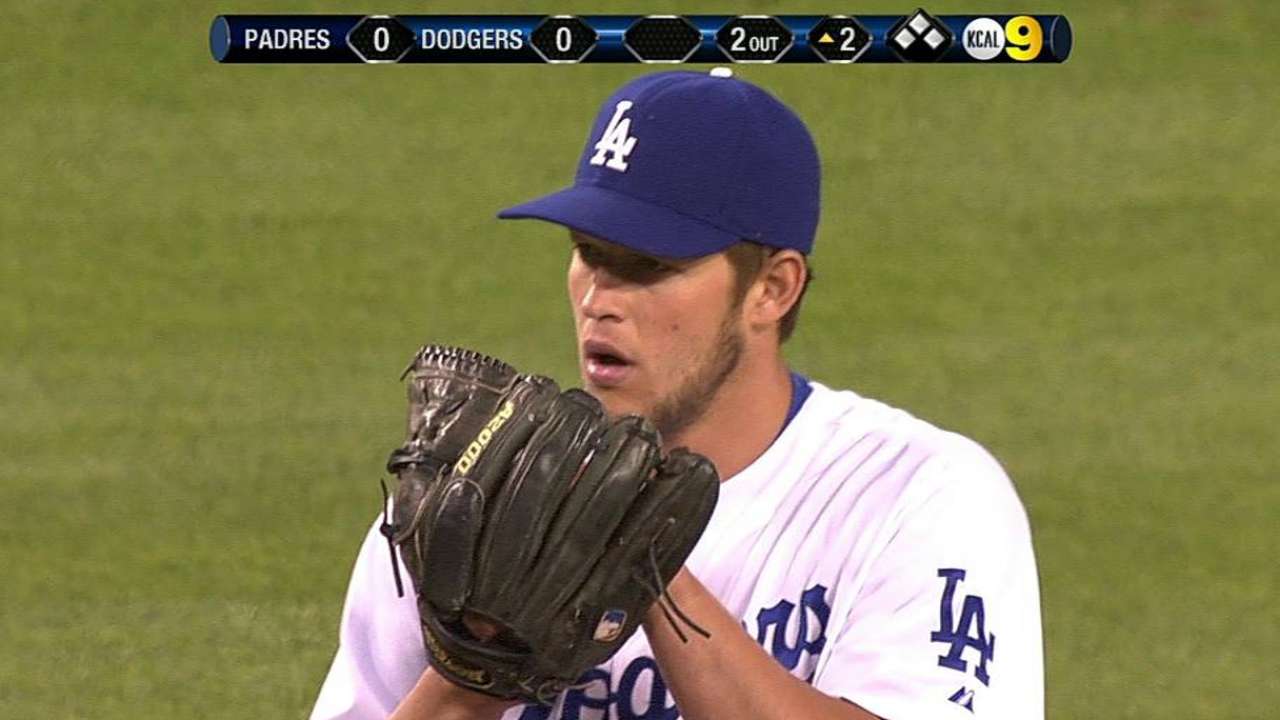 LOS ANGELES -- Even Clayton Kershaw couldn't offer the Dodgers better results, and the club was searching for answers following its fourth loss in a row on Wednesday night.
Kershaw had his first rough outing of the season, and the Dodgers fell to the Padres, 7-2, at Dodger Stadium to complete a three-game sweep at the hands of their National League West rivals. It was the first time the Dodgers were swept at home by the Padres since July 24-26, 2006.
The Dodgers were outscored, 22-7, during the series, and never seemed to be in position to win any of the three games. The club has lost five of its last six games.
"If I had the answer, I'd fix it," said outfielder Carl Crawford.
The lack of run production has begun to wear on the Dodgers' confidence, manager Don Mattingly said. Los Angeles has scored 41 runs in 15 games, second fewest in the NL.
"The last few days we've gotten down, and it feels like we're way down," Mattingly said. "This club shouldn't feel like that. This club should be a club that feels like we're in every game and can throw a bunch of runs up."
Wednesday's loss prompted the Dodgers to hold a team meeting.
"We talked about what's acceptable and what's not acceptable and how do we turn it around," Mattingly said. "How do we go on? We can't sit here and say it's going to be OK. We have to continue to get after it, continue to work and make sure we're not sitting here feeling sorry for ourselves in any way shape or form."
Mattingly does not like the way his team has reacted to early deficits.
"You want your club to feel like we've got all day, keep it right there and we'll get some runs on the board and get ourselves back in the game," Mattingly said. "Right now, I can't sit here and tell you that you get that feeling on the bench."
The Dodgers, though, aren't playing the blame game.
"It starts with the players," outfielder Andre Ethier said. "We've got to come up big and keep a positive attitude. I can't point the finger at anyone other than myself. We've got to come up big, that's the only way to break this thing. It's really frustrating. We've dug ourselves a hole, and we have to figure a way to right it."
The Dodgers have yet to live up to their lofty expectations this year, but they aren't shying away from them either.
"We've just got to play better," said second baseman Mark Ellis. "Nobody here is running from the expectations. We know were supposed to be a good team. You want those expectations. It means you've got good players."
There's still plenty of time for the Dodgers to turn things around. But a 7-8 start is not what the team envisioned.
"If we play the game right, if we play fundamentally right, we're going to win games," said Adrian Gonzalez, who led the team with three hits. "The confidence is there because we understand that. The problem is we're not doing those things that we need to be doing."
One thing the Dodgers aren't doing is capitalizing on scoring chances. The club loaded the bases three times on Wednesday, but only scored once on a sacrifice fly by Matt Kemp in the ninth when the game was out of reach.
The Dodgers left 14 runners on base and were 2-for-9 with runners in scoring position in the finale. They left 30 men on base in the series, going 5-for-27 with runners in scoring position. The club has been searching for clutch hits for some time, but hasn't gotten any.
Gonzalez believes it will take more than one big hit to turn things around, though.
"It's not one hit, it's hit after hit after hit so we can all see it," the first baseman said. "One game is not going to put together any momentum. Two or three games will carry momentum."
For a brief period Wednesday, it looked like the Dodgers might build some momentum heading into a six-game road trip that begins Friday in Baltimore.
Kershaw sailed through the first three innings, retiring nine of 10 batters. He picked up career strikeout No. 1,000 along the way, fanning Yonder Alonso in the second with a 93-mph fastball.
The Dodgers led, 1-0, heading into the fourth. That's when Kershaw allowed three runs, matching his total from three previous starts this year.
Kershaw was out of the game before the end of the sixth inning for the first time this season. He allowed three homers, all solo shots, for the first time in his career at Dodger Stadium.
"It just wasn't very good," said Kershaw, who lost his second straight start. "I didn't have any command and really couldn't throw the breaking ball again. They put good swings on fastballs when I got behind in the count. They did what they're supposed to do. I don't know what happened, I was just falling behind too much."
Kershaw needed 109 pitches to go 5 1/3 innings, allowing seven hits and walking four against five strikeouts.
In contrast to the Dodgers, the Padres turned 13 hits into seven runs. San Diego scored in five innings.
"For us, when the group is hitting, it takes the pressure off everyone," said Padres manager Bud Black. "It was sort of contagious. It's great to see. The was great to see the long ball."
That's something the Dodgers haven't been able to say often in 2013.
Austin Laymance is an associate reporter for MLB.com. This story was not subject to the approval of Major League Baseball or its clubs.