White Sox fond of former reliever Santos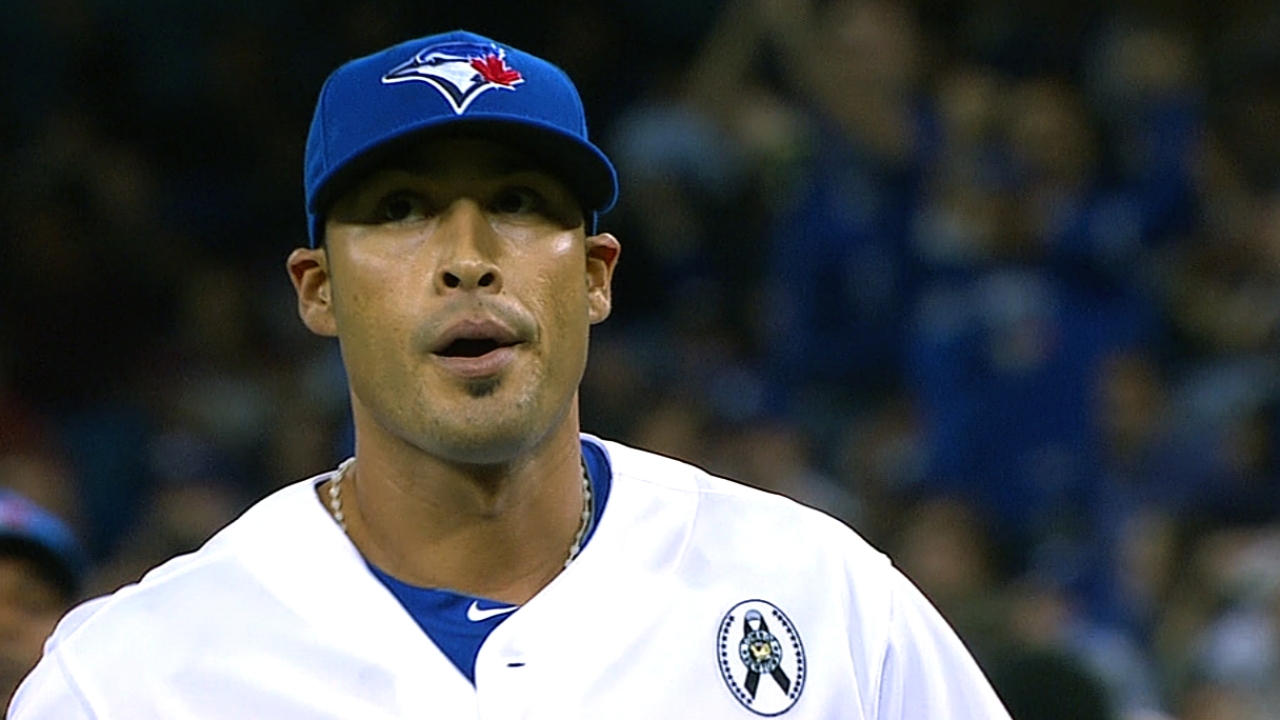 TORONTO -- Sergio Santos is long removed from his days with the White Sox, but those that had the chance to work with him still have the right-hander on their mind.
Santos broke into the big leagues with Chicago before being sent to Toronto for Minor League pitcher Nestor Molina in a straight up one-for-one swap in December 2011.
White Sox Minor League pitching coordinator Curt Hasler, who is filling in as the bullpen coach during Don Cooper's absence, was disappointed to hear Santos was placed on the 15-day disabled list with soreness in his right triceps. Hasler was hoping to catch up and chat about some old times with the Blue Jays reliever during Chicago's four-game set in Toronto.
"I would love to see him. I went to find him the other day, it would be nice to say hello," Hasler said. "He's a good guy."
Santos spent two years with the White Sox, including the 2011 season when he saved 30 games and struck out 92 batters over 63 1/3 innings. Hasler knows him from his time in Chicago's Minor League system and is still amazed at how fast he shot up through the ranks.
The 29-year-old Santos is a converted shortstop and picked up the art of pitching immediately, according to Hasler.
"First of all, throwing on the mound is different than throwing from the infield," Hasler said. "Some guys get it quicker than others and have a knack for it -- Sergio is one of those guys. When he got on the mound and threw it looked pretty natural the first time I watched him.
"He showed great stuff coming in and worked real hard at everything and got a lot of things quickly."
Hasler and Buddy Bell, the assistant general manager, worked with Santos during the early stages of the conversion and were impressed with how quickly he learned how to throw offspeed. It took a bit before Santos was given the green light to start working on his now wipeout slider, as he focused on his mechanics and controlling his fastball, but that didn't affect his progress with the pitch.
"He showed a nice breaking ball pretty quickly. It didn't take him long," Hasler said.
Catcher Tyler Flowers knows that slider well and loves Santos' stuff except for when he's trying to hit it.
"He's a guy that really works hard and has his heart in the game. He's a tough matchup, he has a couple weapons out there with a higher velocity," Flowers said.
"Of course 96 [mph] is always a good weapon when you can somewhat locate it. The slider is definitely the equalizer for him. When you combine that with the high velocity, it's even more challenging."
Chris Toman is a contributor to MLB.com. This story was not subject to the approval of Major League Baseball or its clubs.