Six-run first lifts A's to second sweep of Astros
Right-hander Colon tosses six strong innings for second win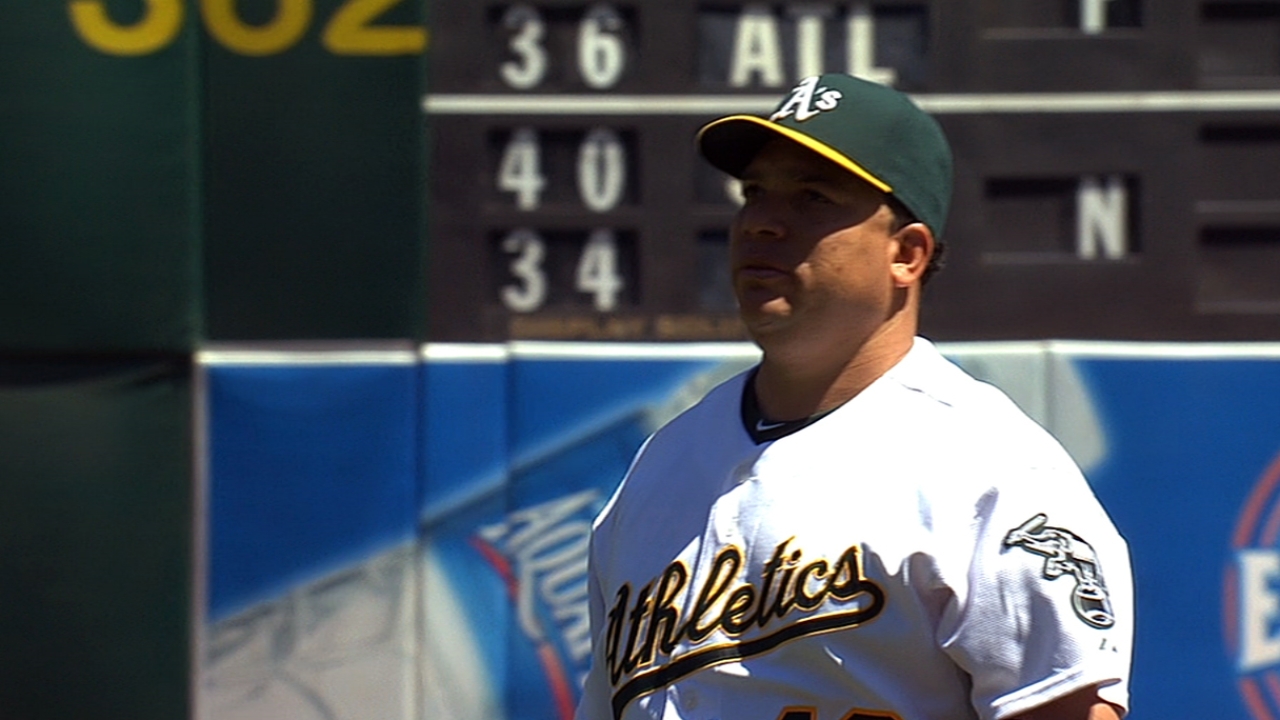 OAKLAND -- Sadly for the A's, they have to wave goodbye to the Houston Astros until late May.
They've played the newcomers to the American League West six times this season and are a perfect 6-0 against them following Wednesday's 7-5 victory in front of 15,488 fans at the Coliseum.
The win gave the A's their second three-game sweep of Houston in the past 12 days, and they've outscored the Astros 45-19 during those six games.
The A's sport the American League's best record at 12-4, their hottest start since the 1990 squad also jumped out of the gate 12-4.
Though half of their victories have come against the Astros, predicted by most to lose 100-plus games, the A's have gotten well-rounded contributions from the entire team.
"We're doing a lot of little things well, and that's what it takes to win over the course of the year," Oakland shortstop Jed Lowrie said. "[The Astros] are in a rebuilding phase, so we came in and took care of business. That's what it takes. You've got to beat the people you're supposed to beat."
Now the A's embark on their first cross-country trip, a six-game trek against the Tampa Bay Rays and Boston Red Sox. Though the Rays were a disappointing 4-9 entering Wednesday night, they're expected to be competitive this season. The Red Sox began the day atop the AL East at 9-4.
"It's our first trip out east, which always presents its challenges," A's manager Bob Melvin said.
Wednesday's series finale began in identical fashion as Monday's 11-2 victory, with Oakland scoring six runs in the first inning and getting to the Astros bullpen before the first inning ended.
Trailing 7-1, Houston struck for four runs off the A's bullpen in the final three innings and brought the tying run to the plate in the seventh and the ninth, but Oakland closer Grant Balfour finished things off for his third save.
"We have a resilient group and we will continue to battle to the end," Astros first-year manager Bo Porter said. "I'm proud of the guys after the early deficit to get back in it."
Houston right-hander Bud Norris (2-2), who grew up in nearby Novato, was staked to a 1-0 lead in the top of the first. But in the bottom half, he allowed five hits, walked three and was charged with six runs in only two-thirds of an inning before giving way to Xavier Cedeno.
On Monday, Astros lefty Erik Bedard left after surrendering six runs in one-third of an inning.
"I don't know what to say," Norris said. "I felt good, but they were finding holes. I was trying to battle through it and keep making pitches. Unfortunately, it wasn't my day. I know my role on this team and I know I have to pitch deep into games. … You live and learn and make adjustments."
John Jaso got the A's going in the first with a leadoff double and scored on Chris Young's single to left. After Seth Smith's check-swing single and Lowrie's walk, Josh Reddick ended an 0-for-12 streak by ripping a two-run double to right to make it 3-1.
Derek Norris walked to load the bases, then Eric Sogard singled in a run. Shane Peterson walked to collect his first major league RBI and Jaso brought home a run with a groundout to make it 6-1.
"We were able to draw some walks and get some big hits and make him throw a lot of pitches," Lowrie said. "That's a big key to getting to any club's bullpen early, and we were able to do it twice."
A's right-hander Bartolo Colon (2-0) sailed through six innings, allowing one run on four hits with three strikeouts and no walks.
Carlos Pena homered during the Astros' three-run seventh off reliever Chris Resop. But Ryan Cook entered for the A's and struck out Justin Maxwell to end that threat.
A good sign for the A's: They've kept the runs coming even with cleanup hitter Yoenis Cespedes on the disabled list with a strained muscle in his left hand, and with No. 5 hitter Brandon Moss having missed the past two games on paternity leave.
Lowrie has stepped up, going 5-for-14 with five RBIs in four games replacing Cespedes in the cleanup spot. Melvin said he feels his team has turned in a complete effort over the first 16 games and doesn't think the A's performance should appear diminished because they've beaten up on the Astros six times.
"A big league team's a big league team, and a win's a win," the manager said. "The way the schedule is right now, we've played them six times. That doesn't mean anything to me other than getting six good games under our belt.
Joe Stiglich is a contributor to MLB.com. This story was not subject to the approval of Major League Baseball or its clubs.