Norris can't complete first inning in return to Bay Area
Right-hander allows six runs in shortest career outing; Pena homers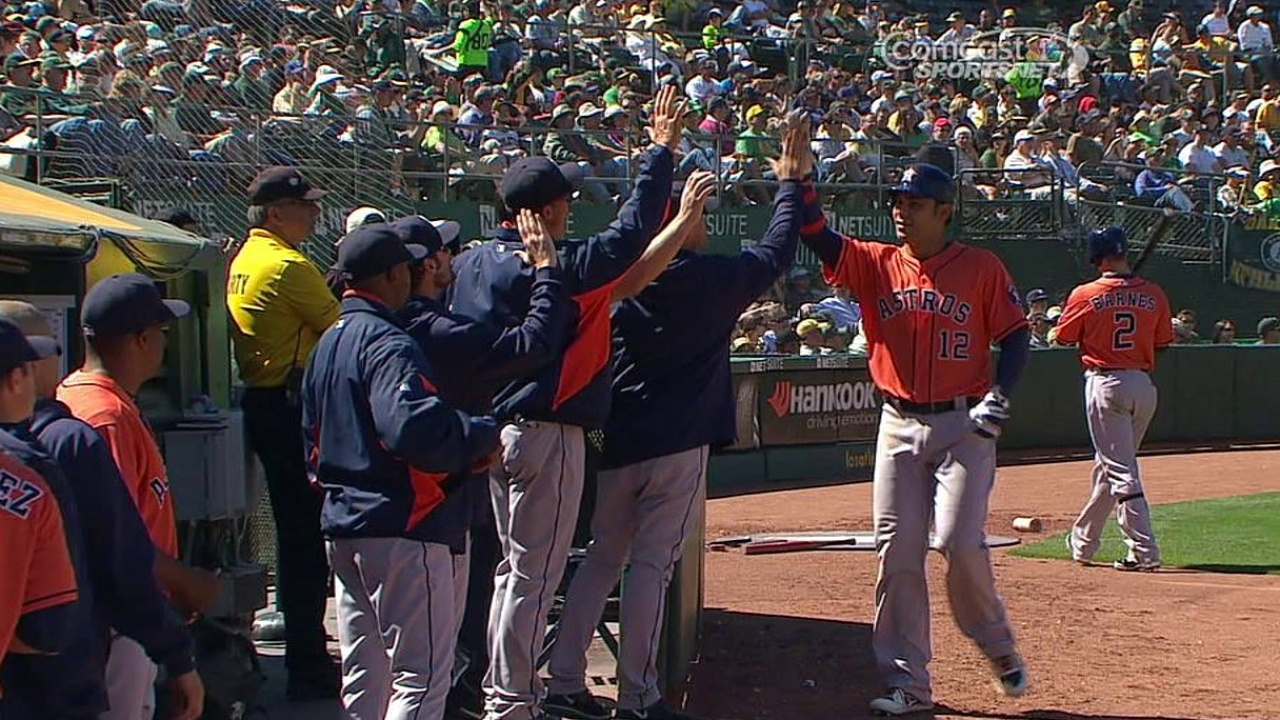 OAKLAND -- Bud Norris did his job as one of the Astros' team leaders while standing in front of his locker following the team's latest loss.
Norris looked everybody in the eye, refused to make excuses and took responsibility.
There's nothing fun about getting knocked out of the game early, though the past three games have shown one silver lining for the Astros pitching staff: the bullpen.
Norris gave up six runs and recorded only two outs for the shortest outing of his career, and the Astros dropped the series finale, 7-5, on Wednesday to the Oakland Athletics.
"I don't know what to say. I felt good, but they were finding holes," Norris said. "I was trying to battle through it and keep making pitches. Unfortunately, it wasn't my day. They swung the bats and found some holes. I just have to keep making pitches."
Astros relievers Xavier Cedeno, Wesley Wright, Hector Ambriz and Jose Veras combined to allow one run on six hits in 7 1/3 innings, helping keep the game within reach.
Their relief efforts came on the heels of lengthy efforts from Paul Clemens and Dallas Keuchel the previous two games.
The Astros bullpen combined for a 2.61 ERA in the three-game series against Oakland, allowing six runs in 20 2/3 innings.
"The bullpen did a great job," Houston manager Bo Porter said. "They kept it where it was and allowed the offense to do what they did. They kept chipping away. I think that let's everybody know we're not far off."
As a result, the Astros were able to make things interesting, scoring three times in the seventh inning, including Carlos Pena's solo home run (his second of the year), and another run in the ninth on Rick Ankiel's pinch-hit homer.
"When I see him drive the ball the other way, that's the first sign he's seeing the ball," Porter said of Pena. "He's getting locked in."
Jose Altuve had three hits and drove in a run, and Chris Carter and Marwin Gonzalez also drove in runs for the Astros, who lost their fifth straight after a 3-1 start to the nine-game road trip.
"I don't discount anything about a particular team, they pushed us to brink," A's manager Bob Melvin said. "A big league team's a big league team, and a win's a win. The way the schedule is right now, we've played them six times. That doesn't mean anything to me other than getting six good games under our belt."
Altuve finished the road trip with a .385 average. Pena is 10-for-29 (.345) with two homers, four doubles, six RBIs, and six walks over his last eight games.
Houston starters combined for a 25.31 ERA (15 runs in 5 1/3 innings) in the series with the A's. If it were different starters, Porter might be concerned.
"We have a resilient group and we will continue to battle to the end. I'm proud of the guys after the early deficit to get back in it," Porter said. "[Norris] just didn't have it. Like Erik [Bedard] the other day, you're just going to have those days. If he could get through the first, he can get settled down."
Norris, who gave up five hits and walked three, isn't about to give in either.
"I know my role on this team and I know I have to pitch deep into games," he said. "I did not want to come out. This team knows I will give it everything I have every time out. But i understood the bigger picture. You live and learn and make adjustments."
Rick Eymer is a contributor to MLB.com. This story was not subject to the approval of Major League Baseball or its clubs.