Cards shut out, giving Miller tough-luck loss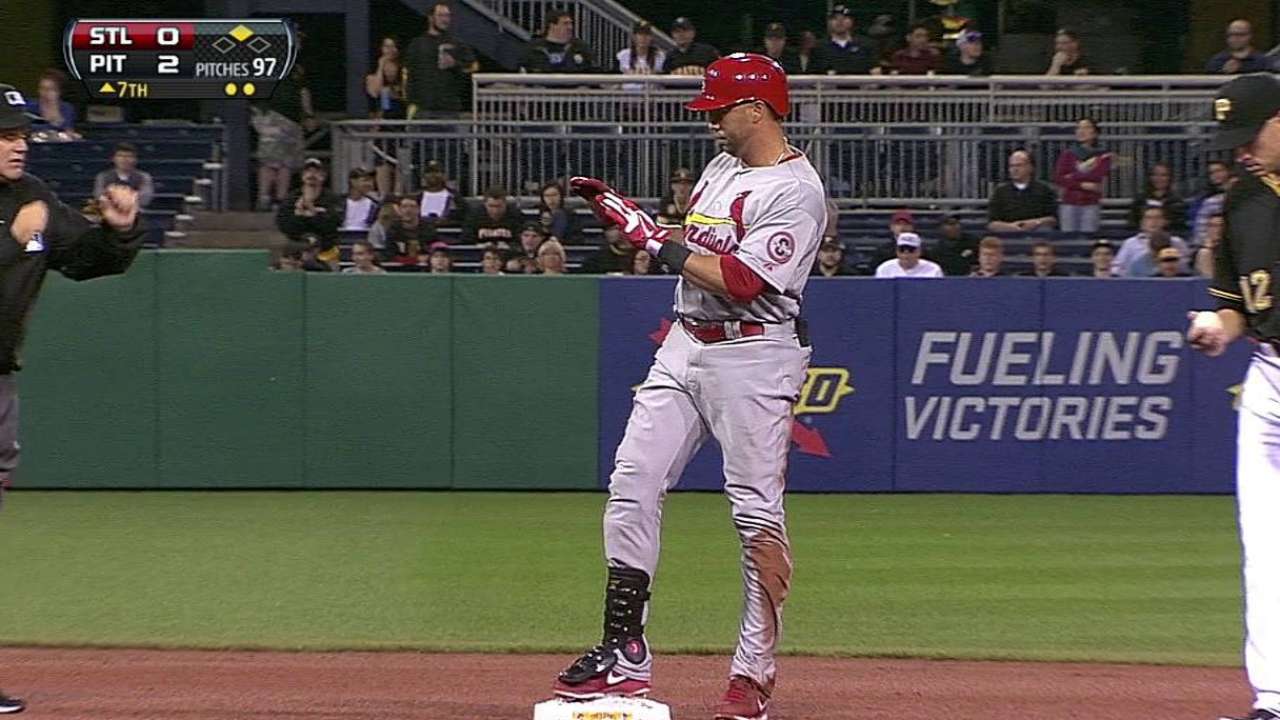 PITTSBURGH -- Umpire interference was all that stopped Carlos Beltran from spoiling a no-hitter last June. On Wednesday he ensured that his attempt to halt another would be undisputed.

Beltran foiled A.J. Burnett's no-hit bid with a two-out double in the seventh. It kept the Cardinals off the wrong side of PNC Park history but wouldn't alter the outcome, as the Cardinals quietly dropped the series finale, 5-0.

On a night when he'd also reach the 2,000-strikeout plateau, Burnett was perfect before an errant slider hit the 17th Cardinals batter of the night -- Daniel Descalso -- in the foot. Burnett did, however, end the inning with a no-hitter still intact for a franchise that last threw one in 1997.

There have been 35 no-hitters since then, including one by Burnett, who did so while walking nine in a start with the Marlins in 2001. His try for No. 2 ended when Beltran sliced the second of two straight sliders he saw in his seventh-inning at-bat into right-center.

"I think that was one of the few that he threw right around the middle of the strike zone," said Beltran, now 10-for-33 in his career against Burnett. "He threw me a first one for a strike, and the second one was more hittable than the first one. I put a good swing on that one."

"He covers everything," noted Burnett. "I looked at him at second and said, 'You can't swing and miss on one more for me?' and he smiled. He just put a good swing on a good hook."

It was Beltran, of course, who had an extra-base hit taken away by umpire Adrian Johnson's missed fair/foul call in the sixth inning of a game on June 1, 2012, a night that ended with New York celebrating Johan Santana's no-hitter, the first in Mets history. As the schedule would have it, Johnson was present on Wednesday, too, calling pitches behind home plate.
This was the fewest hits the Cardinals tallied in a game since that night at Citi Field.

"When you see him go through the lineup a couple of times using only two of his pitches, you think he's got a pretty good chance," manager Mike Matheny said of Burnett's no-hitter attempt. "Once he started really mixing it up, he still had a lot of flexibility to show them a different look that third time [through the order]. That makes it tough."

Burnett's night was over after the seventh, though the Cardinals' offense didn't wake up against the Pirates 'pen either. Mark Melancon, Tony Watson and Jason Grilli finished off the shutout.

That left Shelby Miller as the hard-luck loser in a game that proceeded as a pitchers' duel for much of the night. Miller took the first loss of his Major League career in a game in which he allowed two runs over six innings. As it turned out, the Pirates only needed the first of those runs.

It came minutes into Miller's start, as Starling Marte led off with a triple and scored when Travis Snider subsequently dropped a ball into shallow right field.

Miller allowed two other singles in the first but used a double play to get out of the frame without further damage. He then began to dominate. Beginning with the final out of the first, he retired 15 straight.

"The first inning, I didn't feel near as sharp as I did the rest of the game," Miller (2-1) said. "I was leaving the ball over the middle. They were hitting it hard. The leadoff triple didn't help. After that I made some good pitches. The rest of the game, I felt good."

Trouble, though, brewed again with two out in the sixth. Andrew McCutchen beat out an infield hit and, after a walk to Garrett Jones, Neil Walker drove a two-strike curveball just past a diving Descalso at short to push across an insurance run.

Despite the outcome, Miller has opened his career as a Major League starter with a string of strong outings. In those four starts, he has given up four runs in 24 1/3 innings.

"You've got to tip your hat to Miller," Pirates manager Clint Hurdle said. "You saw why the numbers are what they are. We thought we had him in a place where we might be able to make him move, and he collected himself. That fastball showed up, that sharp breaking ball showed up and he held us at bay for quite a period of time without striking anything really hard."

Miller's outing was the bright spot in an otherwise forgettable night for the Cardinals.

In addition to recording only one hit, the club had its first two-error game of the season. Descalso's misplay in the sixth gave McCutchen an extra base, and a throwing error by David Freese an inning later led to an unearned insurance run. Going into the night, the only National League clubs with fewer errors than St. Louis were Arizona and Cincinnati.

"Whenever you have losses like this, there's a lot of little things that help contribute to it," Matheny said. "We've been playing pretty well defensively, and that's something that we have to make sure we keep as a top priority."

The bullpen, too, showed cracks, with both Trevor Rosenthal and Randy Choate allowing a run to a Pittsburgh club that entered the game with a .214 team batting average.