Mariners unable to hold off Tigers on tribute night
Harang racks up six strikeouts in five-inning debut for Seattle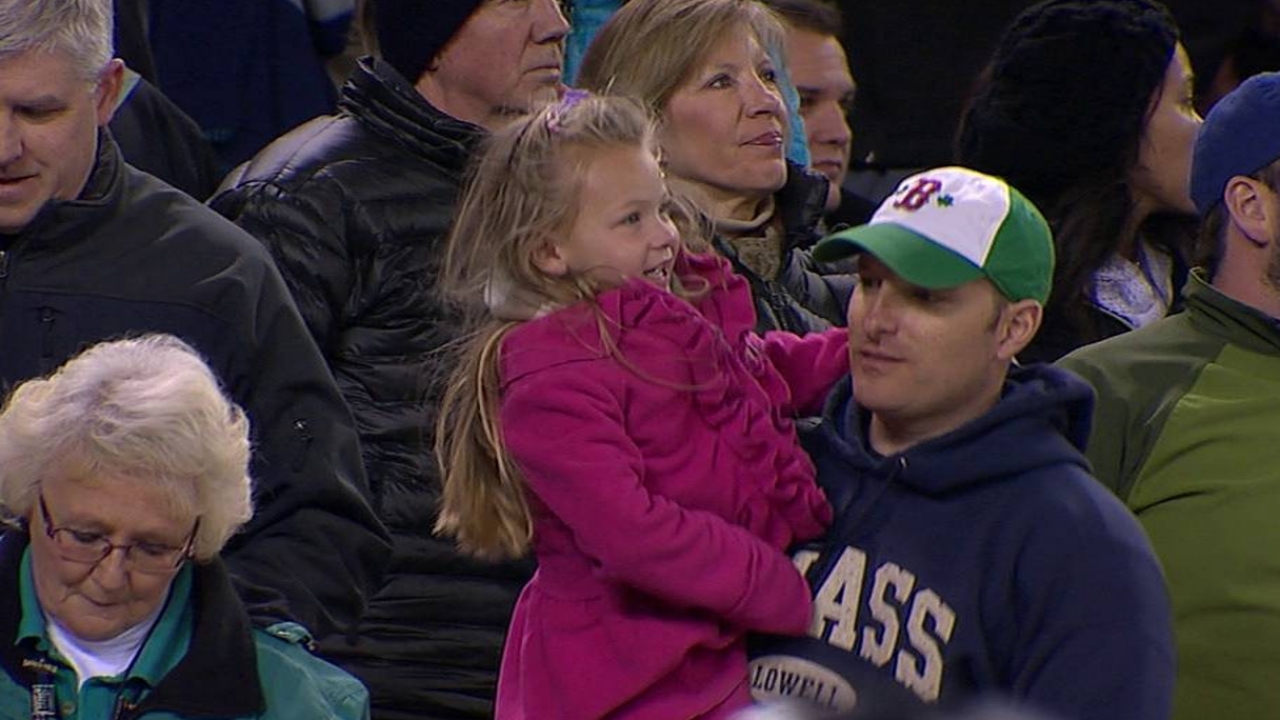 SEATTLE -- The Mariners are waiting for everything to fall into place. They're waiting for their young hitters to break out of their cold-weather slumps. They're waiting for their injured players to get healthy.
On Tuesday night at a chilly Safeco Field, their patience was tested once again in a 6-2 loss to the reigning American League champion Tigers.
For every positive sign, like a largely effective Seattle debut for the newest Mariners starter, right-hander Aaron Harang, and the successful return of Michael Morse (one RBI) from three days sidelined with a broken finger, the Mariners couldn't push enough runs across against a former teammate, Detroit righty Doug Fister, and the loss dropped them to 6-9 for the season.
"We've got to get the offense going and loosen things up a little bit around here," Mariners manager Eric Wedge said. "They're grinding, they're fighting through it, and Fister was pretty good tonight.
"He threw the ball well, and I thought Aaron threw the ball well. We didn't want to expand him past where he was. We just weren't really getting anything going offensively."
Harang got off to a rough beginning in his Seattle lid-lifter, giving up a leadoff triple to outfielder Austin Jackson and watching him score on a single by last year's AL Triple Crown winner, Miguel Cabrera. Harang bore down and got the next two outs and made it through another three scoreless innings, allowing the Mariners to take the lead in the bottom of the fourth.
With one out, Seattle third baseman Kyle Seager showed signs of life in the midst of a slow start to the season by doubling to center. Kendrys Morales followed with a double to the gap in right-center to tie the game, and Morse singled up the middle to score Morales and give the Mariners a 2-1 advantage.
Harang, who struck out six batters in his five innings, didn't hit a proverbial wall in his final frame -- he hit Cabrera. Or, rather, Cabrera hit him. After Torii Hunter punched a one-out single, Cabrera belted a two-run, go-ahead homer into the bleachers in center to put Detroit up for good.
Harang and Wedge both said after the game that the pitch Cabera hit was not a strike. In fact, Harang said he went back and looked at video and the pitch was "4 or 5 inches off the plate." Then again this is Miguel Cabrera, and he only had one homer in his team's first 12 games. It was bound to happen sooner or later.
"If it's down and inside, that's a good pitch for me, but down and away, that's where I like it to be," Cabrera said. "I can extend my arms. I've got more extension to the ball right there."
Harang said that piece of hitting simply proves how good Cabrera is.
"It's one of those things," Harang said. "Great hitter. He did a good job and he ended up basically single-handedly beating us."
Despite all that, Wedge said he was impressed with Harang, who had been traded from the Dodgers to the Rockies and on to the Mariners without making a regular-season start prior to Tuesday. That's why Harang was pulled after 95 pitches as he continues to work his conditioning into the season. Harang said he was pleased with his outing, particularly that he didn't walk a batter -- something he hadn't accomplished since May of last year.
The problem on this night was that Fister did a better job, and each time the Mariners see the big right-hander shutting down lineups, it reminds them that he once was theirs. Seattle sent Fister to Detroit at the Trade Deadline in 2011 in exchange for reliever Charlie Furbush, outfielder Casper Wells, pitcher Chance Ruffin and Minor Leaguer Francisco Martinez.
What the Mariners hitters saw, according to Seattle first baseman Justin Smoak, was a lot like what they saw while playing behind Fister a few years back.
"He was always good when he was here," Smoak said. "He's one of those guys who goes out there and competes."
The Tigers tacked on another run in the top of the seventh when Jackson singled, stole second base and scored on a single by Cabrera, who accounted for the first four of Detroit's RBIs.
Jackson worked a walk with the bases loaded in the top of the eighth to make it 5-2, and the Mariners then brought in reliever Yoervis Medina, who made his Major League debut and walked Hunter on four pitches to make it 6-2. Medina, a right-hander who was called up from Triple-A Tacoma to replace injured Stephen Pryor, threw another two consecutive balls to Cabrera before pumping a 95-mph fastball for a strike and ultimately getting out of the jam by freezing last year's league MVP with a fastball.
He then came out for the ninth, struck out Prince Fielder with a 96-mph fastball, and escaped another jam in a scoreless inning.
"He showed good stuff," Wedge said. "He was just a little erratic, which is to be expected, I think, for a first time in there, but settled down and threw the ball well."
Otherwise, it was a quiet night for a short-handed Mariners offense that doesn't have the presence of injured outfielder Michael Saunders near the top of the order and is waiting for others to heat up.
"We've got players here, once they settle in, we're going to be a pretty good offensive club," Wedge said. "I believe that. So it's early, and guys are working through some things, and we just have to keep playing."
Doug Miller is a reporter for MLB.com. Follow him on Twitter @DougMillerMLB. This story was not subject to the approval of Major League Baseball or its clubs.