Amarista's four RBIs back Marquis' gem in LA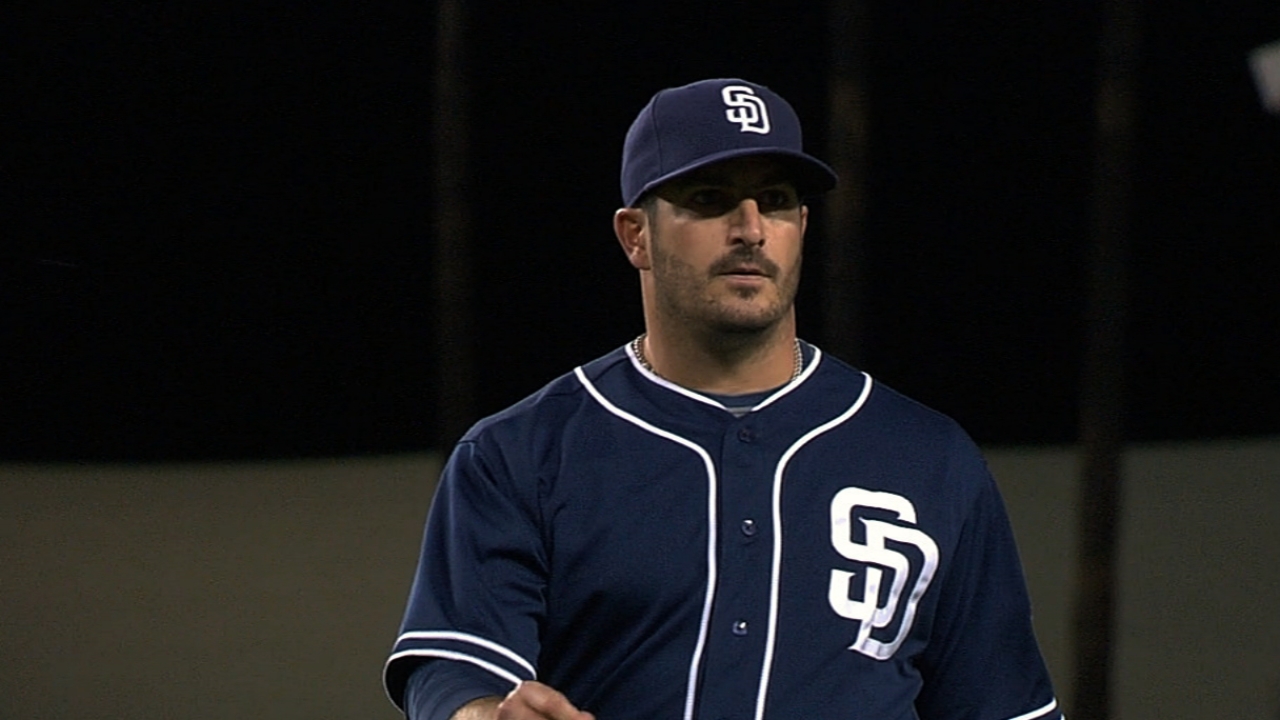 LOS ANGELES -- It was difficult to discern who the biggest winners were on Tuesday at Dodger Stadium.
How about the Padres' struggling offense, which was able to accumulate 15 hits, seven with runners in scoring position, en route to a 9-2 victory over the Dodgers in front of crowd of 35,898?
And what about starting pitcher Jason Marquis, who managed to go deeper into a game -- 7 2/3 innings, to be exact -- than any Padres starting pitcher this season?
Last, but certainly not least, how about the wearied members of the Padres' bullpen, those who have been taxed early in the season because of the short stints by the starters?
"It's definitely a huge advantage. It's nice to have those games when everyone gets a day of rest," said Padres reliever Joe Thatcher. "It might not seem like a big deal now, but in August and September ... all these days off now help you at the end of the year.
"I think that's overlooked."
It wasn't on Tuesday, as Thatcher and most of the those bundled up in the bullpen were able to simply sit back and enjoy Marquis' impressive start and a big victory by the Padres, who won consecutive games for the first time this season all while winning their first series of the season.
Marquis allowed one run on three hits and worked past some command issues early in the game.
"The fastball command was off early, but as the game moved into the fourth, fifth and sixth innings, his slider improved," Padres manager Bud Black said. "I thought he got better as the game wore on."
The Dodgers pushed Marquis in the third inning, loading the bases with one out. Mark Ellis chased a run home with a sacrifice fly, but Marquis struck out Matt Kemp to avoid further damage.
"It was a battle. My fastball command wasn't where I wanted it, but my slider-split were pretty good," Marquis said. "I tried to tell myself to just try and minimize the damage. We had a 4-0 lead, I just tried to not let it get out of hand."
The Padres backed Marquis with plenty of offense, even before he made his first pitch.
Three of the first four batters of the game reached base against Dodgers pitcher Chris Capuano (0-1), who started in the spot normally occupied by Zack Greinke. Greinke suffered a broken left collar bone during a benches-clearing incident on Thursday in San Diego. Yonder Alonso had an RBI single and Capuano walked Nick Hundley with the bases full for a 2-0 lead. Alexi Amarista, the No. 8 hitter in the order, added a two-run single for a 4-0 advantage.
Chris Denorfia, Alonso and Amarista each had three hits, and Amarista tied his career-high with four RBIs. It was a good offensive night without outfielder Carlos Quentin, who was serving the third game of an eight-game suspension and third baseman Chase Headley, who is expected to return from a Minor League rehab stint for his broken left thumb tip as early as Wednesday.
"I thought we had good at-bats all night," Black said. "We were aggressive early on the fastball."
From there, the night only got worse for Capuano, who came up lame covering first to end the second inning. He walked Jesus Guzman to start the third inning but was pulled with what was diagnosed as a left calf strain.
"I was excited. ... I felt strong and good and ready to go," Capuano said. "The first inning was tough, I wasn't hitting my spots. They hit some seeing-eye balls and they found holes. Nothing went our way in the first inning. And to have this stupid little injury about pushes you over the edge."
The Dodgers used five relief pitchers, while Padres relievers did little.
The Padres squeezed 1 1/3 innings out of Andrew Cashner, who walked in a run in the ninth inning after loading the bases. Other than that, the rest of the bullpen is in good shape for the final game of a three-game series on Wednesday.
The long start and successful start by Marquis did much more than give the Padres a chance.
"Since I've been in this league, he's given us a ton of trouble," Dodgers manager Don Mattingly said of Marquis. "He keeps the ball down and he keeps changing speeds and he doesn't really give in. He's a guy we have had trouble with.
"We've had him on the ropes a couple of different times and not been really able to get to him. He just kind of stays in his game. When he was with Colorado, he did this to us. We've never been really able to do a whole lot with him."
Corey Brock is a reporter for MLB.com. Keep track of @FollowThePadres on Twitter. This story was not subject to the approval of Major League Baseball or its clubs.