Astros tie it on Pena's late homer, then fall to A's
Cruz allows go-ahead triple; Peacock sharp early, but exits in fifth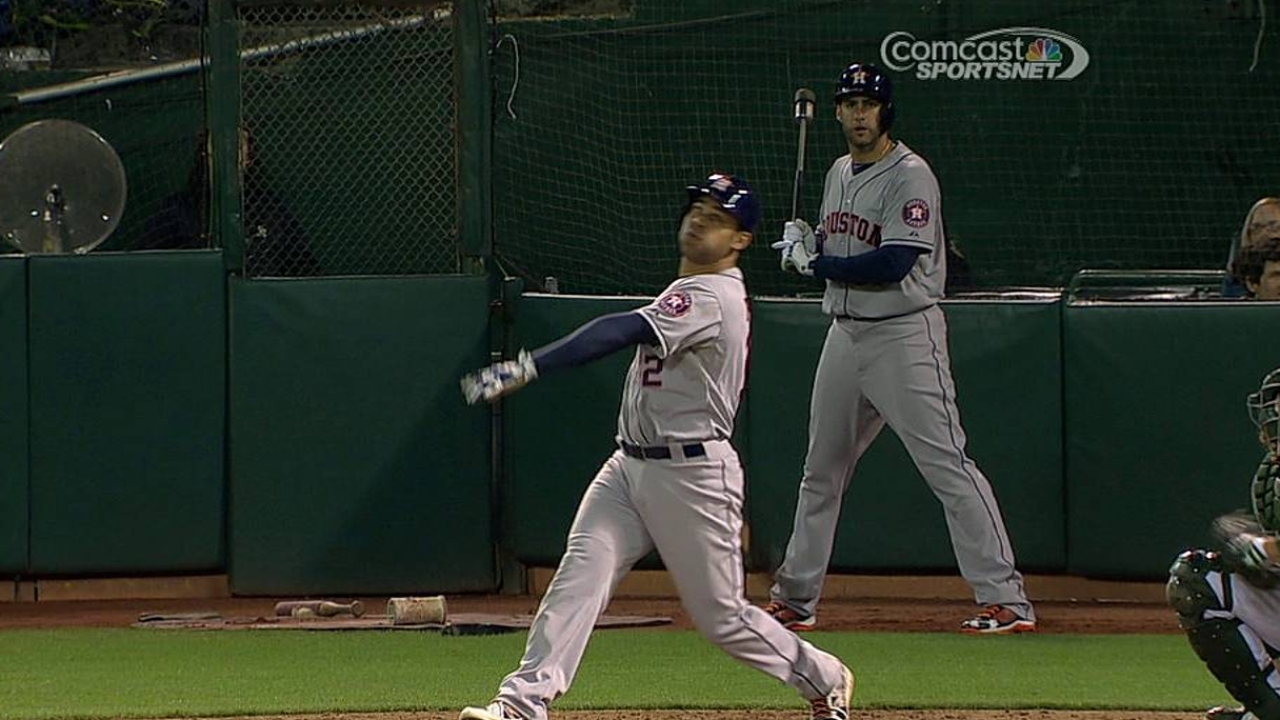 OAKLAND -- Brad Peacock's start showed he is both ready to pitch in prime time and may still need a few dress rehearsals. But then, he's a rookie and susceptible to such occurrences.
Houston manager Bo Porter, for one, thinks Peacock will continue to pitch like he did in the early part of Tuesday night's game.
Carlos Pena hit a two-out home run in the eighth inning to tie it, but the Athletics came back to score in the bottom of the inning, grabbing a 4-3 victory over the Astros.
Jose Altuve had two hits for the Astros, who lost their fourth straight despite effective efforts from Peacock and reliever Dallas Keuchel.
Peacock retired the first eight hitters he faced, then ran into trouble and didn't get out of the fifth. Getting a no-decision was a good deal for him.
"The first couple of innings, I was getting the ball down and then I did the opposite," Peacock said. "I'll have to remember that and take it to my next start. I felt like I had some of my best stuff tonight."
Peacock allowed three runs on four hits in 4 1/3 innings. He walked three and struck out seven.
"He's going to be fine," Porter said. "He learned something. He was efficient early and then not as efficient. As we move forward, I have a lot of confidence in Brad Peacock. He belongs up here and he will continue to pitch at a high level."
Pena is another Peacock fan.
"I love the way he pitches," said the first baseman. "I love his demeanor. He's good on the hill. If he keeps coming out and pitching like that, he will have his share of wins."
Keuchel gave up three hits in three innings, striking out one. Rhiner Cruz took the loss, allowing an RBI triple to Josh Donaldson in the bottom of the eighth.
"Keuchel did a tremendous job keeping the game at bay," Porter said. "Those were big innings in the middle of the game."
Cruz, meanwhile, pitched for the fifth time in six games and was a pitch away from getting out of trouble in the eighth.
"It was one of those nights where I kept fouling fastballs away," Donaldson said. "My mindset, obviously I'm going to go in there and compete. Once I got to two strikes, I was saying, 'They're not going to beat me on a fastball away.'"
Marwin Gonzalez doubled to open the third and spark the Astros, who took a 2-0 lead. Altuve and Justin Maxwell each singled, with Gonzalez scoring on Maxwell's hit. One out later, Chris Carter singled in another run.
Rick Ankiel drilled a line drive that somehow found its way into first baseman Shane Peterson's glove to deny Houston a big inning.
"This is all part of baseball," Porter said. "We could very well have won that game. We had people on base, but could not string the hits together. We're going to start finding ways to win these games."
Pena, who has hit 15 home runs in Oakland, third behind only Detroit and Tampa Bay, knew he hit his home run ball well.
"The ball seems to carry a lot better in the day here, so I was pleased to see it go out," Pena said. "I knew I hit it well, but I didn't know it was out until I was almost at second. I just took off running."
Rick Eymer is a contributor to MLB.com. This story was not subject to the approval of Major League Baseball or its clubs.