Viciedo's ninth-inning heroics lift White Sox to win
Left fielder doubles in go-ahead run; Gimenez adds important sac fly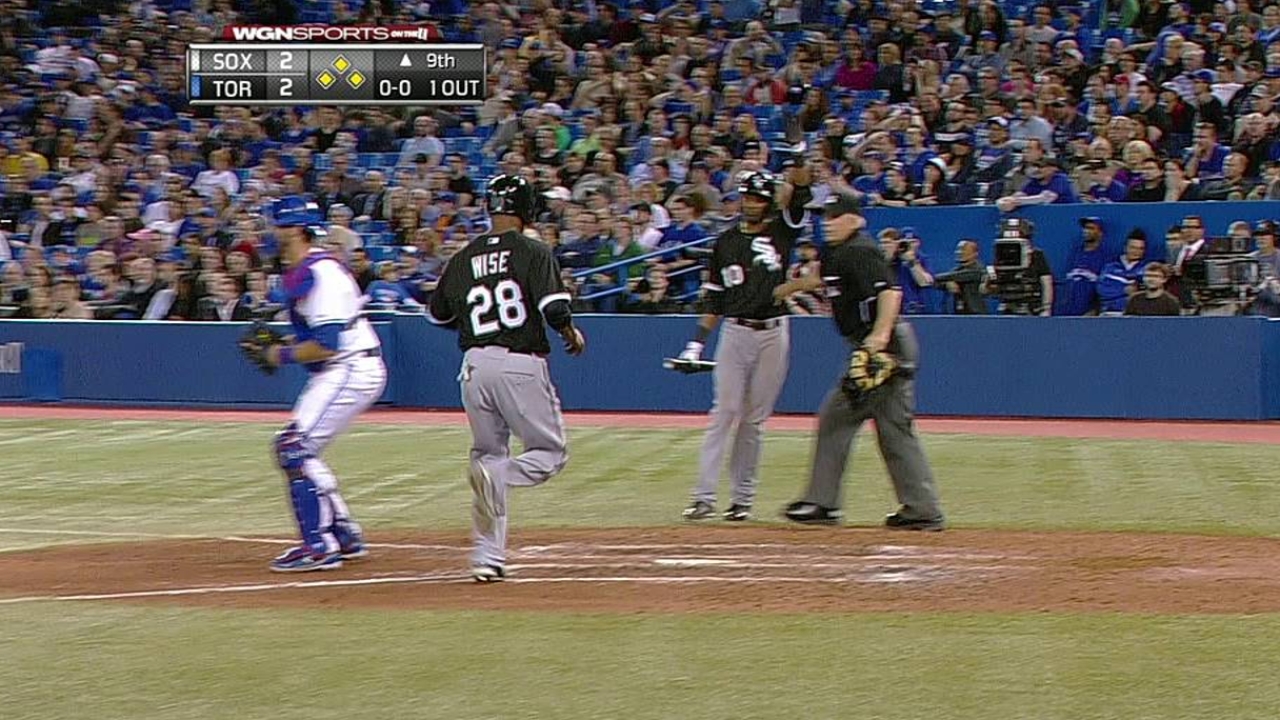 TORONTO -- It took the White Sox until the late innings to finally break through against the Blue Jays after struggling at the plate for much of the night.
Then, it was up to closer Addison Reed to contain a Blue Jays lineup that came roaring back in the final frame.
Dayan Viciedo came through with a go-ahead RBI double in the ninth inning, Paul Konerko scored the winning run on a sacrifice fly and Reed held off a Blue Jays rally to help propel the White Sox to a 4-3, come-from-behind win over the Blue Jays at Rogers Centre on Tuesday.
"It was a gritty win, it was one of those games that could have gone either way," said Konerko, who scored on a fly ball hit to right by Hector Gimenez.
"I'm never really confident when it comes to me trying to outrun a ball," Konerko added. "I don't have too much confidence in my speed, and rightfully so. All I can do is run as hard as I can."
The White Sox put the first two men on in the ninth after Blue Jays reliever Steve Delabar issued back-to-back walks to Adam Dunn and Konerko. Then with one out, Viciedo smacked a 3-2 slider on a rope to center to break open a tie before Konerko came around to score and make it a 4-2 game.
It wasn't easy sailing from there, though.
Reed had to work around some trouble -- including a sacrifice fly that cut Chicago's lead to 4-3 -- to close the game out in the bottom half of the ninth and record his fifth save of the season. He got Maicer Izturis to line out with the tying run on first to end the game.
Reed followed up Hector Santiago and Matt Lindstrom, who once again proved their worth, combining to throw two scoreless innings of relief. Lindstrom picked up the win after retiring the only hitter he faced. He and Santiago have yet to allow a run this season.
"When they come in it's always close, it's always tight. They are the ones doing the job," manager Robin Ventura said.
Chicago's pitching came up big again in what was the club's eighth game decided by one run this season. Konerko, besides scoring the game-winner, came up big in another spot late in the contest.
Blue Jays starter Josh Johnson was having his way with the White Sox lineup for the majority of the night and had retired 10 consecutive batters before he ran into Konerko, who led off the seventh.
With Chicago trailing 2-1, Konerko had the green light on a 3-0 count and tied things up with one swing by putting a 93-mph fastball from Johnson in the seats in left for his third home run of the season.
"He has earned that, if he's feeling it, to be able to do that. There are some times you don't always let go," Ventura said about Konerko swinging at the 3-0 pitch.
Konerko said Johnson is a difficult matchup despite collecting two of Chicago's four hits off him.
"His stuff was really good tonight. I got lucky to get a couple fastballs that didn't have a lot of movement on them and put some good swings on them," Konerko said.
"He was throwing 93-95 mph with two different breaking balls that were very good. Exceptional, his stuff was well-above average tonight. To get a win against a guy like that … we feel like we got away with one."
Chicago was unable to make good contact against Johnson for the majority of the night. The right-hander lasted a season-high seven innings and held the White Sox to two runs on four hits while striking out eight.
"He just had command of different pitches. He was able to locate the fastball in and out when he needed to. He threw a great game," Blue Jays catcher J.P. Arencibia said about Johnson's performance.
Johnson was engaged in a duel with White Sox starter Dylan Axelrod for much of the night. Axelrod fell victim to the long ball in what was otherwise a solid outing.
The right-hander gave up a pair of solo homers -- one to Colby Rasmus in the second and another to Arencibia in the sixth -- but recorded his first quality start of the year over a season-high six innings.
Axelrod said he barely missed his spots on the home run balls and felt he had a good curveball that he was able to throw for strikes. He allowed two runs, struck out four, threw 64 of his 94 pitches for strikes and lowered his ERA to 4.70.
"They've been lights-out," Axelrod said about the bullpen. "I just wanted to have a quality start, have us in it and then I figured we were going to keep it there."
With the win, the White Sox improved to 2-6 on their 10-game road trip.
Chris Toman is a contributor to MLB.com. This story was not subject to the approval of Major League Baseball or its clubs.