O's pull out tight victory after celebrating Jackie
Eight players drive in a run or reach base; Wieters goes deep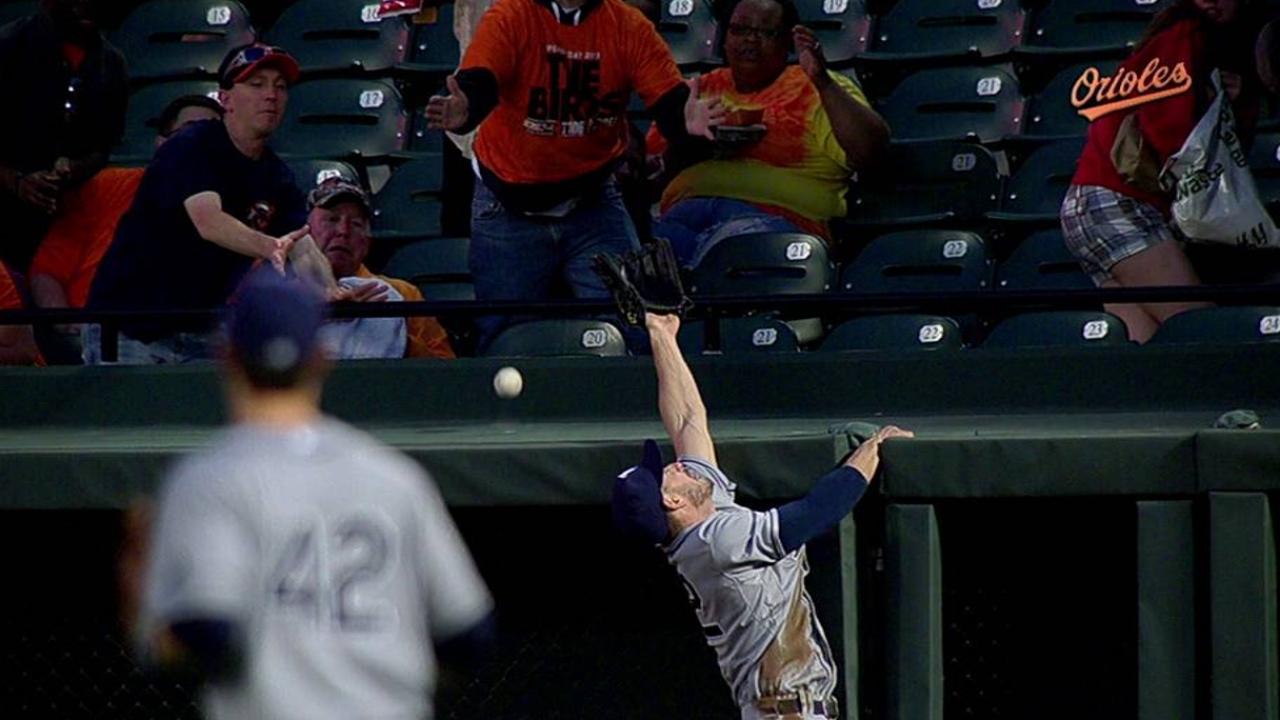 BALTIMORE -- The Orioles crushed the ball throughout their first series with Tampa Bay two weeks ago, scoring 20 runs and winning two out of three. When the two teams met again Tuesday night, the Orioles used a bit of a different style for another victory.
This time, the Orioles worked hard at manufacturing runs to give their offense a spark. Matt Wieters hit a solo homer, but the Orioles pieced together four more runs in a 5-4 win over the Rays before 14,670 at Camden Yards.
The Orioles (7-6) finished with only six hits in this win. They used timely hits, walks, steals, passed balls and patience to create runs. Nate McLouth walked to start the first, stole second and later scored on a double from Manny Machado. He then doubled to begin the third, moved up on a passed ball and scored again.
Another run came in on an error with the bases loaded, and one more scored on a groundout. The Orioles needed all of them, because the slumping Rays (4-9) banged out three homers, two of which came off Pedro Strop in the eighth to cut a four-run lead to just one.
Starter Jake Arrieta (1-0) got the victory, his first since last June 13, but it wasn't an easy task.
He lasted five innings plus one batter and gave up one run on three hits. The right-hander struck out seven, walked five and needed 112 pitches to get into the sixth.
"They battled, but I had to do the same thing tonight," Arrieta said. "I was a tick off with command tonight. I battled myself a little bit, but found a way to get some big strikeouts in key situations."
The last five outs Arrieta recorded came on strikeouts, but Orioles manager Buck Showalter noted that he didn't have his best command in this game.
"Command was a challenge for him. That's why he was only able to give us five innings," Showalter said. "[The Rays] were pretty selective. Very similar to his first two outings. Someone reminded me today, we've won all three games he's started in. But there's better there."
The Rays took a 1-0 lead when Desmond Jennings homered on Arrieta's first pitch of the game, crushing a fastball into the left-field seats. Kelly Johnson came up next and struck out on a 13-pitch at-bat. However, Arrieta continued to work out of trouble as the Rays went 0-for-6 with runners in scoring position.
"We took him to 112 pitches into the fifth," Rays manager Joe Maddon said. "Normally when you do that to a starter, you get more than one run. That's kind of difficult to do, score one run on seeing that many pitches."
The Orioles didn't trail for long Machado's double tied the game in the first and Wieters gave the Orioles the lead for good with a homer off Roberto Hernandez (0-3) in the second.
The timing of the homer proved positive, as Wieters looked to bounce back after a 2-for-21 road trip.
"It's just a long at-bat and [I was] trying to get something I could get the barrel on, and the ball was carrying pretty good tonight," Wieters said. "It wasn't the best road trip, swinging the bat. It was nice to get a hit there."
The Orioles kept working and manufactured another run in the third, plus two more in the sixth. McLouth doubled to start the third, moved up on catcher Jose Lobaton's passed ball and scored on Nick Markakis' single.
They did it again in the sixth, loading the bases with none out. J.J. Hardy hit a soft grounder towards third, and Evan Longoria's throw to the plate sailed wide. Markakis scored on the throwing error. Ryan Flaherty's groundout drove in another run to make it 5-1.
The Rays rallied in the eighth when Johnson hit a homer, and two batters later, Longoria belted a two-run shot that cut the lead to 5-4.
"Before this game tonight, I was locating the ball well," Strop said. "I was feeling good. Tonight, I missed two pitches."
Brian Matusz and Darren O'Day then combined to get out of the eighth, and Jim Johnson earned his sixth save by retiring Tampa Bay in order in the ninth.
According to the Elias Sports Bureau, the Orioles now have won a franchise-best 97 straight games when they were leading after seven innings. Only the Yankees (1998-99, 116 games) have a longer stretch of late-inning success.
Jeff Seidel is a contributor to MLB.com. This story was not subject to the approval of Major League Baseball or its clubs.