Wright homers twice as Mets drop opener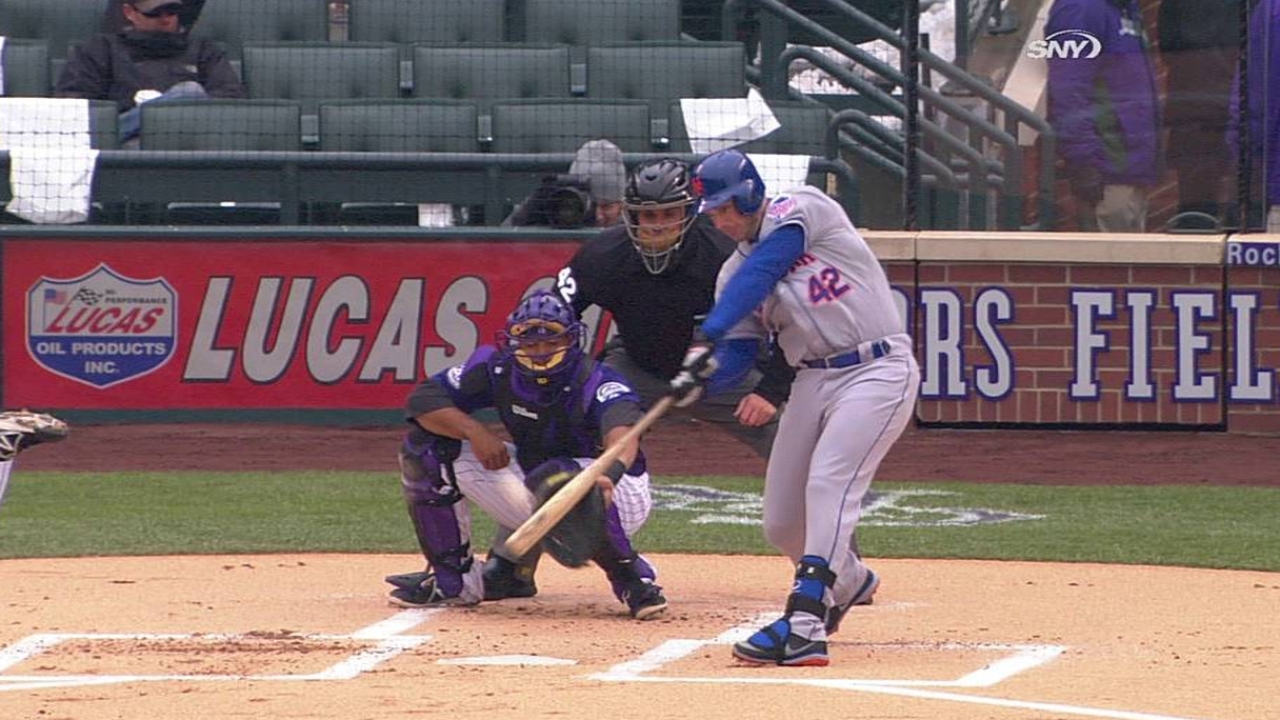 DENVER -- Coming off two promising wins against the Twins last weekend, the Mets found themselves grooving, until snow postponed their final game in Minneapolis. They flew to Denver still feeling relatively good about themselves, before more snow disrupted their schedule.
"It doesn't help the momentum," manager Terry Collins warned on Tuesday morning, hours before the Mets resumed play in Game 1 of a doubleheader at Coors Field.
His comment proved foreboding, and the Mets infused it with truth during a frosty, 8-4 loss to the Rockies. Defensive troubles exacerbated Dillon Gee's struggles on the mound, sending the Mets to a Game 1 loss despite third baseman David Wright's two homers.
"I could just tell, two days off really hurt us today," Collins said. "As much as the guys wanted to play, the energy level wasn't there. And the weather didn't help."
Gee pitched well into the fifth inning, nursing a two-run lead with a man on first base and two outs. But typically a control artist, Gee walked Carlos Gonzalez on a 3-2 pitch, hit Troy Tulowitzki on the right elbow and walked Michael Cuddyer, forcing in a run.
The next batter, Todd Helton, sent a playable grounder toward the right side of the infield, but second baseman Daniel Murphy could not glove it or knock it down. The ball instead trickled into right field for a two-run single, giving the Rockies their first lead of the day at 5-4.
"That's pretty much what I was trying to do -- get a ground ball," Gee said. "It's just going that way right now. I get a lot of ground balls that just sneak under gloves and next to gloves."
Of the seven hits that Gee allowed in 4 2/3 innings, three were grounders that Murphy and shortstop Ruben Tejada could not glove, despite diving efforts. But the Rockies also hit Gee hard at times, plating runs on Gonzalez's solo homer in the third inning and Wilin Rosario's RBI single in the second. Gee allowed five runs in total, departing with two outs in the fifth.
"Ground balls, normally that's what you want," Gee said. "But it seems like every time they hit a ground ball, it finds a way through."
For most of the afternoon, the Mets found themselves ahead due to Wright, who smashed a two-run homer to right field in the first inning and a solo shot to center in the fifth. But the Mets scored only one other run against Rockies starter Juan Nicasio, despite forcing him to throw 97 pitches over five innings.
Originally scheduled to play at 1:10 p.m. MT, the Mets and Rockies waited two extra hours as employees cleared the field of roughly eight inches of snow, which forced the postponement of Monday's series opener. Among those shoveling were Mets general manager Sandy Alderson and Rockies owner Dick Monfort, as well as a small army of Rockies front-office employees and even the team's mascot, a purple dinosaur named Dinger.
Gee was originally scheduled to start Sunday, but saw his outing pushed back twice due to wintry conditions in Minneapolis and Denver. He frequently blew into his hand during Colorado's key fifth-inning rally, with temperatures dropping from the high- to low-30s as the game progressed.
"It's tough, but it's bad out there for everybody," Gee said. "I don't want to use the weather as an excuse at all. It's tough for everybody. But I thought I made some decent pitches and got what I was looking for -- ground balls. It's just the way it's going."
Anthony DiComo is a reporter for MLB.com. Follow him on Twitter @AnthonyDicomo. This story was not subject to the approval of Major League Baseball or its clubs.