Brewers' bats come up big against Zito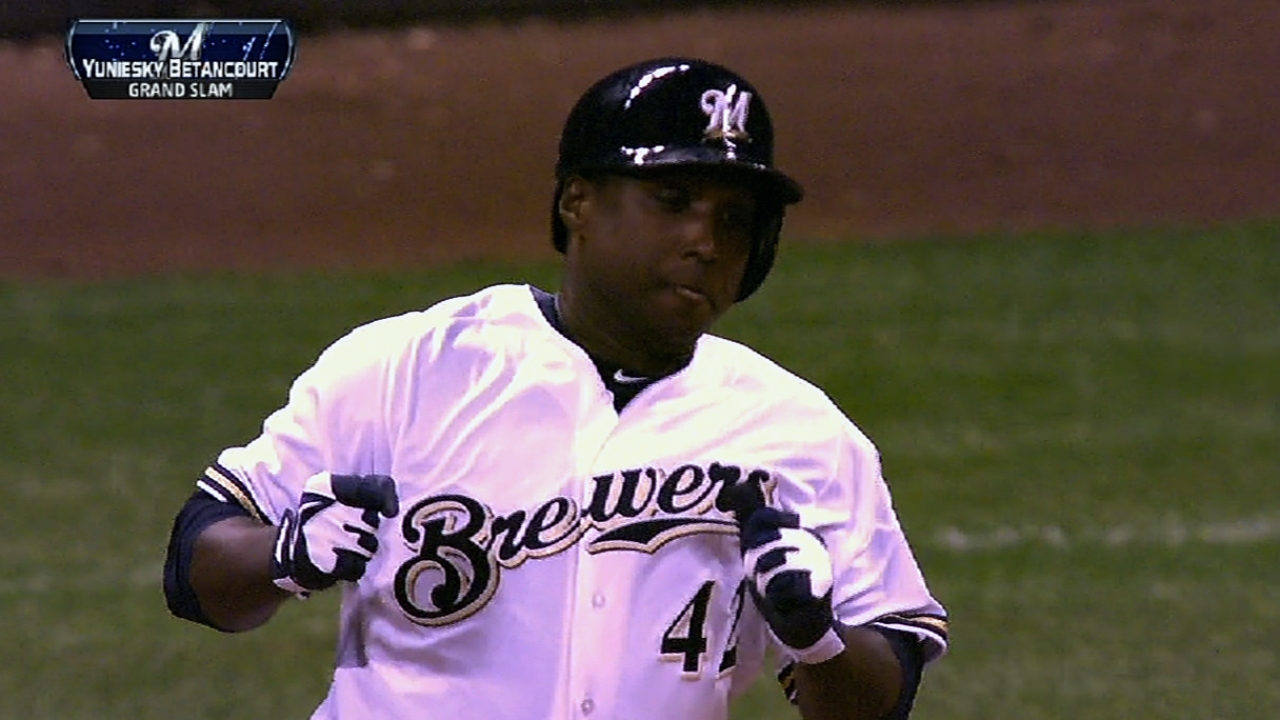 MILWAUKEE -- A previously punchless Brewers offense scored big against a previously perfect Giants pitcher, and it turned out the Crew needed nearly every run.
Tuesday's 10-8 win over the Giants at Miller Park was settled in Milwaukee's eight-run third inning. It was an unlikely rally considering the Brewers had not scored more than seven runs in any game this season, they'd entered the night three innings removed from the longest offensive drought -- 32 innings -- in franchise history and they were facing left-hander Barry Zito, who was coming off a pair of scoreless seven-inning starts.
Three hours and 36 minutes later, after a game-tying hit from Rickie Weeks, a go-ahead hit from Jonathan Lucroy and a game-breaking grand slam from Yuniesky Betancourt in the decisive third, the Brewers had a win. On the heels of Sunday's come-from-behind stunner in St. Louis, they also had a two-game winning streak for the first time this season, after 12 games.
"Is that what it was?" manager Ron Roenicke asked. "We have another streak going?"
The Brewers lost five in a row after winning on Opening Day.
Tuesday's victory did not come easy. Starter Wily Peralta was staked to a six-run lead after three innings but could not get through the fifth. His replacement, starter-turned-long reliever Mike Fiers, lasted four outs. The Brewers wound up using five of their seven relievers, including eventual winner Brandon Kintzler (2-0) and closer Jim Henderson (second save).
In the early innings, the Brewers appeared set for a much easier night. Center fielder Carlos Gomez provided Zito's first blemish when he yanked a first-pitch curveball off the foul pole in left field for a one-run lead in the second inning. The Giants answered with three runs in the third -- one of them unearned because of a throwing error by third baseman Alex Gonzalez -- before the Brewers sent 12 men to the plate against Zito in the bottom of the inning and came away with eight runs.
"Baseball is kind of a strange game," Zito said. "I actually felt better today than I have the last couple of games. They hit my pitches tonight, so I have to tip my hat. I think they got five hits in a row, and every one of them I'd throw again."
The slumping Weeks, who was 1-for-27 with 14 strikeouts since dropping into the cleanup hole, delivered a game-tying two-run double that bounced just fair along the left-field line. As it flew, Weeks was not sure if the baseball would stay fair.
"I think we needed that at that moment," Weeks said.
Lucroy followed with a two-run single for the lead, and Betancourt followed three batters later with a grand slam into the Brewers' bullpen. It was his first slam since Aug. 21, 2010, a year before his first stint in Milwaukee.
"Another big inning," Roenicke said. "That seems to be us. We seem to be big innings and not consistent through a game. But I'll certainly take that."
Peralta actually started that big rally with a single, his third hit in his fifth at-bat of the year. He donned a jacket and ran the bases, then returned to the mound and was not the same.
After allowing a two-out home run to Brandon Crawford in the fourth inning, Peralta faced four batters in the fifth and retired none of them. He was out after allowing six runs, five earned, on seven hits and three walks in four-plus innings.
"He lost velocity in the fourth inning, lost velocity in the fifth inning. I don't know if that's because he's 'aiming' the ball," Roenicke said, "but the ball didn't come out the same."
Lucroy suggested that Peralta may have fatigued running the bases, but Peralta insisted that was not the case. Through three starts, he has a 6.19 ERA and a 10-to-8 strikeout-to-walk ratio.
"When you have that kind of score and you've got a chance to get a win and you don't get it, that's frustrating," Peralta said. "But that's going to happen. You forget about it and get ready for the next one."
Said Roenicke: "We'll get Wily right. Wily will get locked in somewhere, and he'll be OK."
The Brewers also need to figure out what's ailing left fielder Ryan Braun. He set a career high on Tuesday with four strikeouts, and he has struck out at least three times in three of the last four games.
Asked whether Braun was still feeling the effects of a stiff neck, which cost him three games during the opening homestand, or is simply not seeing the ball, Roenicke said, "He's not seeing the ball well, for whatever reason. Sometimes you're trying to catch up with a fastball and you get jumpy, and you don't see the spin on a breaking ball. It's very unusual for Braun to not pick up the spin on a breaking ball."
The Brewers' bats went silent after the third inning, allowing the Giants to get as close as 9-7 before Norichika Aoki hit his second home run of the season in the eighth inning to give Henderson some breathing room. And he needed it; after allowing one run, Henderson threw a 96-mph fastball down the middle to pinch-hitter Andres Torres, who hit a long flyout to the warning track in right field.
It was similar to the Gregor Blanco drive off John Axford in the seventh inning. A few more feet on either, and the score would have been tied.
"They hit them hard, but obviously, it worked out for us," Lucroy said. "Those are all outs. They all count."
And at 4-8, the Brewers can say the same about their victories.
Adam McCalvy is a reporter for MLB.com. Read his blog, Brew Beat, and follow him on Twitter at @AdamMcCalvy. This story was not subject to the approval of Major League Baseball or its clubs.