Zito's scoreless run comes to an end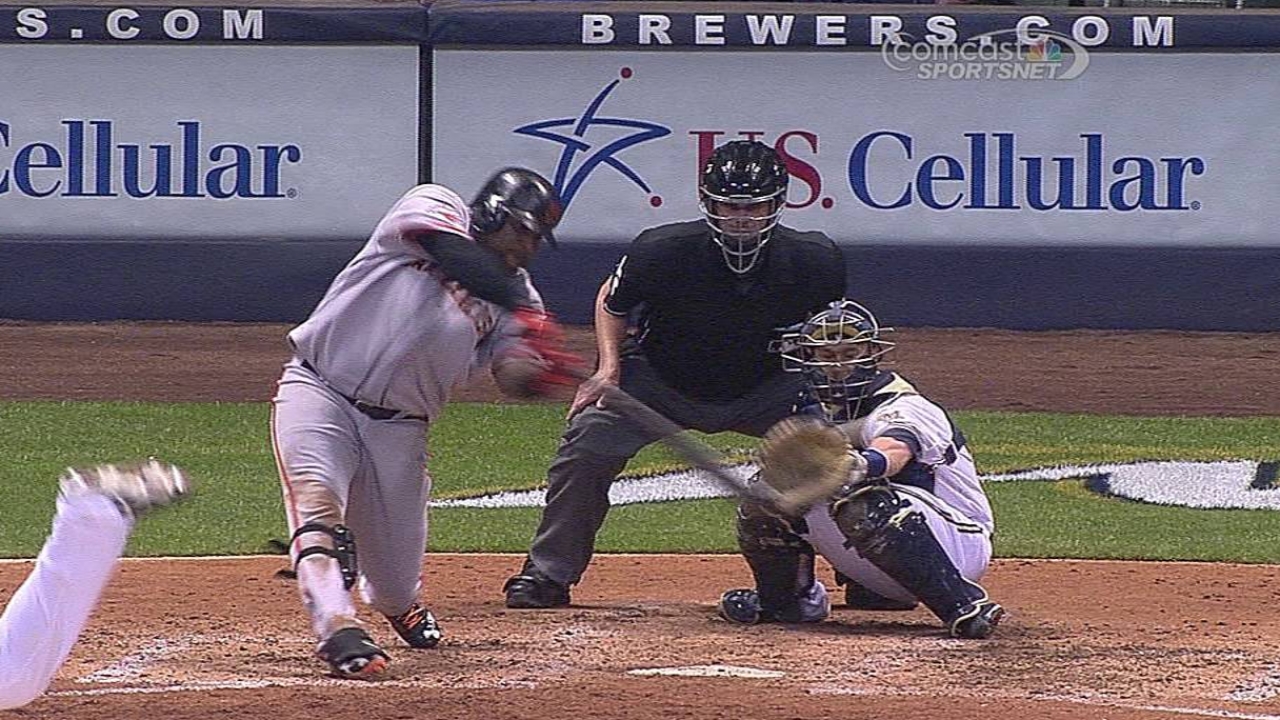 MILWAUKEE -- Barry Zito's run of dominance ended not with a whimper, but a bang.

The Brewers scored eight runs in the third inning on Tuesday, and the Giants' attempt to win for the 17th consecutive game with Zito on the hill ended in a 10-8 loss at Miller Park. The Giants threatened to provide their own fireworks at various points but couldn't quite battle all the way back after falling behind, 9-3.

Zito, unscored upon in his first two starts of the season, issued a grand slam to Yuniesky Betancourt in Milwaukee's monster frame, turning a two-run Giants lead into a six-run Brewers advantage.

"Baseball is kind of a strange game," Zito said. "I actually felt better today than I have the last couple of games. They hit my pitches tonight, so I have to tip my hat. I think they got five hits in a row, and every one of them I'd throw again."

Not that the game was over. After Brandon Crawford homered in the fourth, the Giants loaded the bases with nobody out and a run in during the fifth but only got one more run.

Marco Scutaro scored on a sacrifice fly when Brandon Belt lofted a twisting liner to left field that Ryan Braun snared with a leap, leaving two runners on base. In the sixth, San Francisco loaded the bases with one out and again settled for one run.

Then throw in two blasts to the warning track against reliever John Axford in the seventh and a deep fly by Andres Torres, who represented the tying run but instead made the game's final out when Norichika Aoki flagged down the ball.

"It's part of the game, you know?" said Pablo Sandoval, who finished with four RBIs and drove in runs on three straight plate appearances. "We fight every game. We just try to do our job, we keep bringing runs to home plate. We have to keep focused."

Belt finished with three hits, a stolen base and two RBIs, including a run-scoring single in the ninth against closer Jim Henderson to put the tying run at the dish with one down.

It was an encouraging showing for Belt, who entered the contest batting .140 and saw his batting average jump 51 points.

"There were some times where I might not have been focused on having good at-bats; you go up there and try to filet something, get a hit in there," Belt said of his struggles. "You find out real quick that it doesn't work very well. The best approach is to go up there and have good at-bats and whatever happens, happens."

Zito (2-1) went into the battle having recorded wins in eight straight regular-season starts, with two more wins in three starts during the 2012 postseason. The team's 13 straight regular-season wins in Zito starts matched the third-longest streak in franchise history -- the longest since 1951-52.

"I didn't want him to wear that kind of inning, but he earned the right to be out there, and hopefully he could get out of it, but he left a changeup up that went for a grand slam," manager Bruce Bochy said of the fateful third. "You look at the losing streaks he stopped, the postseason … It's quite a run. He's upbeat, and he knows he's probably going to have a game like this occasionally."

Zito's ERA jumped, from 0.00 to 4.86. His scoreless streak to start the year ended at 15 2/3 innings when Carlos Gomez clanked a home run off the left-field foul pole in the second. The Giants bounced back to plate three runs in the third, with Sandoval's double to the gap scoring two runs, but the Brewers came right back, loading the bases with nobody out in the third.

Zito struck out Braun, but the struggling Rickie Weeks laced a two-run double down the left-field line. Each of the next three Brewers singled, then Betancourt cleared the bases with his homer to left-center, giving the Brewers a six-run lead.
"I had Weeks in a 3-2 battle, and he kept that cutter fair," Zito said. "They were just able to hit my pitches.
"It's just important to put the past in the past and come out and not take anything for granted. Each day is a new day. That's something I pride myself on, going out tomorrow and fighting and grinding."

Brandon Kintzler (2-0) was awarded the win in relief after starter Wily Peralta was chased in the fifth. The Giants' bullpen emerged as a bright spot, with left-hander Jeremy Affeldt unavailable in advance of a stint on the 15-day disabled list, a roster move to be made official on Wednesday. Chad Gaudin threw 2 1/3 scoreless innings, followed by a scoreless frame by Jose Mijares. George Kontos surrendered an eighth-inning home run to Aoki in two otherwise solid innings.

"We were a man short, and they stepped up and gave us a chance," Bochy said. "It's a lot to overcome."
JR Radcliffe is a contributor to MLB.com. This story was not subject to the approval of Major League Baseball or its clubs.