Haren finds trouble after error in loss to Marlins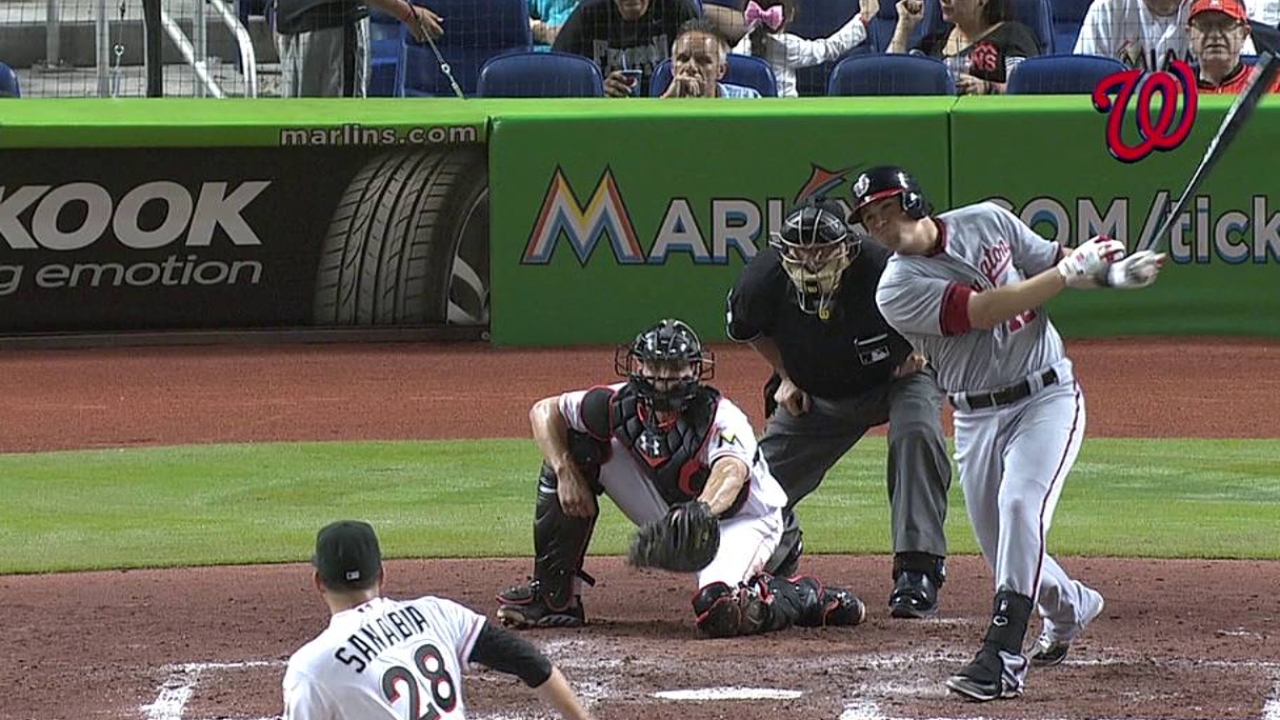 MIAMI -- Dan Haren and Ryan Zimmerman stood in front of their lockers Tuesday night after an 8-2 loss to the Marlins, fielding questions but still searching for answers.
After an initially strong outing went off the rails in the fourth and fifth innings, Haren was left trying to figure out what went wrong for him, why he's given up 26 hits in 13 1/3 innings, and how he can get back to being the kind of dominant pitcher he was as recently as 2011.
On the other side of the clubhouse, Zimmerman described his frustration over a critical fourth-inning throwing error, his fourth in five games, and wondered why those errant throws are still happening when he feels no pain or soreness in his surgically repaired right shoulder.
"Nobody's more frustrated than me," Zimmerman said. "Danny's rolling along and throwing the ball well, and I've got to get the ball and throw it. I feel like I throw it fine, so it's frustrating for me."
It's even more baffling when Zimmerman botches a throw when he makes several outstanding plays per game at third base. He's turned to his teammates for answers, asking Adam LaRoche and Ian Desmond in the dugout what they're seeing in his throws and why they're not on target.
"In a sense, it's a confidence thing," Desmond said. "He's never come to me before about how to hit a homer, or how to drive in a runner from second, or how to make a diving play. So I would imagine his confidence is a little down if he's coming to me."
The play in question came in the fourth inning, when Zimmerman moved to his left, scooped up a routine grounder off the bat of Placido Polanco and fired wide to the home-plate side of first base for what would've been the second out of the inning.
The throw pulled LaRoche off the bag, allowing Polanco to reach safely. Polanco came around to break a scoreless tie after Haren gave up back-to-back singles, the right-hander's first sign of weakness after three efficient innings to open the game.
Haren had cruised through the first three frames, allowing only one hit as he retired nine of the first 10 Marlins hitters. Of the 10 batters he faced following Zimmerman's error, however, seven got on base. One of them, Miami shortstop Adeiny Hechavarria, crushed an 85-mph splitter over the Clevelander bar in left field for a three-run homer, his first of the year and the Marlins' first at home this season.
Haren didn't fare much better in the fifth inning, scattering singles to three of the first four hitters he faced to load the bases before issuing his first walk of the season to Greg Dobbs, scoring pitcher Alex Sanabia and bringing an end to his night.
"I've got to start getting guys out. It's not this hard. I've done it for 10, 11 years," Haren said. "But, you know, I feel good enough to get guys out. I just made a few mistakes. I'm just giving up way too many hits and letting way too many runners on base.
"I'm searching right now. I'm searching for answers. I'm trying in between starts, and I've got to get better. I do. I feel worse about it than anybody."
After breezing into the fourth inning on just 40 pitches, Haren had to throw 53 to get through his final 1 1/3 innings. And the offensively challenged Marlins, who had scored only 23 runs over the season's first 13 games, built up a lead the Nationals couldn't overcome.
"We'd been talking about continuing to be positive and keep grinding it out. We did that tonight," Marlins manager Mike Redmond said. "It's nice to beat those guys. They've kind of had their way with us so far this year. It's nice to put a big number on them."
It was not nearly as nice, of course, for the two veterans in the other clubhouse, one of them trying to recapture his Gold Glove arm, the other attempting to re-learn how to pitch at this stage of his career. The most disappointing thing for both Zimmerman and Haren, it seemed, was that they couldn't pick each other up, that they couldn't pinpoint exactly what was wrong and that they couldn't give a definitive answer.
"That's part of baseball. They pick me up; I pick them up," Haren said. "I'm sure that he probably feels bad about the home run, that the guys came around to score, but I mean, I've got to be able to pick him up."
"I'm doing everything I can to make those plays and help this team," added Zimmerman. "Unfortunately right now, I've made a few errors, but I'll go back out there tomorrow and hope every ball's hit my way and I'll go right back at it."
Adam Berry is a reporter for MLB.com. Follow him on Twitter at @adamdberry. This story was not subject to the approval of Major League Baseball or its clubs.