Big bats back Sanabia as Marlins top Nats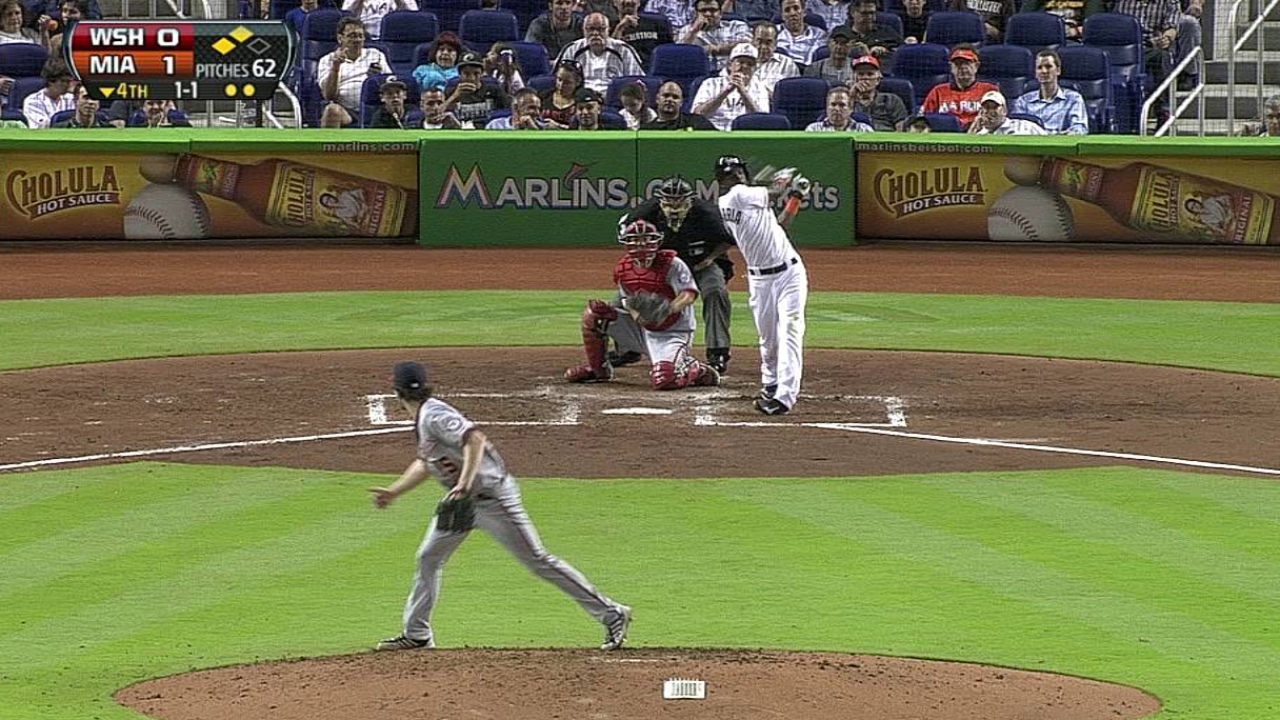 MIAMI -- A day after celebrating his 24th birthday, Adeiny Hechavarria provided the Marlins with a wakeup call, belting a three-run homer that triggered an 8-2 win over the Nationals on Tuesday night at Marlins Park.
Justin Ruggiano drove in three runs, while Greg Dobbs knocked in two as the Marlins posted a season-high runs total.
Alex Sanabia (2-1) was the beneficiary of ample run support, and he turned in a gutsy six-inning performance, giving up two runs on six hits.
Miami hadn't scored more than three runs in 10 games before enjoying some breathing room.
Hechavarria's home run in the fourth inning was the Marlins' third shot of the season, and first at home, and the first since Dobbs at New York on April 5. Miami had gone nine straight games without a home run.
"I was beginning to think the home run sculpture out there wasn't plugged in," Miami manager Mike Redmond joked. "It's working, and it's definitely plugged in."
On Monday, when Major League Baseball was honoring Jackie Robinson, Hechavarria was receiving birthday wishes. The Cuban-born shortstop now has three career home runs, with his previous two occurring last year when he was with Toronto.
"I would have preferred for that to be [Monday], but I'll take it," Hechavarria said in Spanish. "It was a big home run for the team. I'm trying to contribute and help out and do the best I can to help out the team. That home run was a key part of the win. I'm just trying to help out."
Washington right-hander Dan Haren was tagged for seven runs, three earned, in 4 1/3 innings.
It took five games for the Marlins (3-11) to enjoy their first lead and victory over the Nationals, who fell to 8-6.
Miami was able to enjoy a comfortable win the day after being blown out, 10-3.
"We'd been talking about continuing to be positive and keep grinding it out," Redmond said. "We did that tonight. It's nice to beat those guys. They've kind of had their way with us so far this year. It's nice to put a big number on them."
Juan Pierre added three hits, two stolen bases and two runs scored.
Miami capitalized on third baseman Ryan Zimmerman's throwing error and scored four runs in the fourth inning. With one out, Zimmerman's throw to first base was off the mark after he corralled Placido Polanco's ground ball. Dobbs' single put runners on the corners, and Ruggiano opened the scoring with an RBI single.
The big blast was provided by Hechavarria, who connected on a three-run drive that was estimated at 416 feet.
Zimmerman now has four errors on the season. The veteran third baseman has dealt with shoulder issues in the past, and he says physically he is fine.
"Shoulder feels great. That's why it's so frustrating," Zimmerman said. "I was just going into the dugout and talking to some of the guys. Nobody's more frustrated than me. I'm the guy out there that doesn't want to do it more than anyone."
In the fifth inning, the Marlins tacked on three more runs and chased Haren. Sanabia helped his cause with a leadoff single. He was just 1-for-29 at the plate before his single to right.
Sanabia shared credit for the hit with his teammate, Nathan Eovaldi, who is on the disabled list with right shoulder inflammation.
The bats Sanabia and fellow Miami starter, Kevin Slowey, are using belong to Eovaldi.
"I've got to give thanks to Eovaldi," Sanabia said. "That was an Eovaldi bat. Whenever me and Slowey pitch, Eovaldi is still on the field, even though he is not here with us. Give that one to Eovaldi."
After reaching third base, Sanabia scored when Dobbs walked with the bases loaded. Ruggiano's two-run double gave Miami a seven-run lead.
Washington chipped back with two runs in the sixth inning, collecting three doubles in the inning. Adam LaRoche laced a one-out double, and Tyler Moore and Steve Lombardozzi each had two-out, run-scoring two-base hits.
But with a big lead early, the Marlins were never seriously threatened.
"It was huge for us, the whole team, just to get some runs and to get us going," Sanabia said. "It was great."
Mike Dunn closed out the ninth inning in a non-save situation by getting pinch-hitter Jhonatan Solano to bounce into a double play. Solano hit the grounder to his brother, Marlins second baseman Donovan Solano.
The brothers are very close. In fact, Jhonatan is spending the series at Donovan's home.
"I was thinking, 'Don't hit it here, don't hit it to me,'" Donovan said. "That's what happened. That's part of the game. He's another player. I don't think of him as my brother [on the field]. We need to play. We played it, turned two, and that was the end of the game."
Joe Frisaro is a reporter for MLB.com. He writes a blog, called The Fish Pond. Follow him on Twitter @JoeFrisaro. This story was not subject to the approval of Major League Baseball or its clubs.