First-inning woes hurt LeBlanc in loss to Nats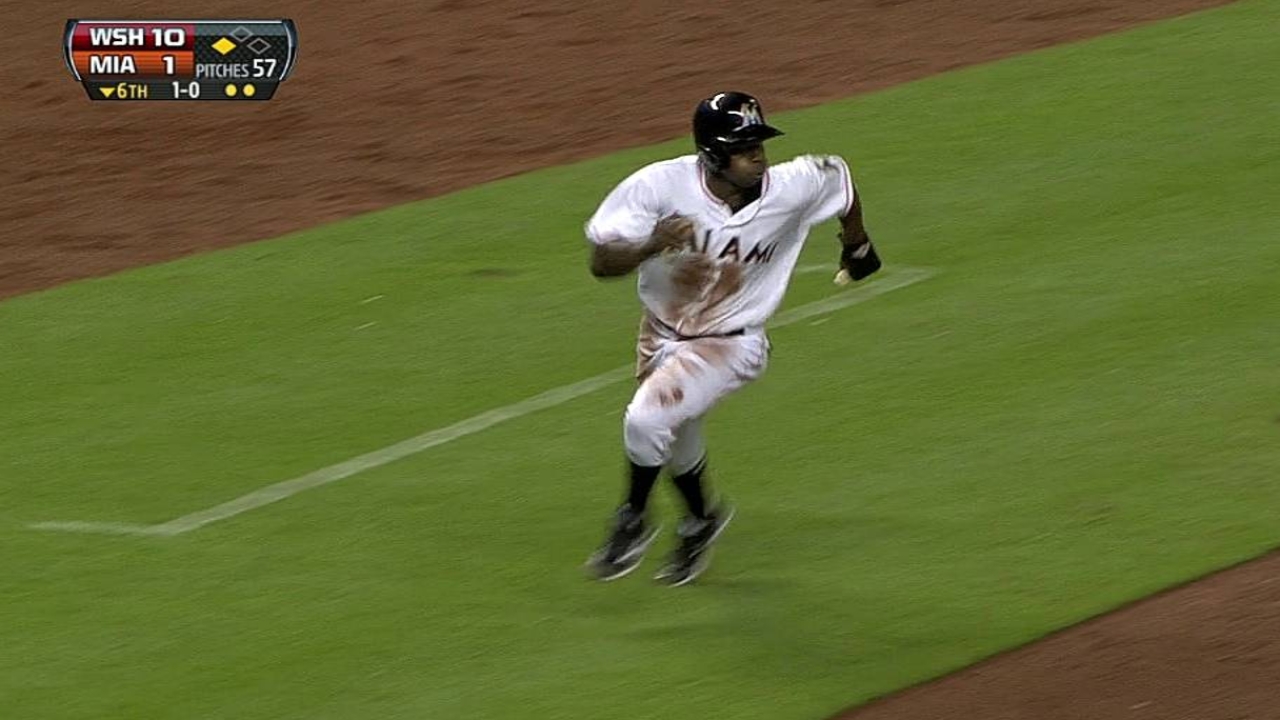 MIAMI -- The Marlins had some moments to celebrate, such as Chris Coghlan's two singles, RBI and two outfield assists, but the big picture wasn't pretty.
Ryan Zimmerman homered and drove in four runs, Tyler Moore added three RBIs, and the Nationals coasted to a 10-3 victory on Monday night at Marlins Park.

Given ample run support, Nats starter Jordan Zimmermann scattered six hits and threw 103 pitches in a complete game.

The Nationals jumped out to a four-run first inning off Wade LeBlanc, and the Marlins were quickly out of it.

"You know it's going to be tough," manager Mike Redmond said of being behind early. "But I was happy with the way we kept battling and kept fighting. Cogs got a couple of hits. We didn't give up. We kept trying to put together at-bats and score some runs. I was happy with that. We'll get them tomorrow."

On a night when Major League Baseball honored Jackie Robinson, it was Washington that was able to rebound after being swept in three games over the weekend by Atlanta.

The Marlins continued their rough start; their 2-11 record is the second worst in franchise history. The 1998 team opened at 1-11.

Even though Miami has been losing, the starting pitching had been effective.

But the Nationals changed that on Monday, hammering out 10 runs on 16 hits. Both are highs allowed by Miami pitching.

Making matters worse, the Marlins played their fourth straight game without All-Star Giancarlo Stanton, who is resting a bruised left shoulder. He will take some swings on Tuesday to see how his ailment responds.

In the meantime, the 23-year-old is frustrated that he can't contribute to a team in need of a boost.

"I don't like it, sitting there knowing I can't do anything at this point," Stanton said. "It's not fun to watch. I'd rather be participating."

The Marlins have just two home runs all season. Their last came on April 5, by Greg Dobbs. Now they've gone nine straight games without a long ball.

Not only is Miami having a hard time knocking the ball over the wall, runs and hits in general have been tough to come by.

Zimmermann retired the first 10 Marlins he faced before Coghlan singled. By that point the Nationals were ahead by eight runs and had 11 hits.

Given a big early lead, Zimmermann was able to be more aggressive with the depleted Miami offense.

"I would have been throwing a lot more offspeed pitches and working guys a lot differently if I didn't have a four-run lead," Zimmermann said. "They were swinging early and putting it in play, so that really helped out a lot."

Emphasizing what the Marlins are going through, consider this: The three runs they scored on Monday are the most they have in seven games, dating back to April 7, when they lost, 4-3, to the Mets.

Obviously, it is early in the season, but the team already feels a sense of urgency.

"The 'give it time' stuff, whatever," Stanton said, "it is now. You go day by day. It's not like we'll be fine in, like, a week or we'll be fine in two weeks. With something like this, you've got to take it slow -- each inning at a time, and each out at a time."

In the fourth inning, Zimmerman belted a two-run homer off John Maine, and the Nationals were coasting.

The Marlins showed a spark in the sixth inning, scoring on Juan Pierre's RBI double and Coghlan's RBI single to right. Rob Brantly added a run-scoring single in the seventh.

LeBlanc's first-inning woes continued.

The Nationals pounced on the left-hander for four runs on five hits, sending eight to the plate in the first. In each of his previous first two starts, LeBlanc allowed two runs in the first before settling, but he wasn't able to escape serious damage in this one. He allowed seven runs in 3 2/3 innings, and his ERA rose, from 3.27 to 6.75.

Denard Span and Jayson Werth each singled to open the game, and Bryce Harper walked on four pitches, loading the bases. Zimmerman bounced a two-run single to center, and Moore slapped a two-run single to left.

LeBlanc needed 34 pitches to make it through the inning.

"I don't know. We're only three starts in, but something has got to change," LeBlanc said. "We've got to figure out how to get through that first inning unscathed, and give these guys a chance. That's priority No. 1 at this point."
Joe Frisaro is a reporter for MLB.com. He writes a blog, called The Fish Pond. Follow him on Twitter @JoeFrisaro. This story was not subject to the approval of Major League Baseball or its clubs.