Tigers ride offensive surge to series win over A's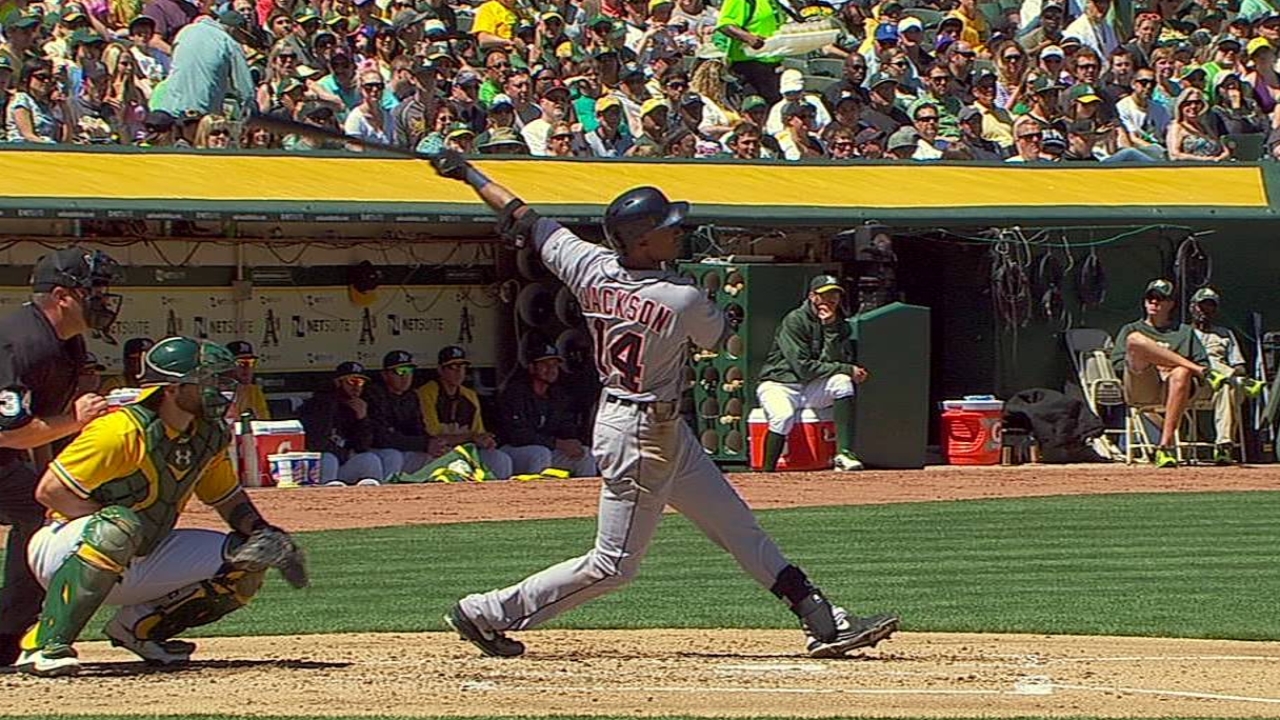 OAKLAND - Austin Jackson serves it up, and the Detroit Tigers happily feast.
The leadoff hitter's four hits were part of a 10-1 win Sunday in which the Tigers wasted no time to swing the bats to seal the series, a rematch of last year's American League Championship Series.
Behind another solid start by Anibal Sanchez (2-1) and using a fine offensive showing highlighted by Jackson's big day and Torii Hunter's three hits, the Tigers scored two runs in the first inning, two in the second and four in the fourth to win the rubber game of the three-game series against the A's, part of their nine-game West Coast trip. Jackson has reached base safely in every game this season, and Sunday was his seventh multihit game.
"He's setting the table for the big guys to eat," Hunter said of Jackson.
The Tigers' first four batters in the lineup --- Jackson (.386 batting average), Hunter (.407), Miguel Cabrera (.320) and Prince Fielder (.429) --- are on fire.
"Right now they're not giving away at-bats, and that's important," manager Jim Leyland said. "They're grinding out those at-bats pretty good. But so are the other guys."
All but one batter in the lineup had a hit in the 14-hit effort. Detroit has won three consecutive series and outscored Oakland 17-4 in its victories Saturday and Sunday.
By the end of the fourth inning Sunday, the first six batters in the Tigers lineup each had at least one RBI and they had already chased Oakland starter Jarrod Parker (0-2). Sanchez helped Detroit's limited bullpen by tossing seven innings and yielding only three hits, including two hits through the first six innings. No relief pitcher was required, as starting pitcher Rick Porcello worked the final two frames after his previously scheduled start Tuesday was skipped because of Monday's day off.
Sanchez's ERA in three starts this year: a club-best 1.42.
"He's a guy who doesn't fall into patterns," catcher Alex Avila said. "He isn't afraid to throw anything at any time."
Sanchez's lone blemish was the fourth inning, when he loaded the bases with one out. Derek Norris plated a runner with a sacrifice fly, but Sanchez got Eric Sogard to strike out looking to end the threat. The Tigers struck out 38 A's hitters in the series.
After Sanchez allowed a leadoff single in the fourth, he didn't permit another hit until Norris' one-out double in the seventh.
"I think what's underrated is his stuff," Leyland said of Sanchez. "I think his stuff is a lot better than he gets credit for."
Added Norris: "He's just a good pitcher. He knows how to pitch. He has a plan and he sticks to it. He does a good job of keeping us off-balance and keeping his pitch count down."
Hunter followed Jackson's leadoff single by driving a pitch to center field for an RBI double. The hot-hitting Fielder was intentionally walked with two outs. Victor Martinez followed with a single off the right-center wall. Hunter barely beat out the relay throw with his slide to give the Tigers a 2-0 lead.
The second inning started with another leadoff single, this one by Avila, who didn't play Saturday because of minor injuries. With one out, Jackson hammered a 3-1 fastball to left-center for a two-run homer, his first of the season, to make it 4-0.
With Jackson on first in the fourth inning, Hunter sent one deep to left-center, and center fielder Chris Young dropped it while backing into the warning track. The next batter, Cabrera, emptied the bases with a single to left for a 6-0 lead. Fielder followed with an RBI double to left for a 7-0 cushion.
Fielder's double was the final blow to a rough start to the game and season for Parker. He allowed a career-high eight runs, nine hits and two walks in just 3 1/3 innings. He has a 10.80 ERA in 11 2/3 innings this year.
"There's no break in that lineup," A's manager Bob Melvin said. "One through nine are all solid hitters."
The Tigers have two more three-game series left, first against Seattle starting Tuesday. It's their lone West Coast trip of the season. And should opposing teams focus only on the Tigers top four hitters? Hunter is fine with that.
"You forget about the bottom-feeders, the catfish," he said.
Willie Bans is a contributor to MLB.com. This story was not subject to the approval of Major League Baseball or its clubs.