Nearly no-hit, Rays unable to support Cobb
Johnson ends Buchholz bid in eighth; TB righty has one bad frame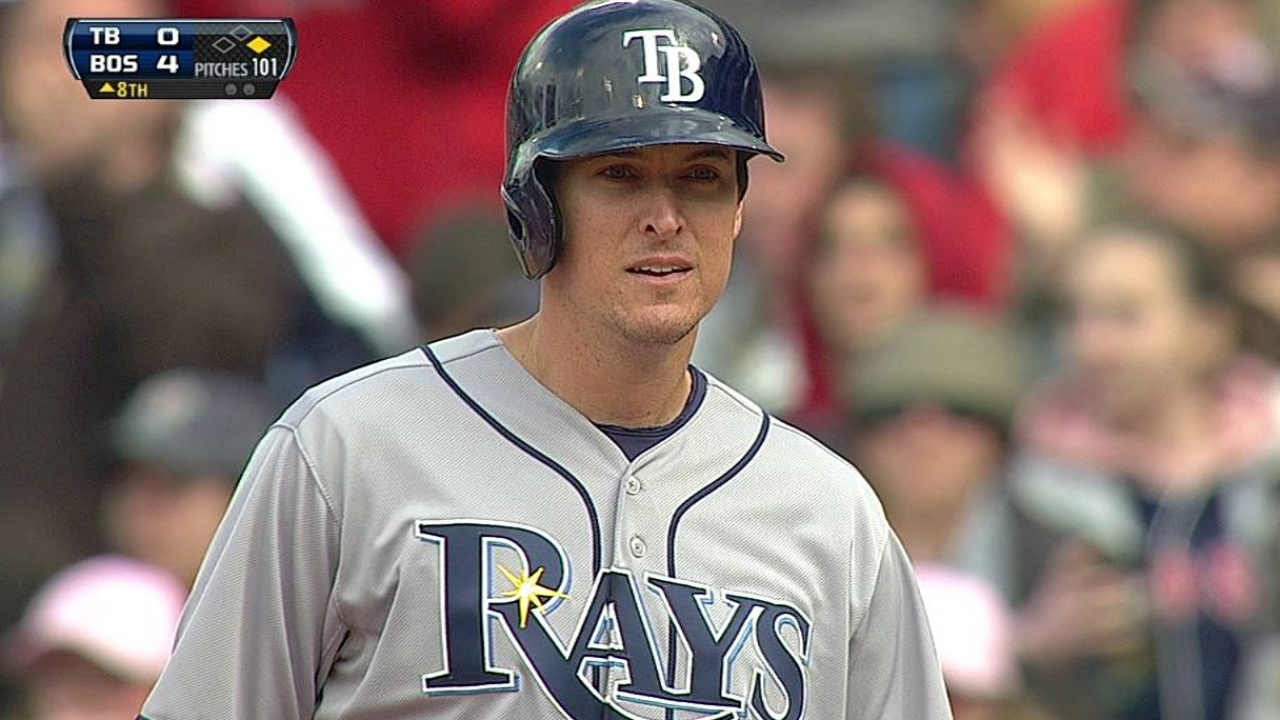 BOSTON -- Kelly Johnson understood the situation when he stepped to the plate to lead off the eighth inning against Clay Buchholz in the Red Sox's 5-0 win over the Rays at Fenway Park on Sunday.
"I don't know if anybody else was thinking it, but I certainly was thinking [Buchholz] had no-hit stuff today after my first AB," Johnson said.
The Rays trailed by four and Buchholz had not allowed a hit.
"My thinking just on how I was feeling was that I needed to do something different," Johnson said. "I put my back foot a tad closer to home plate and picked up a Sam Fuld model bat."
Buchholz threw Johnson a curve on the first pitch and came back with another on the second pitch. Johnson swung and knocked a broken-bat single into right field to break Buchholz's spell.
"He threw me two breaking balls; I really was not expecting that," Johnson said. "But I was in a good enough position the second time around to at least make some contact, even if it was a broken bat, obviously."
Buchholz said he was able to throw first-pitch curveballs for strikes on Sunday, and the second one he threw Johnson "was basically supposed to be a purpose pitch, fall right on top of the plate and see if we could get a swing."
"I didn't quite get it there, and he was able to put the bat on it," Buchholz said. "It's just one of those things."
Even though Buchholz did not bring home the second no-hitter of his young career, he did come away with his third win of the season, striking out 11 and allowing just two hits in eight innings, with 35,198 in attendance at Fenway.
In defeat, the Rays fell to 4-7 on the season and 1-4 on the current road trip. Sunday also marked Tampa Bay's second three-game losing streak of the season.
As the game progressed, the only remaining drama appeared to be whether Buchholz could become the fifth pitcher to no-hit the Rays since 2009, and the sixth to no-hit Tampa Bay in team history.
That "here we go again" feeling lived inside the Rays' dugout.
"Absolutely you reflect on it, because it's happened to us quite often, probably more than any team over the last several years," Rays manager Joe Maddon said.
Given the lethargic way the Rays looked on offense, Buchholz's chances appeared good. Particularly when his fielders chipped in, like they did in the sixth.
Desmond Jennings smoked a ball through the middle that Stephen Drew dove for, but could not grab. The ball ricocheted off the Red Sox's shortstop's glove to second baseman Dustin Pedroia, who threw to first to nip Jennings at the bag.
Boston's total effort gave the team its seventh win in the club's first 11 games of the season for the first time since 2007.
Alex Cobb started for the Rays and got into a jam in the third after giving up three consecutive singles to load the bases with no outs. Mike Napoli then unloaded a double to the deepest part of the ballpark at the 420-foot mark in center field to drive home two.
Cobb hit Daniel Nava to load the bases again before he caught Will Middlebrooks' one-hopper back to the mound. Everybody in the ballpark thought double play at the least, but Cobb slipped after fielding the ball. He managed to recover to throw out Pedroia at the plate.
"I think I just tried to be too quick," Cobb said. "That's exactly what I was looking for in that situation. I'm trying to get a ball on the ground, turn two. Usually I'm pretty confident in fielding my position. But right there, I tried to be too quick, which I shouldn't of. Thankfully I was able to recover a little bit and get one."
Drew then grounded to James Loney at first. Loney threw to Yunel Escobar at second, but the Rays' shortstop made a bad throw back to first. Two runs scored on the play to make it 4-0 Red Sox.
To Cobb's credit, the third inning was the only blemish on his 6 2/3-inning line, but he still took his first loss of the season.
"I think in years past, I might have let things get away a little bit, kind of caved under the pressure, versus this year, I took the pressure head on," Cobb said. "I kind of told myself not to let this happen. Not to let those games that happened in the past happen. It definitely made me angry, it made me more aggressive, probably helped a little bit."
While the Rays' pitching has remained strong, the offense continued to struggle. The team has lost five of its last six games while batting .160 with eight runs scored, no home runs and seven extra-base hits. The club has scored just 33 runs this season, its lowest total through the first 11 games of a campaign in franchise history.
"It's not a new path," Maddon said about the team's struggling offense. "It's not the road less traveled. We've been there. We know how to deal with it and we'll keep moving forward from there."
Bill Chastain is a reporter for MLB.com. This story was not subject to the approval of Major League Baseball or its clubs.