Beckett's superb start ends in heartbreak in ninth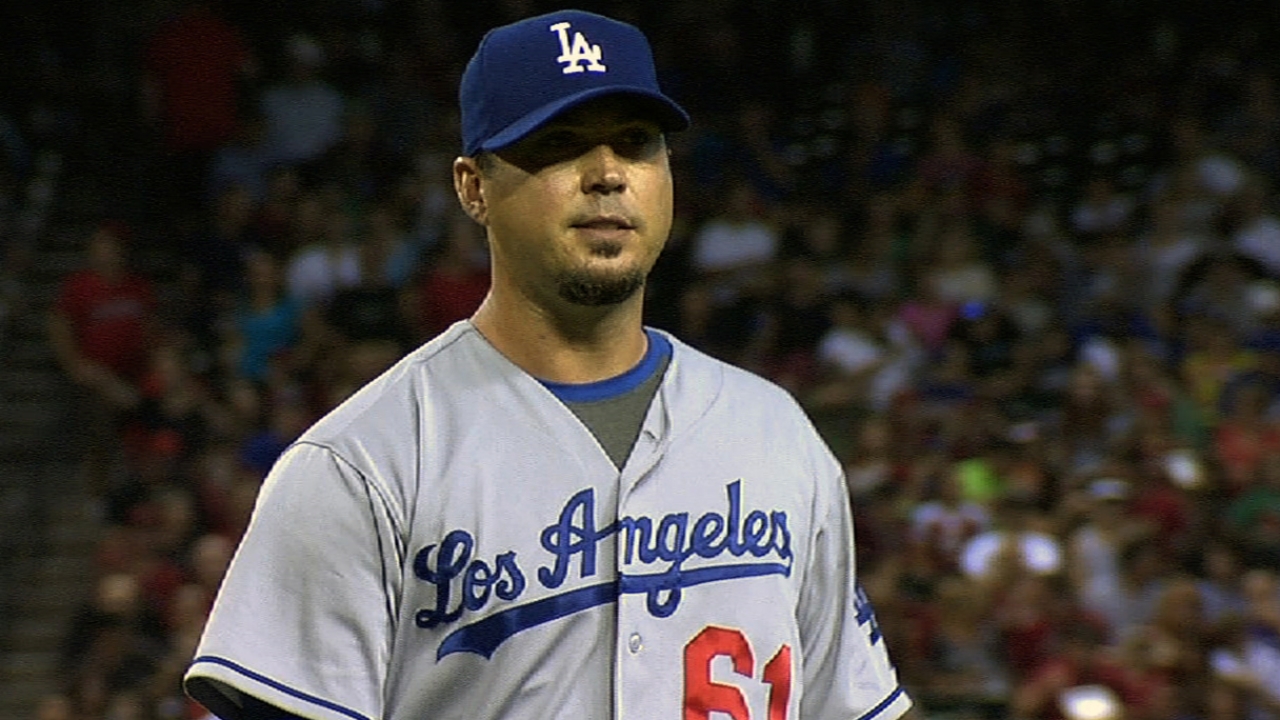 PHOENIX -- The Dodgers lost another game without scoring Sunday, but they found a rejuvenated Josh Beckett.
The Red Sox gave him a four-year, $68 million contract after the 2010 season, this three-time All-Star, 20-game winner and Cy Young Award runner-up. But it all soured in Boston last year and he was traded to the Dodgers in the summer blockbuster that also brought Adrian Gonzalez, Carl Crawford and Nick Punto.
With Zack Greinke on the shelf for two months, Beckett pitching like this is what the Dodgers need. And even though he took a 1-0 loss by allowing Arizona a walk-off run with one out in the bottom of the ninth inning, just the fact that Beckett was still locked in a scoreless duel that late is a sign of how far he's come back.
The disappointing ending for the Dodgers came after A.J. Pollock successfully tested left fielder Carl Crawford's repaired arm with a stretch double.
"When you hit the ball in the gap like that with the way Beckett is throwing, you kind of think it might be a good risk to take to try to get to second," Pollock said.
After an intentional walk to Miguel Montero, slugger Paul Goldschmidt defeated a defensive alignment playing him to pull by squirting a 10-hopper into right field for an unlikely game-winner.
"It really was a bad swing, I was way out in front, got it off the end of the bat, but it spun away from the second baseman," said Goldschmidt.
"That shocked me," catcher A.J. Ellis said of the final hit. "He's not an opposite-field, ground-ball hitter at all, especially on a 1-0 count when you think he's looking to do something different. But we put ourselves in that position."
Meaning, the Dodgers' offense, which got runners on base in six innings but rarely got them over and never got them in. Don't blame Adrian Gonzalez, who had his second consecutive three-hit game, equaling the hit total for the rest of the offense Sunday.
Nick Punto, starting at third base, had a pair of hits, but the Dodgers were 0-for-6 with runners in scoring position. Matt Kemp, now batting .174, went 0-for-4 with three strikeouts. Luis Cruz, who moved from third base to give shortstop Justin Sellers a rest, went 0-for-3 and is hitting .091.
"Borderline embarrassing," Ellis said of the offense being shut out twice in this three-game series, making it three times in the first 12 games of the season.
More than matching Beckett was Arizona starter Trevor Cahill, who pitched into the eighth.
"Their guy was pretty good, too," said Dodgers manager Don Mattingly. "Best I've seen him."
The Dodgers wasted Beckett's best start since joining the team. He struck out nine and the only walk he issued was intentional. His fastball velocity was up to 94 mph and was still at 93 mph in that ninth inning, when the double by Pollock snapped a string of 12 consecutive batters retired.
"He was incredible," Arizona manager Kirk Gibson said. "He threw a ton of strikes, and threw them with every pitch. He had everything working. A big breaking ball and his fastball was electric."
Beckett had been getting ahead of hitters in his two previous starts, but in this game he put them away. He was able to Sunday with the fastball, curve and changeup.
"I feel like I'm getting on top of the ball better and using my lower half, which is allowing me to get on top," said Beckett. "I always want to get my fingers on top, but last year things prevented me [from doing that] and I got in bad habits. I feel I did a better job today.
"I've always been a guy, in April, I'm still building arm strength, and it's May when I hit my stride velocity-wise. Maybe the extra week [of Spring Training] pushed me ahead."
Beckett didn't allow a home run after serving up four of them in his first 11 innings this year.
Mattingly -- who replaced Crawford with Skip Schumaker after Pollock's double -- said leaving Beckett in for the ninth inning (his final pitch count was 102) was a "no-brainer."
"It's his game," said Mattingly. "He's still throwing the ball good. At no time did he have to battle or pitch out of a jam. He was pretty much rolling along. For me, it was no decision whether to leave him in or not."
Ellis said this was easily Beckett's best outing since last summer's trade.
"His ball had a lot of life, a lot of carry," Ellis said. "His mechanics were right, he stayed on his line and the ball was coming out of his hand. He could smell it, too. You could see something click. He knew he had his 'A' stuff. The last four innings, he got stronger as the game went on."
Ken Gurnick is a reporter for MLB.com. This story was not subject to the approval of Major League Baseball or its clubs.