Humber a hard-luck loser as Astros fall to Halos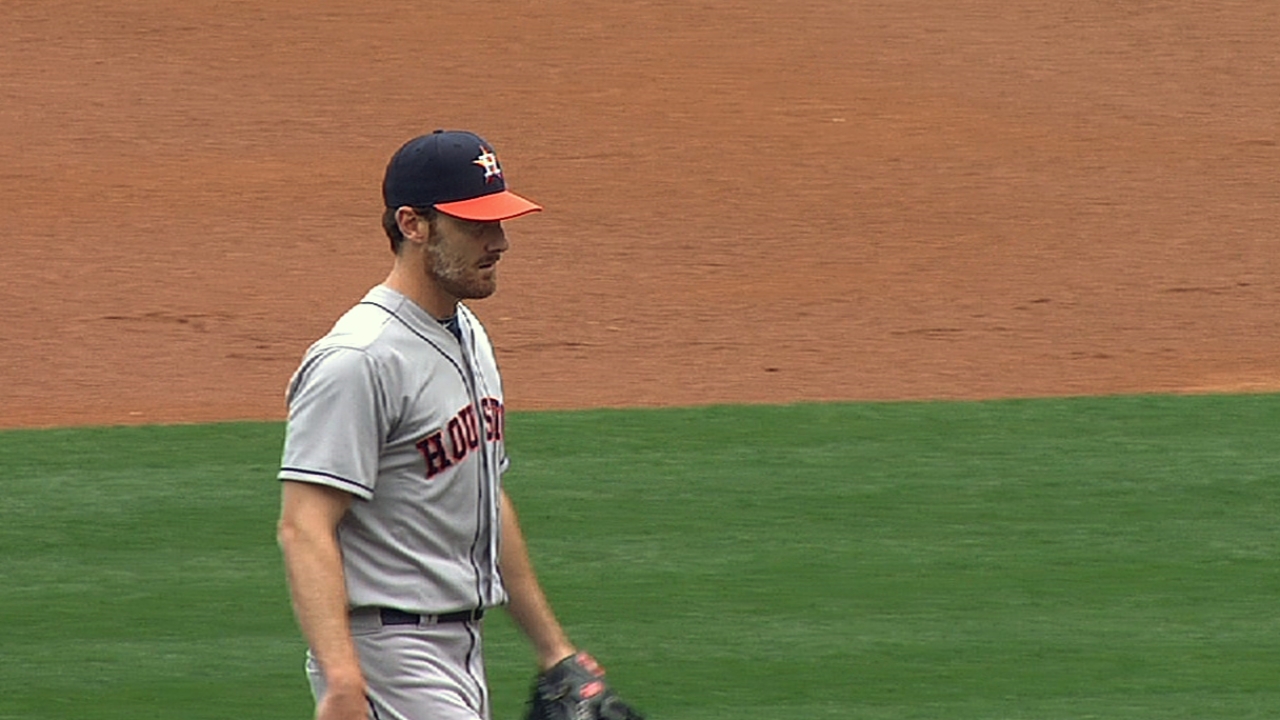 ANAHEIM -- The performance of starting pitcher Philip Humber has been one of the biggest positives for the Astros through the first two weeks of the season. Now, if they could just find a way to reward him with a win.
Humber held the Angels to seven hits and two runs while working a season-high seven innings Sunday afternoon, but the Astros' offense couldn't provide enough run support once again while losing to the Angels, 4-1, at Angel Stadium.
Humber (0-3) came within an out of a quality start in his first outing of the season and has posted quality outings in each of the last two, but the Astros have scored only one run while he's been on the mound -- and that came in the second inning Sunday.
"As a pitcher, you can't control wins and losses," said Humber, who has a 2.89 ERA. "Our job is to go out there and give our team a chance to win when it's our turn. There's going to be times when they pick me up and I don't deserve to win and I do. That's happened a lot in the past. You just keep doing your job. Everyone's doing their best and we're going to put some wins together before too long."
The Astros were one out away from beating the Angels on Saturday and winning their second consecutive road series. Instead, they left for Oakland on a two-game losing streak, but not without confidence.
"We already know we're better than people think we are," center fielder Justin Maxwell said.
If the Astros continue to get the kind of starting pitching they've gotten through two weeks, they'll certainly surprise. Following Humber's solid outing, Astros starters have a 3.26 ERA through 12 games and have held opponents to three earned runs or fewer 11 times.
"The starting pitching has been outstanding the whole year," Astros manager Bo Porter said. "If we continue to pitch the way we've been pitching, continue to play defense the way we play defense -- and we're going to get our share of hits -- we're going to win quite a few ballgames."
Angels right fielder Josh Hamilton, who hit his first homer of the season on Saturday, delivered an RBI single with two outs in the first inning to score Mike Trout, who was aboard following a hustling double to left field with one out. Hamilton added his second homer of the season in the eighth.
The Astros, who stranded the bases loaded in the first inning, got back-to-back doubles by Ronny Cedeno and Matt Dominguez to lead off the second against Angels starter C.J. Wilson and tied the game. Trout put the Angels ahead, 2-1, in the third with his first homer of the year.
"Our club, on the offensive side, has a dimension of power that's important to us," Angels manager Mike Scioscia said. "If you're struggling a little bit, it only takes one mistake to get a run and you saw it this afternoon, and those guys hit the ball out of the park."
The Astros threatened in the sixth, putting runners at second and third with one out following aggressive baserunning by Carlos Pena and Carlos Corporan. Houston tried to push a run across with a squeeze bunt, but Cedeno bunted the ball right back to Wilson, who flipped home for an easy out.
"We got men on base and tried to tie the game there in that situation," Porter said. "With Humber throwing the ball as he good as he was throwing the ball, I felt like if we could get even and turn it into a bullpen game, we like our chances. We weren't able to execute there, and they got the big hit in the bottom of the eighth to give them two more runs."
Wilson (1-0) worked six innings and allowed five hits, four walks and one run for his first win of the season, improving to 3-0 with a 2.94 ERA in five career starts against the Astros.
"The biggest thing is we got his pitch count up and he really had to work just to get through the innings he was able to get through," Porter said. "I thought the guys did a great job of managing their at-bats and making him work for every out."
The Astros only had seven hits, including five singles, and drew five walks, but they just couldn't overcome going 1-for-8 with runners in scoring position and leaving 10 runners on base.
"I think every one of our batters had at least a 3-2 count at one time or another, so we did our job and saw a lot of pitches," Maxwell said. "We just couldn't muster anything off of him. [Saturday] night, the same thing with Garrett Richards -- we hit the ball really hard, just right at people. As long as we stay confident in what we're doing, we'll be fine."
Brian McTaggart is a reporter for MLB.com and writes an MLBlog, Tag's Lines. Follow @brianmctaggart on Twitter. This story was not subject to the approval of Major League Baseball or its clubs.