Richard delivers solid outing, but offense falls flat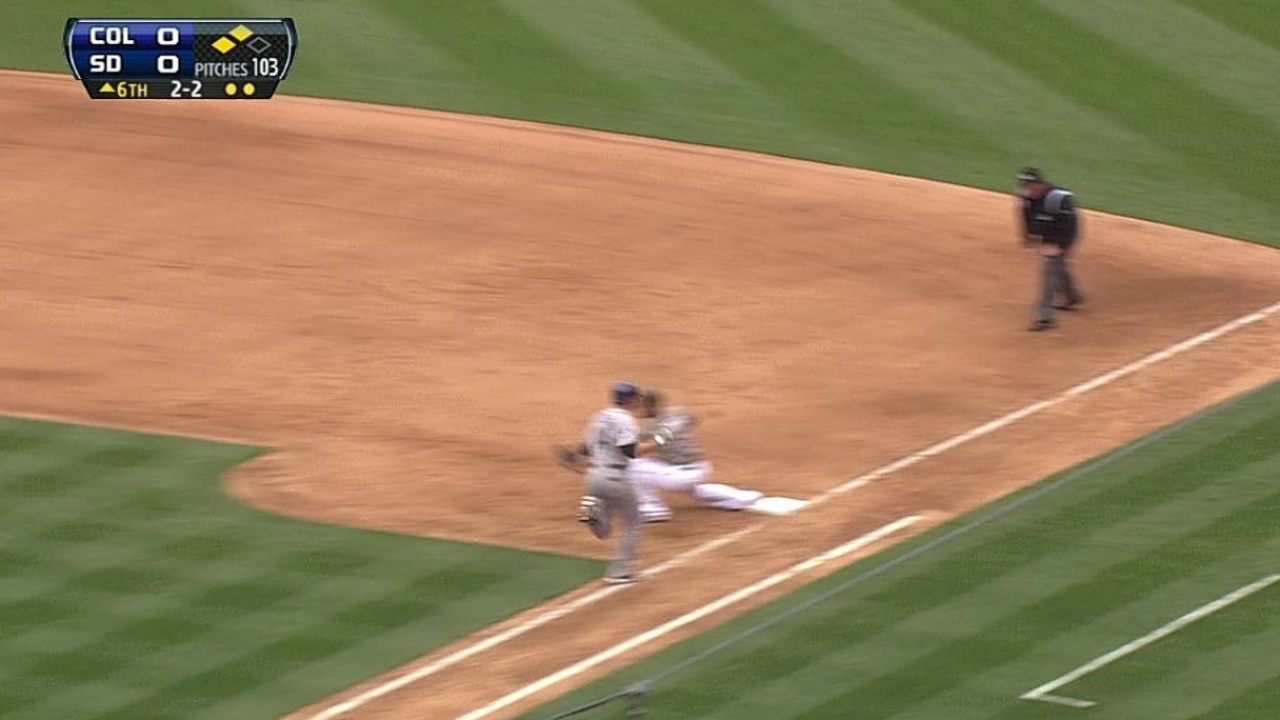 SAN DIEGO -- The Padres' offense struggled to get anything going in Sunday's 2-1 loss to the Colorado Rockies in front of 21,337 at Petco Park.
The hometown hitters managed just one run. They struck out 11 times, didn't have an extra-base hit and were 0-for-3 with runners in scoring position.
All in all, Padres bats couldn't cash in a quality start from left-handed starter Clayton Richard, who pitched six shutout innings.
This offensive blackout might be an aberration when compared to future results. It could also be a sign of things to come over the next few games without outfielder Carlos Quentin.
The slugging outfielder was a key power threat in the lineup before dropping his appeal of an eight-game suspension from Thursday's benches-clearing brawl with the Los Angeles Dodgers. With Quentin's suspension freshly started, third baseman Chase Headley on the disabled list with a fractured thumb and catcher Yasmani Grandal serving a 50-game suspension for testing positive for a banned substance, the Padres' lineup is without it's heaviest hitters.
"We knew this [time was] coming. We just didn't know when [Quentin's suspension would start]," Padres manager Bud Black said. "Players are conditioned to deal with adversity, and this is something they'll have to deal with for the next eight or nine days. Our guys realize what's in front of them, and that more will be asked of hitters still in this lineup."
Black is also asking other starters to mimic Richard's effort. He struck out four and worked his way around two hits and four walks to become the third Padres starter to complete six innings.
Richard's start was an improvement over past outings, but the offense couldn't validate it with a win.
"That happens when you lose ball games. Things don't go your way," Black said. "You'd like to see a solid pitching effort supported by enough runs to get by, but our offense couldn't get going. They got the big blow. We never did."
The big blow came in the seventh inning, from pinch-hitter Todd Helton. The Rockies regular first baseman broke a scoreless tie with a two-run homer to right field that ultimately decided the game.
Helton's blast came off reliever Dale Thayer, who hadn't allowed a hit all season. Last year, it may not have been a hit either.
The Padres fell victim to their own ballpark modifications. Helton's home run fell on horizontal portion of a relocated right-field fence moved 11 feet closer this offseason in an attempt to generate more offense.
"I'm not going to use that as an excuse," Thayer said. "He hit it well and I caught too much of the plate. He put a good swing on it, but the whole thing could've been avoided had I put it in a better spot."
Rockies starter Jorge De La Rosa rarely missed his spots over six shutout innings. He had seven strikeouts, gave up two hits and allowed just one Padres batter into scoring position.
The Padres put the tying run in scoring position in the ninth and left it there. Third baseman Jedd Gyorko plated Everth Cabrera with a sacrifice fly, but Nick Hundley struck out with a runner on second to end the game.
Next up, the Padres will face the Dodgers in Los Angeles -- the first meeting since Quentin charged Zack Greinke -- for three games starting Monday. The NL West leading San Francisco Giants are up next from April 19-21.
Despite a slow start to the season, Richard insists that time is still on the Padres' side.
"Without a doubt," Richard said. "Whenever something happens at the beginning of a baseball season, it gets magnified because there isn't a huge sample size. On the other side of things, you want to start out hot. The objective is to keep moving in the right direction while working some of these problems out."
While the offense struggled Sunday and won't have much power over the next week, Black believes his Padres must play better in all facets to escape this funk.
"This is a tough start to the season, but we have to fight through this," Black said. "We have to battle over the next couple weeks and try to put our best foot forward and keep playing hard. It'll be nice if we can string together some quality starting pitching and try to get everything going at once."
Scott Bair is a contributor to MLB.com. This story was not subject to the approval of Major League Baseball or its clubs.