Helton's homer backs De La Rosa's fantastic start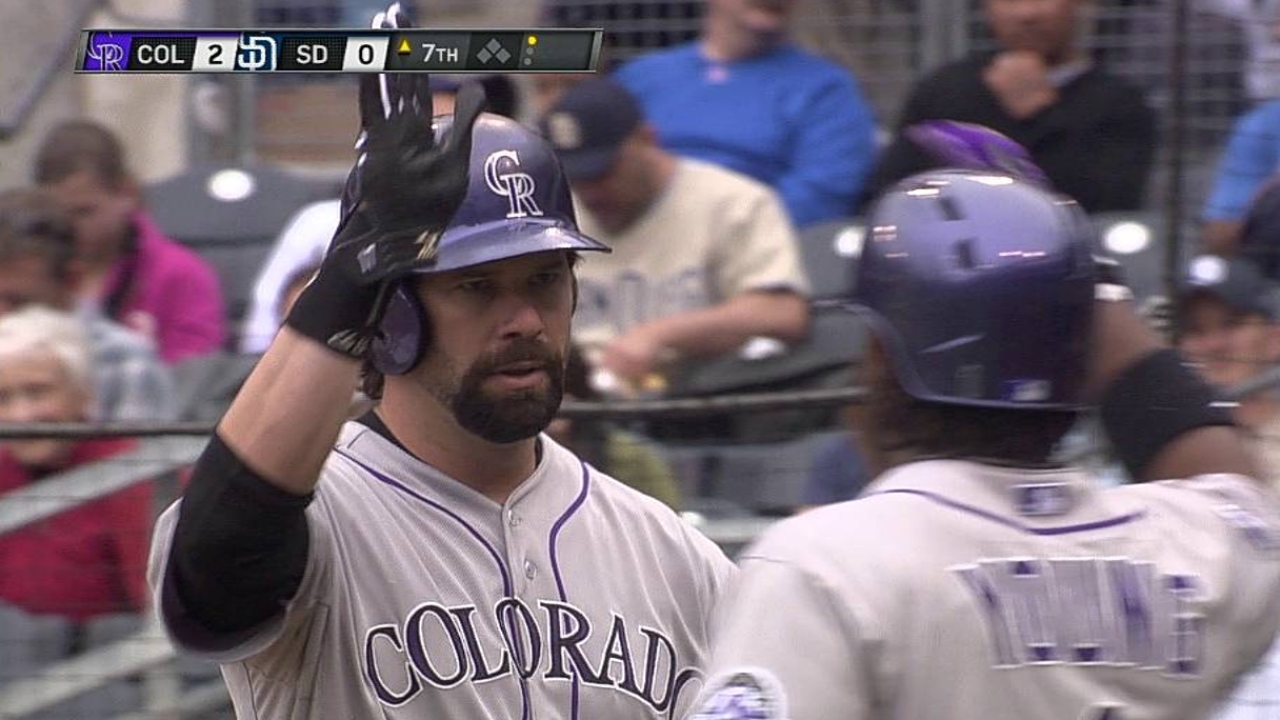 SAN DIEGO -- The narrative of Todd Helton's 2013 always works around to the likelihood that this is his last season. Sunday afternoon, he gave his team and fans reason to simply enjoy him as long as he plays.
Helton's two-run, pinch-hit homer in the seventh inning gave the Rockies a 2-1 victory over the Padres at Petco Park to complete a three-game road sweep.
Since debuting in 1997, Helton has been a Rockies fixture at first base and hasn't done much pinch-hitting. Playing a little less this year, he'll have to work at it. Sunday's shot over the fence in right, which was drawn in 11 feet during the winter to encourage homers, on a 2-1 pitch from Dale Thayer was just Helton's third career pinch homer. Chris Nelson had drawn a leadoff walk.
Helton's last pinch homer was a grand slam last April 29 against the Mets in a Rockies loss.
"It's the same as whenever I hit -- get back, see the ball and try to put a good swing on it," said Helton, whose homer was the Rockies' 21st in 12 games overall and 16th in nine road contests. "The only difference is you only get one shot. That's what makes it so difficult. I'm not good at it."
Helton entered the series 2-for-21, but went 6-for-14 with five RBIs and three extra-base hits as the Rockies earned their second three-game sweep of the Padres. Helton's first homer this year gave the Rockies a much-needed reward on a day when they managed just three hits.
It was left-handed starter Jorge De La Rosa's first win since May 13, 2011, before he had Tommy John elbow surgery and a number of setbacks. It didn't go into the books until Rafael Betancourt labored through an uncharacteristic two-walk, one-run ninth inning. In the end, it was just the 20th time in Rockies history that an opponent managed fewer than three hits in a game.
The Rockies, who were swept by the Giants before the trip to Petco, but have won two of three road series, will begin a 10-game homestand with a game Monday against the Mets.
"We had already won the series and we could have looked forward to heading home, but we didn't do that," Rockies manager Walt Weiss said.
De La Rosa was coming off a six-inning performance against the Giants in which he gave up a first-inning, three-run homer to the Giants' Hunter Pence, but nothing else. It was just good enough to lose. This time, De La Rosa held the Padres to two hits and two walks while striking out seven in six innings.
Without Helton's homer, De La Rosa merely would have been good enough to tie Padres starter Clayton Richard, who also pitched six scoreless innings.
"It's been a long time [between wins], but when Helton hit the homer, I already knew we would win," De La Rosa said.
De La Rosa made it back for three tentative starts at the end of last season. Weiss removed him for matchup purposes after just 4 1/3 innings in his first start this year, a Rockies victory at Milwaukee. The Giants game didn't end in victory, but seemed to give him confidence.
"After that first inning in San Francisco when Pence hit that home run, it seemed like something clicked," said catcher Yorvit Torrealba, who pairs with De La Rosa in one of the Majors' most expressive batteries in terms of forceful conversation and body language. "Whatever happened, he's been able to make adjustments, execute his pitches. Everything was perfect today."
Padres manager Bud Black said, "That's nothing new to us. We've seen Jorge throw that way before, prior to his Tommy John surgery."
Torrealba and De La Rosa worked their magic with the Rockies in 2009, when De La Rosa won a career-best 16 games. Their communication is a show within the game.
After the homer in San Francisco, Torrealba yelled to the mound, "Come on, you're better than that." De La Rosa shouted for Torrealba to zip it.
With two out in the sixth on Sunday, De La Rosa spun in frustration after throwing a pitch into the dirt against Jesus Guzman. Torrealba kept the ball and gave De La Rosa a palms-down stay cool. De La Rosa forced a fly ball to finish his outing.
"At first, it wasn't very comfortable with him," De La Rosa said. "But it's weird. I just throw whatever he wants. But you know what? The thing I have in mind, I don't know how he knows, but he calls the pitch."
Sunday also featured bounce-back appearances from two key relievers. Wilton Lopez carried a 12.46 ERA into Sunday, but struck out two in a calm seventh. Matt Belisle, after giving up runs in his previous two outings, froze eighth-inning leadoff hitter Alexi Amarista with an 89-mph four-seam fastball inside for a strikeout that started a perfect frame.
Betancourt walked just 12 in 57 2/3 innings last year, but walked Everth Cabrera and Yonder Alonso to open the ninth. But after Guzman's sacrifice bunt and Jedd Gyorko's sac fly, Betancourt fanned Nick Hundley.
Thomas Harding is a reporter for MLB.com. Read his blog, Hardball in the Rockies, and follow him on Twitter @harding_at_mlb. This story was not subject to the approval of Major League Baseball or its clubs.