After win No. 200, Doc sees more to accomplish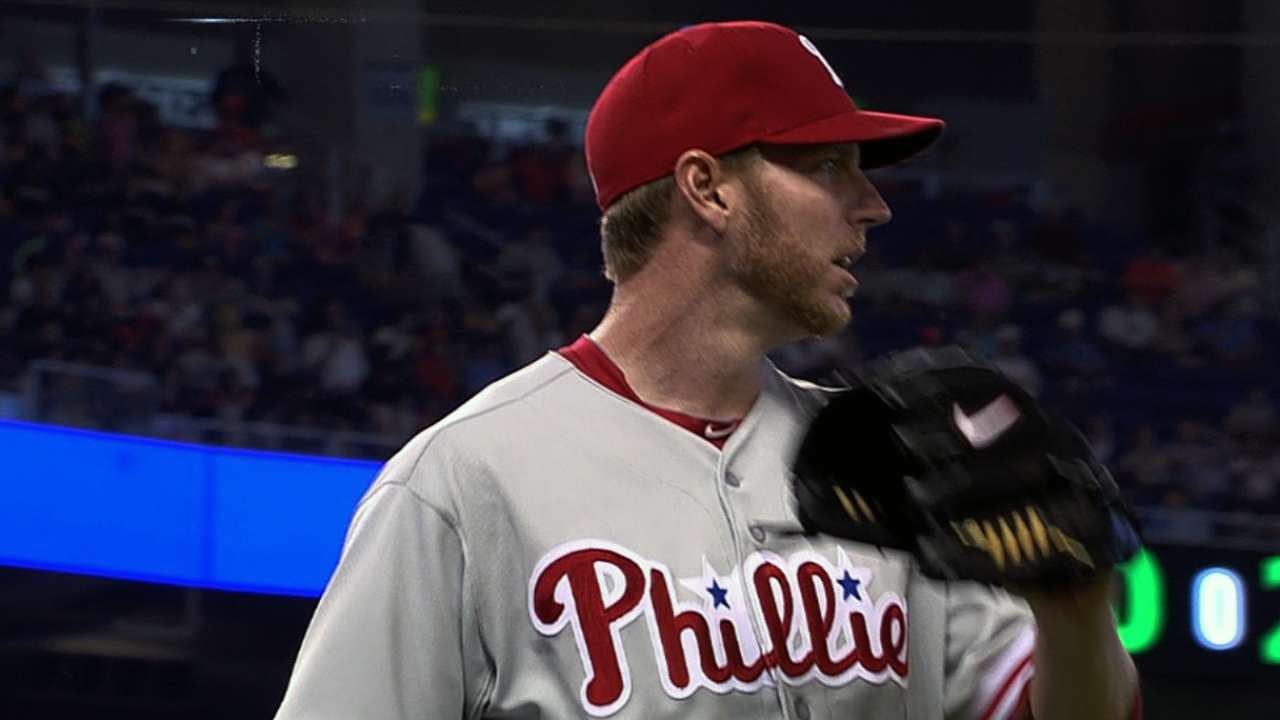 MIAMI -- Roy Halladay smiled widely as Chase Utley and Jimmy Rollins offered their congratulations and presented him a big bottle of champagne inside the visitors' clubhouse Sunday afternoon at Marlins Park.
He had just won the 200th game of his storied career.
"I'd rather win a World Series," he reminded his teammates following the 2-1 victory.
They applauded him, officially ending a day that was long anticipated.
"They root for him," manager Charlie Manuel said. "He carries a lot of respect. They know how dedicated and how hard he works."
Halladay's troubles since last season have been analyzed and dissected by everybody inside and outside baseball. He battled injuries last year, he struggled in Spring Training and he got hit hard in his first two starts of the season. And despite public affirmations from the Phillies that everything was just fine, there had been a very real unease about Halladay's ability to pitch successfully.
But after struggling to throw strikes in the first couple of innings Sunday, he settled, found the strike zone and attacked. He threw just 87 pitches after going through 95 pitches in just 3 1/3 innings against the Braves on April 3 and 99 pitches in just four-plus innings Monday against the Mets.
"I had been putting a lot of pressure on myself," acknowledged Halladay, who allowed five hits, one run and a walk with two strikeouts in eight innings. "My plan the whole week was to worry about the game and not worry about what was going on internally. I felt like that made a big difference. Things are going to happen, hits are going to happen, and guys are going to get on base, but most importantly, I have to stay with my plan.
"I can't get caught up in things going on around me. I think in the past I've tried to really control too much and do too much and worry about too much. I felt like today that plan was simpler: execute pitches one at a time and not worry about what's going on. And that made it good."
How good was Doc? He threw first-pitch strikes to just one of the first seven batters he faced, but he found the strike zone in the third inning and attacked from there. He retired 10 consecutive batters when Marlins right fielder Justin Ruggiano singled to right field with one out in the seventh. Halladay walked Rob Brantly on five pitches, and Chris Valaika followed with a single to left to score Ruggiano to tie the game, 1-1.
It must be mentioned that the Marlins have scored just 20 runs in 12 games and were without slugger Giancarlo Stanton, who is their only legitimate offensive threat.
Halladay will face a much tougher test Friday against the Cardinals at Citizens Bank Park.
But Halladay said he believed the successes and strides he made Sunday could translate into success against other teams.
"The biggest thing is to throw strikes early in the count, get ahead, mix pitches and throw them for strikes," Halladay said. "That's something I hadn't done against any of the other two teams. You're right, they haven't scored as many runs, and Stanton isn't in there offensively; they haven't been as good. But I feel like if I can make pitches confidently, and make them early in the count, I feel like I can be successful."
Time will tell, but Halladay looked better this day.
"He can pitch," Marlins manager Mike Redmond said. "Everybody was talking about his numbers. I was like, 'Hey, this guy is a professional; he knows how to pitch.' He understands the game. Nobody is more prepared than him. His velocity might have been down a few ticks, but when he needed to make pitches, he made pitches. You saw how efficient he was with his pitches."
He needed to be. The Phillies' offense vanished during the series, mustering just six runs in 28 innings against the 2-10 Marlins. They hit just .200 (6-for-30) with runners in scoring position and stranded 27 runners on base.
The Phillies entered the ninth inning tied when Laynce Nix hit a pinch-hit home run to right field against Marlins right-hander Jon Rauch to give the Phillies a one-run lead.
"That's really cool for me to be a part of that," said Nix, referring to Halladay's 200th win. "I've been on lots of losses when I've faced Doc. It's good to be on a positive side in one of these wins. This guy has been great his whole career, and it's really cool to be a part of that. ... Just looking at the way the ball was coming out of his hand early in the game, he looked great. He really did pitch a good game. He made most of his pitches. I thought he looked awesome. That's just good to see."
Halladay talked a lot afterward about simplifying things. He believes he can keep things simple in future starts. It would be a huge lift for the Phillies, who are 6-6. They need a good Halladay to keep pace with the Braves (11-1) and Nationals (7-5) in the National League East.
"There are a lot of things you can't control," Halladay said. "And for some reason I felt like I had to control those things. I've never been that way, and for some reason coming in I felt like I had to prove that I was healthy. I had to prove that I was effective. There were a lot of things that I had no control over but were getting in the way of going out and making pitches.
"Really, my focus this whole week was, what's my job? How can I help us? How can I do my job effectively and not get caught up with everything else going on?"
Halladay was asked if he felt like he needed to go into a back room in the clubhouse and yell once Jonathan Papelbon recorded the final out in the ninth to preserve the win.
No, he chuckled.
"I want to win a World Series, and that's why I'm here," he said. "That's why I want to play. The personal milestones are great. My wife, my family -- they are all excited about it. But the ultimate goal is to get to the playoffs and win a World Series, and when that happens, I'm going to go in the back room and yell."
Todd Zolecki is a reporter for MLB.com. This story was not subject to the approval of Major League Baseball or its clubs.