Cardinals lose scoreless streak, game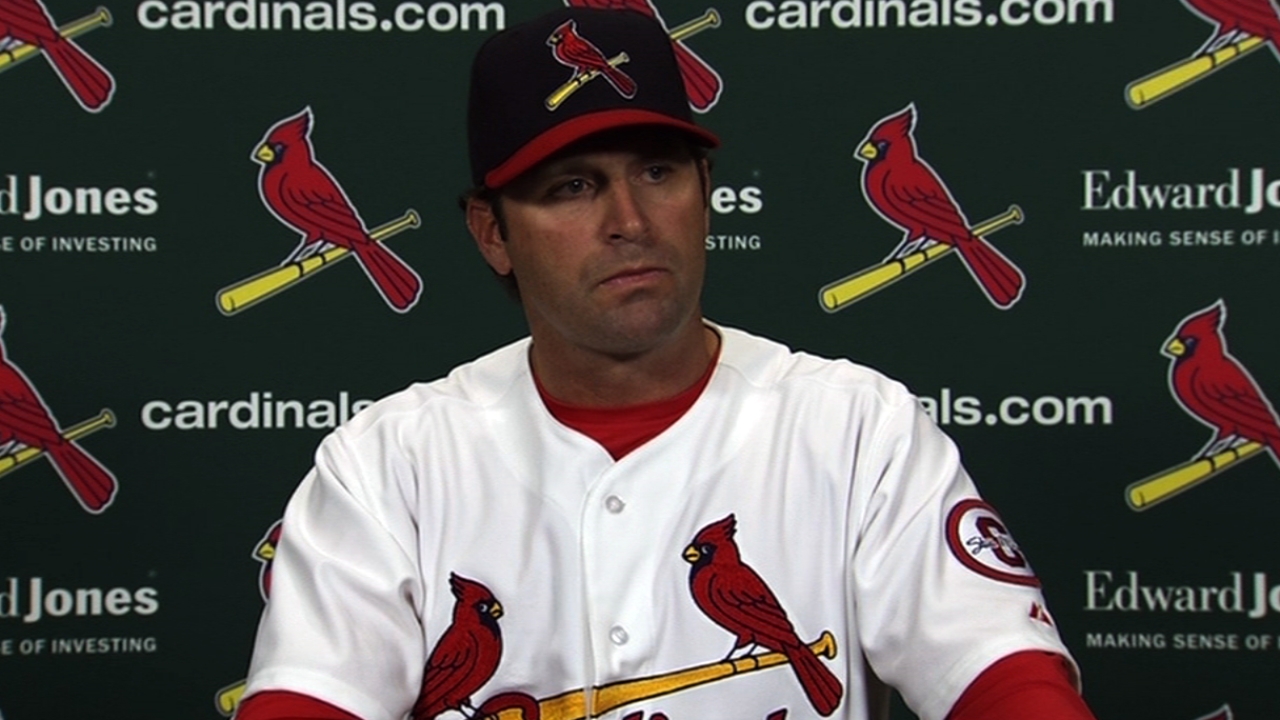 ST. LOUIS -- Despite all the momentum built in between, the Cardinals' six-game homestand ended the way it started -- with their bullpen crumbling late and Jason Motte's absence magnified by the tough time Mitchell Boggs has had trying to fill in as the closer.
The Cardinals watched a three-run lead dissolve in the eighth and ninth before Milwaukee used Jonathan Lucroy's 10th-inning homer to escape with a 4-3 win in front of 42,645 at Busch Stadium on Sunday. It closed the Cardinals' homestand with bookend games in which Jaime Garcia was denied a win because of the bullpen's inability to hold a lead.
It also left manager Mike Matheny to again answer questions about whether Trevor Rosenthal and Boggs are currently best suited for their enhanced late-inning roles.
"I don't think we're in any position right now to say one thing or another [regarding possible changes], but we always keep all the options," Matheny said. "We'll see when we get that next opportunity. Those are the games that we have to close out."
Before the bullpen meltdown, Garcia pushed the Cardinals closer to a decades-old franchise record with seven scoreless innings. The opportunity for a fourth straight shutout -- something done only once before in franchise history -- was squashed by Ryan Braun's two-run homer off of Rosenthal in the eighth. That snapped the pitching staff's string of 39 straight scoreless innings.
Braun's blast also ended a scoring drought of 32 innings for the Brewers, who hadn't previously advanced a runner to third in the series. And it pulled the Brewers to within one of the Cardinals, who had scored three runs early off Milwaukee starter Marco Estrada.
"I made a bad pitch to Braun there," said Rosenthal, who is now 2-for-5 in eighth-inning hold opportunities this season. "I have to do a better job of executing there. I put us in a tough spot."
Milwaukee wasn't done. On for the save, Boggs wouldn't record an out. He exited with the game even at 3, after consecutive hits and an unsuccessful attempt by Yadier Molina to garner an out at third on a sacrifice bunt attempt.
"This series was there for us to take," Boggs said. "Jaime pitched outstanding. Our guys took great at-bats. The bottom line is I had a chance to get the win for us and I didn't get the job done. I can sit here and talk about it all I want to, but until I start going out there and doing the job, it's not good enough."
Matheny's decision not to let Boggs try and work his way out of the jam was seemingly an indication of waning faith in the right-hander's readiness to pitch the ninth. The gamble to unplug Boggs with runners on the corners paid off, as Randy Choate and Edward Mujica pushed a tie game into extra innings.
The relief was short-lived, however. Lucroy's 10th-inning blast off of Fernando Salas, who was pitching for the first time since April 6, sealed the Brewers' comeback bid.
Salas shouldered the loss, but Boggs now carries two blown saves and a tie-game-turned-loss on his record in just seven appearances. In all, he's given up seven runs -- a total it took him 27 appearances to reach last year in an eighth-inning role.
"It's not the stuff," Boggs said. "I think I showed in my last two outings that my stuff is pretty [darn] good. I believe that with all my heart. I have to show up tomorrow night, and whenever I get the opportunity to go out there again, pitch that way. I didn't pitch that way today. I have to figure out what the problem is and keep moving."
For a Cardinals club that is enjoying a stretch of dominant starting pitching and plenty of success hitting with runners in scoring position, the bullpen stands as the difference between a 4-2 homestand and a seven-game winning streak.
The club learned during the homestand, too, that it might need more than just a short-term stopgap. With Motte facing a potential season-ending injury, the Cardinals have to find a capable plug in his place. On Sunday, just as he's been for the team's other blown saves, Motte watched it all unfold from the dugout.
Afterward, he made it a point to pull Rosenthal aside to talk pitch execution.
"These guys all have great stuff," Motte said. "We all know what they're capable of doing. It's only bigger because of the point in the game. Late in the game, when you make a mistake, everyone is talking to you asking you why you're so bad."
Garcia continued a string of strong starts by the Cardinals' rotation, which covered 23 of the 28 series innings. The unit struck out 25, walked two and did not allow a run. Garcia's scoreless effort was aided by three double plays turned behind him, as well as five strikeouts.
"I know we haven't been hitting, but they seem to bring one good pitcher after another out there," Brewers manager Ron Roenicke said. "They're awful tough to score runs against."
"I didn't have my best stuff, which is tough to say when you pitch seven scoreless," Garcia added. "But it's one of those games where you're just out there battling and trying to get outs."
Four straight hits -- including RBI knocks from Matt Holliday and Molina -- put the Cardinals ahead, 2-0, in the third. Having earned a start at first base, Matt Adams blasted his third home run in his last three games in the fourth.
This one -- a 419-foot shot to straightaway center -- was the second of two hits on the day for Adams, who now has 11 in 18 at-bats. He has produced a multi-hit game in all four of his starts. With eight RBIs, he sits just one short of team-leader Holliday, who is 5-for-8 with runners in scoring position.
Jenifer Langosch is a reporter for MLB.com. Read her blog, By Gosh, It's Langosch, and follow her on Twitter @LangoschMLB. This story was not subject to the approval of Major League Baseball or its clubs.