Brewers end drought in resounding fashion in finale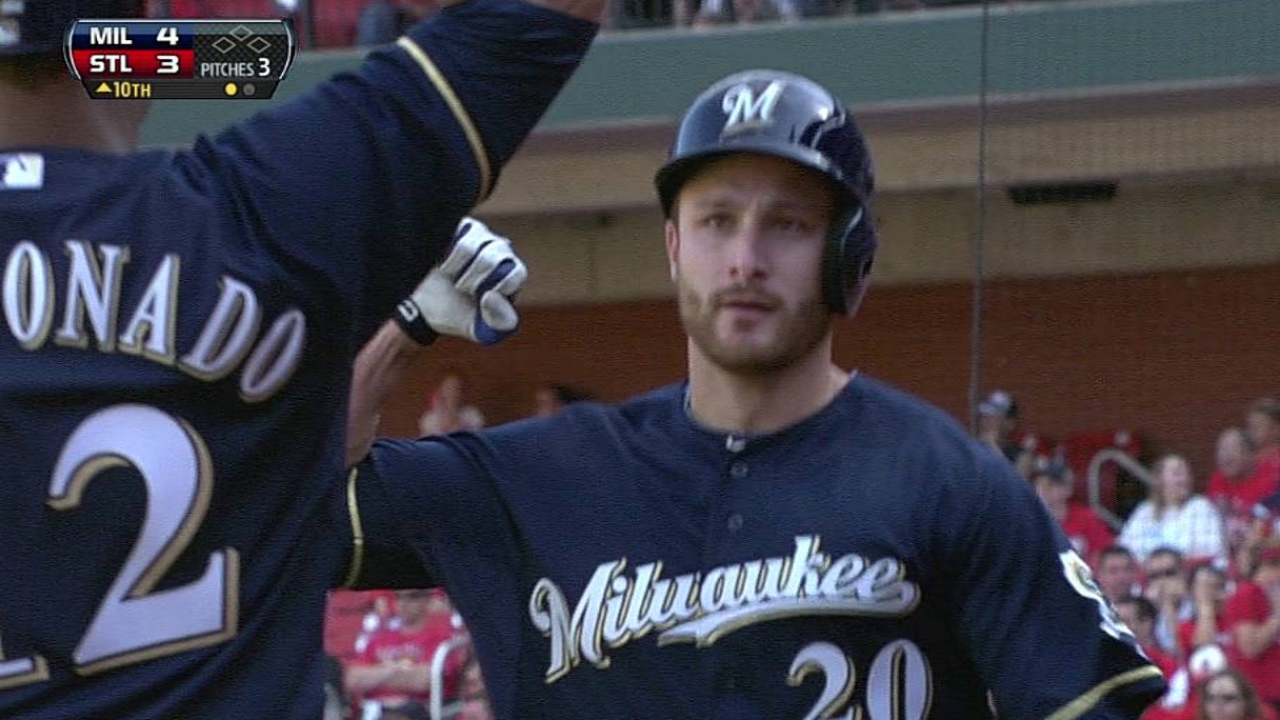 ST. LOUIS -- The Milwaukee Brewers' record-setting scoring drought had reached such epic proportions that All-Star outfielder Ryan Braun had to dig deep into his memory to recall the proper way to celebrate.
"Almost forgot what it was like to go back to the dugout and give high-fives," Braun said.
Braun ripped a two-run homer in the eighth inning on Sunday and Jonathan Lucroy followed with a solo blast in the 10th to lead the Brewers to a 4-3 come-from-behind win over St. Louis before 42,645 fans at Busch Stadium.
Braun's round-tripper broke a team-record 32-inning scoreless streak that lasted more than four days. The old mark of 31 innings was set Sept. 9-11, 1972. Until Braun's homer, Milwaukee's last runs had come in the second inning of a 6-3 loss to the Cubs on Tuesday.
The Brewers (3-8) snapped a three-game losing skid with their first late-game heroics since Opening Day.
After Braun broke the lengthy skid, Yuniesky Betancourt came through with a run-scoring double in the ninth to tie the game and set the stage for Lucroy's blast.
Although Betancourt and Lucroy both came through at crunch time, it was the Braun homer off of reliever Trevor Rosenthal that seemed to wake up the sleeping bats.
"It was like a shot of energy," Betancourt said. "It charged us all up."
Lucroy agreed, "Momentum is a crazy thing. After he hits that homer, we got rolling. You could feel the tide starting to turn."
The Brewers' much-maligned bullpen also came up big. Brandon Kintzler picked up the win by retiring four of five batters. Michael Gonzalez and Burke Badenhop each got an out in the 10th. Badenhop, who picked up the save, induced pinch-hitter Carlos Beltran to ground out with two on and two away to end the game.
For the Brewers, the win signaled the end of a frustrating stretch.
"This was like a sigh of relief for everybody," Braun said. "We haven't been playing good baseball in any aspect of the game. It was nice to finally get a win."
After going 32 innings without a run, Milwaukee scored in three successive frames, all under late-game pressure.
"That was needed," Milwaukee manager Ron Roenicke said. "It's been a scuffle, really difficult to get wins."
Lucroy and Carlos Gomez had three hits each. Betancourt and Jean Segura added two hits apiece. Lucroy picked on a fastball from reliever Fernando Salas and drove it 407 feet over the wall.
"It felt great," Lucroy said. "Any time is a good time for a homer."
Segura started the eighth-inning rally with a leadoff single to set the stage for Braun's homer. Gomez got the ball rolling in the ninth with a leadoff hit against St. Louis closer Mitchell Boggs.
St. Louis, which won the first two games of the series 2-0 and 8-0, had won four in a row.
"It's tough to see it end that way," Cardinals manager Mike Matheny said. "We certainly had it set up to end differently than that."
Milwaukee right-hander Marco Estrada turned in a quality start, but like Kyle Lohse and Yovani Gallardo, received no offensive support while on the hill. Estrada allowed three runs on seven hits over six innings. He struck out seven and walked one, taking a no-decision.
Estrada rolled through the first two frames and recorded the first two outs of the third on six pitches before St. Louis pushed across a pair of runs. Estrada surrendered four successive hits, with the inning finally ending when Braun and Segura combined to throw out Allen Craig at the plate on a run-scoring double by Yadier Molina.
Matt Adams smashed a 419-foot homer to dead center in the fourth to pump the Cardinals' lead to 3-0.
Steve Overbey is a contributor to MLB.com. This story was not subject to the approval of Major League Baseball or its clubs.