Offense remains grounded as Rangers split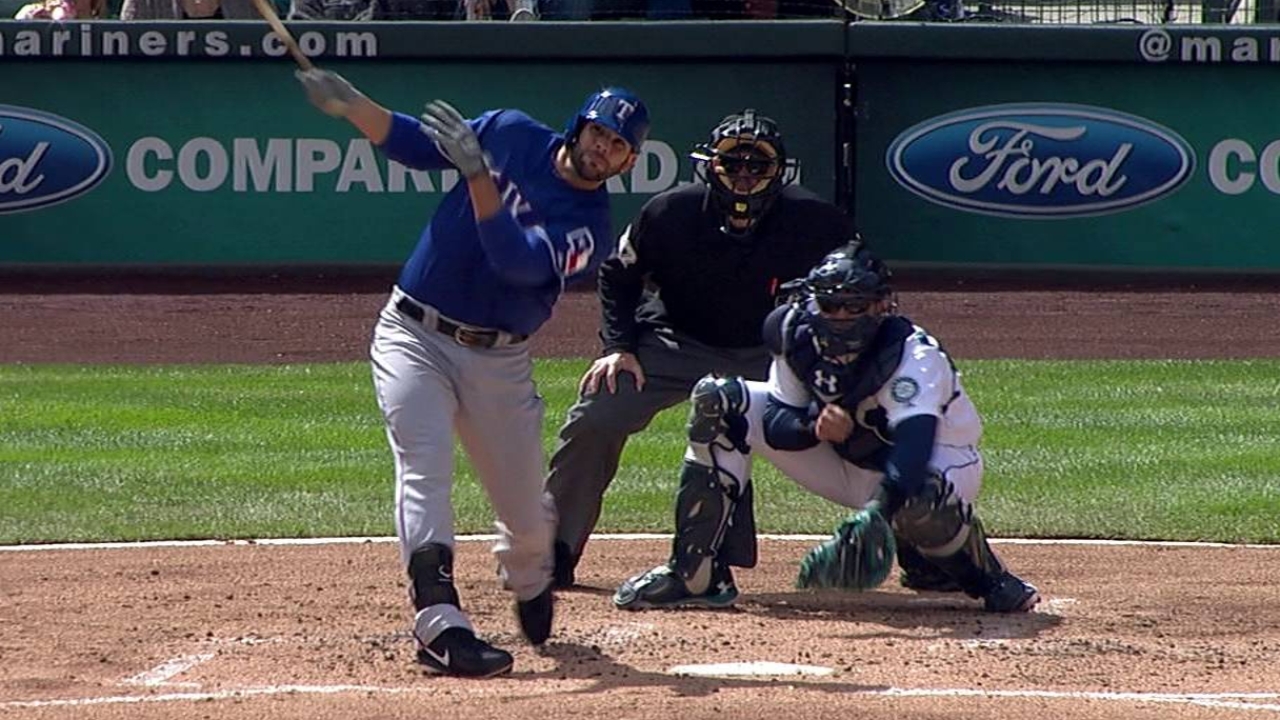 SEATTLE -- On another cold, windy afternoon in the Pacific Northwest, the Rangers went up against a rookie pitcher with a 16.20 ERA and making his third Major League start. They ended up scoring three runs on six hits, went 1-for-9 with runners in scoring position and watched as Brandon Maurer earned his first big league win.
After a 4-3 loss to the Mariners on Sunday afternoon at Safeco Field, it might be fair to say that the Rangers have yet to hit their stride offensively so far this season.
"I think it's fair to say that," outfielder David Murphy said. "The good thing is our pitching staff is doing a great job as a whole keeping us in ballgames and helping us get off to a good start. But our offense needs to get in gear, sooner than later."
"For sure," said shortstop Elvis Andrus, echoing Murphy's thoughts. "We're still fighting out there and still grinding and trying to get something going. Sometimes it doesn't go your way, but you've got to keep fighting."
The Rangers are 8-5, despite the offensive struggles. Their pitching staff boasts a 2.92 ERA and their defense has committed just five errors. But their offense is now hitting .251 with a .398 slugging percentage and averaging 3.8 runs per game. The Rangers are the only Major League team that hasn't scored at least four runs in an inning this season. That's not quite what the Rangers have been accustomed to in the past.
"I think everybody is trying to get to where we want to be," third baseman Adrian Beltre said. "Everybody is battling, we've had bad weather and faced good pitching, it has been a combination of things. But I don't think anybody is concerned about our offense. I'm not. It's a long grind."
The last five games have deflated the numbers. The Rangers, in losing to the Rays on Wednesday and splitting four games with the Mariners, are hitting .206 with 11 runs scored in those five games. They have six hits in their last 35 at-bats with runners in scoring position.
The Rangers also hit just two home runs in those five games and the players who hit them -- Ian Kinsler and A.J. Pierzynski -- were both off on Sunday. Kinsler and Pierzynski have accounted for six of the Rangers' 12 home runs.
"We still have some guys trying to find their stride," manager Ron Washington said. "Pitching and defense are keeping us in the game. We're going to start swinging the bats soon, but we've got some guys trying to find themselves."
The Rangers were able to manufacture enough offense to give starter Nick Tepesch a 3-2 lead through five innings. But the Mariners scored two off him in the sixth and Tepesch took his first loss in his second Major League start.
"I just left some pitches over the plate and they took advantage of it," said Tepesch, who allowed nine hits, did not walk a batter and struck out five.
"I thought he was pretty good again today," Washington said. "But the Mariners battled him, they did a good job of putting the ball in play and they found some holes. You've got to give them credit for swinging the bat at the right time. The bottom line is he kept us in the game and gave us a chance. We just didn't get the hit that would have made a difference."
Maurer, a 23rd-round Draft pick in 2008, was 0-2 with a 16.20 ERA in his first two starts, but went six innings and allowed three runs on five hits and a walk with five strikeouts on Sunday.
Lance Berkman had the Rangers' only hit with runners in scoring position. In the fifth inning, he grounded a two-out single through the right side that brought home one run and moved Craig Gentry to third. A passed ball brought Gentry home and gave the Rangers a 3-2 lead. But that was it for the Rangers' offense.
With Berkman at second base, Beltre grounded out to end the inning. The Rangers then managed just one single and two walks in the final four innings against Maurer and four relievers.
"We definitely haven't reached our potential offensively," first baseman Mitch Moreland said. "At the same time, we're putting ourselves in position to win. Today, we just didn't get the big hit."
That would be fair to say.
T.R. Sullivan is a reporter for MLB.com. Read his blog, Postcards from Elysian Fields, and follow him on Twitter @Sullivan_Ranger. This story was not subject to the approval of Major League Baseball or its clubs.