McKenry, Marte lead Bucs' comeback to sweep Reds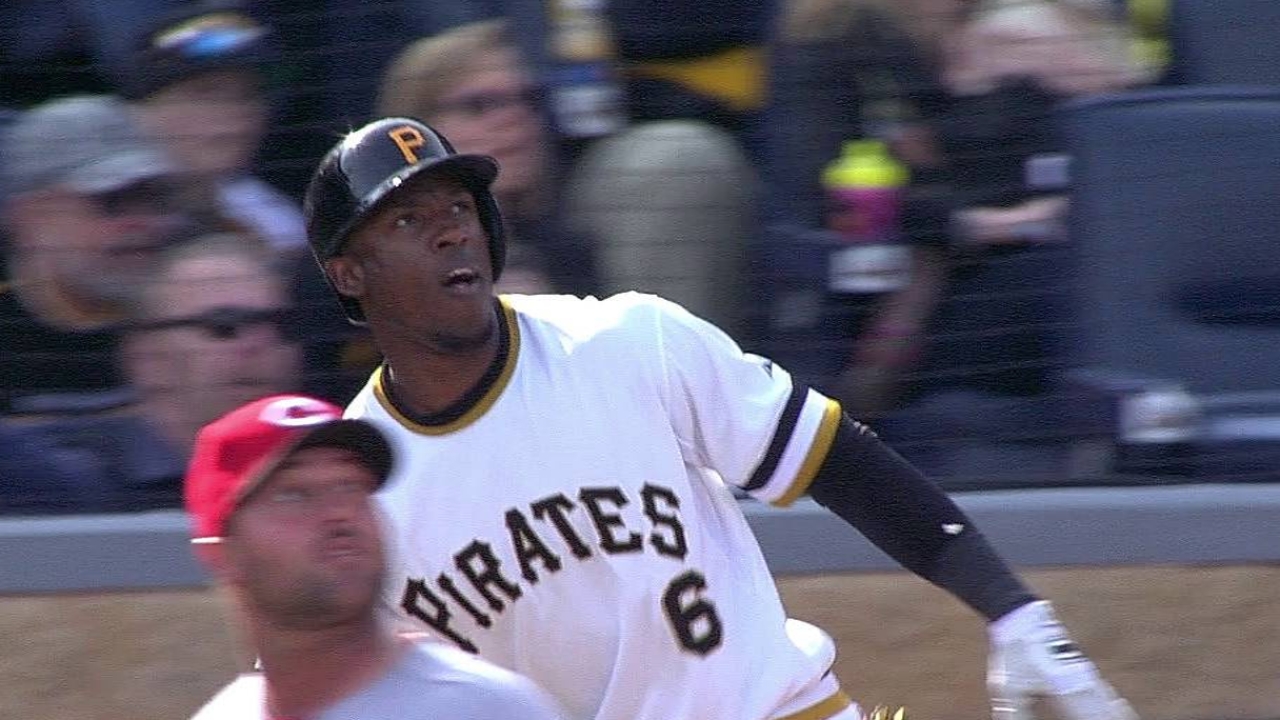 PITTSBURGH -- Alligator Alley remained in Florida. But the Pirates, who spent Spring Training scoring one comeback win after another, brought Ambush Alley back with them to Western Pennsylvania, beating the Reds, 10-7, in unlikely style to improve to .500 (6-6).
And after Sunday's series-sweeping win at PNC Park, you have to ask yourself: What in the world is developing here?
There is absolutely no way the Bucs were going to win this game. They didn't have any business even being in it, not after nervous rookie Phil Irwin's wildness staked Mat Latos to an early 5-0 lead.
Manager Clint Hurdle had had a premonition that, given the pitching matchup, the Bucs' bats would have to awaken from their early-season slumber; the team averaged .180 with only three homers through the first 11 games.
"The coaching staff was saying in the morning, 'This would be a pretty good day for us to do some batting.' I did not realize they'd wait for the last two innings to do all that offense," Hurdle said.
This was the same Latos who had given up three total runs in 19 1/3 innings against the Pirates last season, and who owned a career record of 4-0 with an ERA of 2.11 against them. And he still owned that 5-0 lead entering the seventh.
"We were pretty much held in check. We haven't sniffed a whole lot off Mat Latos," said Hurdle, recalling his thoughts from the mid-seventh inning.
There would be no middle-of-the-ninth: Within five outs, the Pirates had 10 runs, 19,239 fans dancing in the aisles and cheering for curtain calls after each of Michael McKenry's two home runs and, faithful to the early-'70s throwback uniforms, they'd become a Family, again.
Reds manager Dusty Baker was labeled the outcome as his "roughest one in a long time."
"You can never count us out. We come to play for the very last out, and are relentless," said McKenry, who called his tour around the bases following his second homer -- the two-run, eighth-inning blow off Jonathan Broxton that tied it at six -- "indescribable."
"It's one of those things you can't explain unless you go through it," McKenry said. "The way fans just lose it, call for curtain-calls … it's just unbelievable. It's a blessing to be a part of this -- this Pirates team as well as this city."
The Pirates' lashes were quick, sudden and unexpectedly dramatic from a team that had a total of three home runs in its first 11 games. The Bucs matched that in a blink: McKenry led off the seventh with a homer off Latos, followed it up an inning later with the two-run shot off Broxton, and three batters later, Starling Marte snapped the brief 6-6 deadlock with another two-run blow off Broxton.
Before the eighth ended, Gaby Sanchez's sacrifice fly and Neil Walker's single delivered two more runs to signal a rout -- definitely not in the direction expected just two innings earlier.
"Very gratifying," Hurdle admitted after the Pirates had banked their first sweep of the Reds since April 16-18, 2010. "To be able to add up [runs] and steamroll, to finish the series off … a pretty good feeling."
The Reds had converted four walks by understandably nervous rookie Irwin, who made his Major League debut, into the early lead.
In his 82 previous professional games, Irwin had never walked more than three. Indeed, it's a long way from Germantown, Tenn., Irwin's birthplace, to Deutschtown, Pennsylvania -- a neighborhood blocks from PNC Park.
Brandon Phillips' two-run single in the first and Shin-Soo Choo's two-run double in the second built a 4-0 lead that grew to 5-0 on Phillips' RBI single in the fifth.
"Definitely there were some nerves he dealt with," Hurdle said of the rookie pitcher. "But he finally found his rhythm in the third, and I think he'll look back on this as a very gratifying experience."
Latos went 6 2/3 innings, pitching around six hits until getting hurt by the long ball in the seventh. McKenry's leadoff home run was followed by a two-out RBI double by Travis Snider high off the Clemente Wall.
Snider's double underwent replay review, but second-base umpire Jerry Layne's call stood, even though the ball appeared to bounce off the hands of a fan standing behind the home run line. Andrew McCutchen made it a moot point by greeting reliever Logan Ondrusek with a ringing RBI double into the left-field corner to draw the Pirates within two, 5-3. Sanchez's pinch single off Manny Parra made it 5-4.
Jack Hannahan delivered his own run-scoring pinch single off Jared Hughes in the top of the eighth to regain a two-run lead, and apparent momentum, for the Reds.
Not to worry, because The Fort was still with the Pirates. McKenry's first career multi-homer game bookmarked this contest, which turned into an unforgettable memory for the rookie who had started it.
"Absolutely, that made it great, a lot of fun," Irwin said. "The first two innings, I was fighting through some nerves."
Irwin, the first Pirates rookie to make his big league debut with a start since Jeff Locke on Sept. 10, 2011, wound up going 4 2/3 innings and allowing six hits and five runs (one unearned), with the four walks and as many strikeouts.
On his way from the mound to the dugout, Irwin received a very gracious ovation from the crowd, which earlier had been somewhat uppity -- especially when he was unable to lay down a bunt in the third inning following a leadoff single by John McDonald.
It almost sounded like the fans' way of saying what the Pirates would soon be doing: Thanks for getting us this far. We'll take it from here.
Tom Singer is a reporter for MLB.com and writes an MLBlog Change for a Nickel. He can also be found on Twitter @Tom_Singer. This story was not subject to the approval of Major League Baseball or its clubs.