Reds edged as 'pen spoils Latos' solid start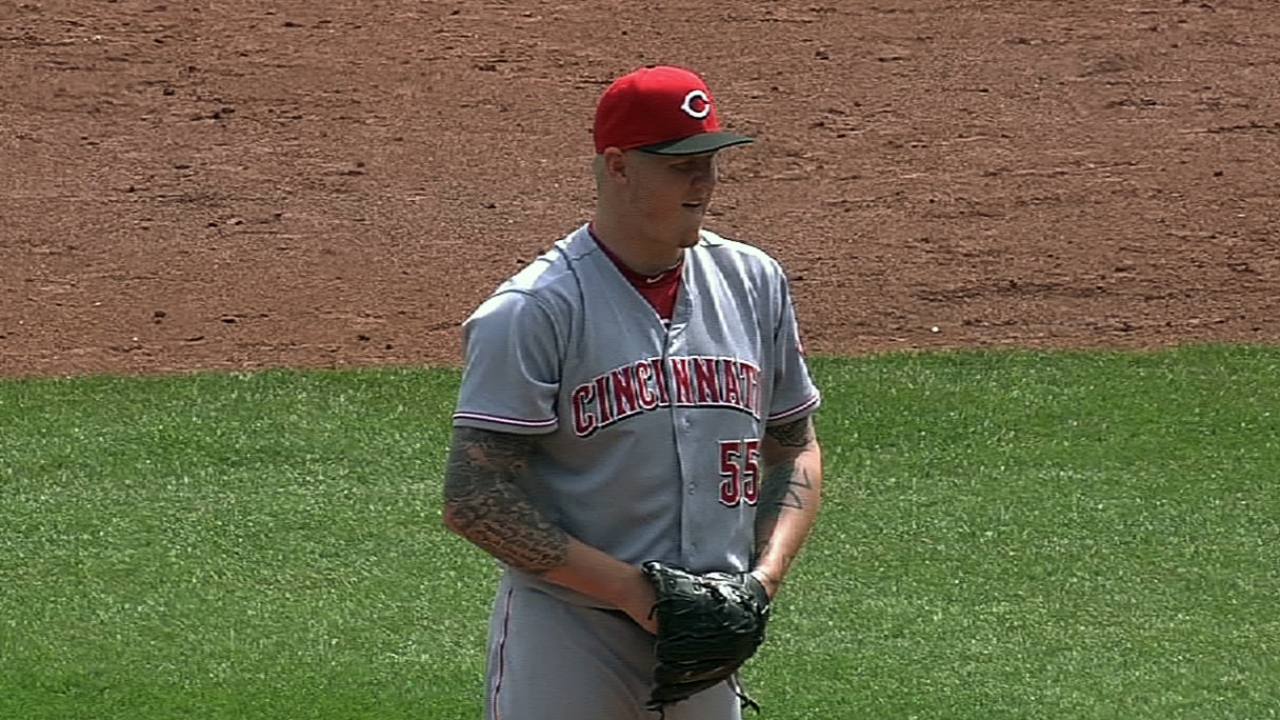 PITTSBURGH -- The Reds let the final contest of a three-game series get away as the Pirates rallied for a 10-7 win and series sweep on Sunday afternoon at PNC Park.
In the eighth inning, Pirates catcher Michael McKenry stroked his second home run of the contest, a two-run shot off reliever Jonathan Broxton, which tied the game at 6. That set up some heroics from Starling Marte, who smacked a two-run homer off Broxton, lifting the Pirates to an 8-6 lead.
"You can never count us out," McKenry said. "This team is relentless. We come to play for the very last out, and we did that today. Pitch after pitch, at-bat after tough at-bat ... And finally some good things started happening."
The Pirates added two more runs on a sacrifice fly by Gaby Sanchez and a Neil Walker RBI-single off Aroldis Chapman, sealing the victory. The Pirates trailed 5-0 going into the seventh inning.
"That's the roughest one in a long time," Reds manager Dusty Baker said. "It seemed like we left those runners out there in the eighth, and that would have been a bigger cushion. No matter who we brought in, they were all over us. I've never seen big [Jonathon] Broxton that wild, and every homer was preceded by a walk, and that was a rough day. It was a rough day for all of us."
The Reds have lost their last five, and their record is now 5-7. The Pirates stretched their winning streak to three games.
Broxton, who got the loss, allowed three hits and six runs in two-thirds of an inning. It was only second time in his career that he has allowed two homers in a game.
Reds right-hander Mat Latos gave up three runs and nine hits in a 6 2/3 innings. Latos recorded six strikeouts and received a no decision.
"We generally keep an eye on Latos at about that time," Baker said. "Then we tried to stop the bleeding by going to the bullpen, and then whoever we brought in, their their guys did the job. Boy, that was a rough day."
"I was cruising along for six innings and get to the seventh, and I just ran into a little trouble," Latos explained. "It seemed like it opened the door for a pile-on of hits after that.
Pirates right-hander Phil Irwin, who was making his Major League debut, allowed five runs (four earned) on six hits in 4 2/3 innings of work.
The Reds jumped on Irwin as Shin-Soo Choo led off the first inning with a single. Irwin issued back-to-back free passes to Zack Cozart and Joey Votto. Brandon Phillips, back in the lineup after missing Saturday's game due to a family issue, plated the runners with a single, giving the Reds a 2-0 lead.
The Reds kept the pressure on Irwin in the second inning. Chris Heisey singled and Ray Hanigan drew a walk. Choo doubled, knocking in Heisey and Cozart.
The Reds tacked on another run to make it 5-0 in the top of the fifth inning.
The Pirates got on the board in the seventh inning when McKenry blasted a solo home run. It was McKenry's first homer of the season. With two outs, Marte singled and came home on a RBI double by Travis Snider, slicing the Reds lead to 5-2. That hit chased Latos, who was replaced by right-hander Logan Ondrusek. Andrew McCutchen greeted Ondrusek with an RBI double, making it 5-3.
"The seventh inning, McKenry hit a pitch that was down in the zone. He just hit the ball, and that's what he's supposed to do," Latos said. "He just happened to hit that one, and then Snider hit a hanging slider. I didn't have a good feel for my slider today. It wasn't as hard as it normally is. That's just the way things go."
Lefty Manny Parra replaced Ondrusek and surrendered an RBI single to pinch-hitter Sanchez, cutting the Reds lead to 5-4. Parra got Walker to fly out to center field to quell the Pirates' uprising -- for that inning, at least.
The Reds picked up a run in the eighth off Pirates' reliever Jared Hughes. Todd Frazier doubled and Heisey beat out a bunt single. With one out, pinch-hitter Jack Hannahan singled, driving in Frazier and giving the Reds a 6-4 lead that was erased in the bottom of the inning.
Joey Votto hit a solo home run -- his first of the season -- in the ninth for the Reds, but it was too little, too late.
The Reds will try to right the ship when they return home to face Philadelphia on Monday.
"It's early in the season. The bullpen normally does a good job of picking us up, and it was one of those days," Latos said. "We've just got to forget about it and go to the next day."
George Von Benko is a contributor to MLB.com. This story was not subject to the approval of Major League Baseball or its clubs.