Myers' strong effort not enough as Tribe falls
Bourn hits leadoff homer, injuries hand in eighth and leaves game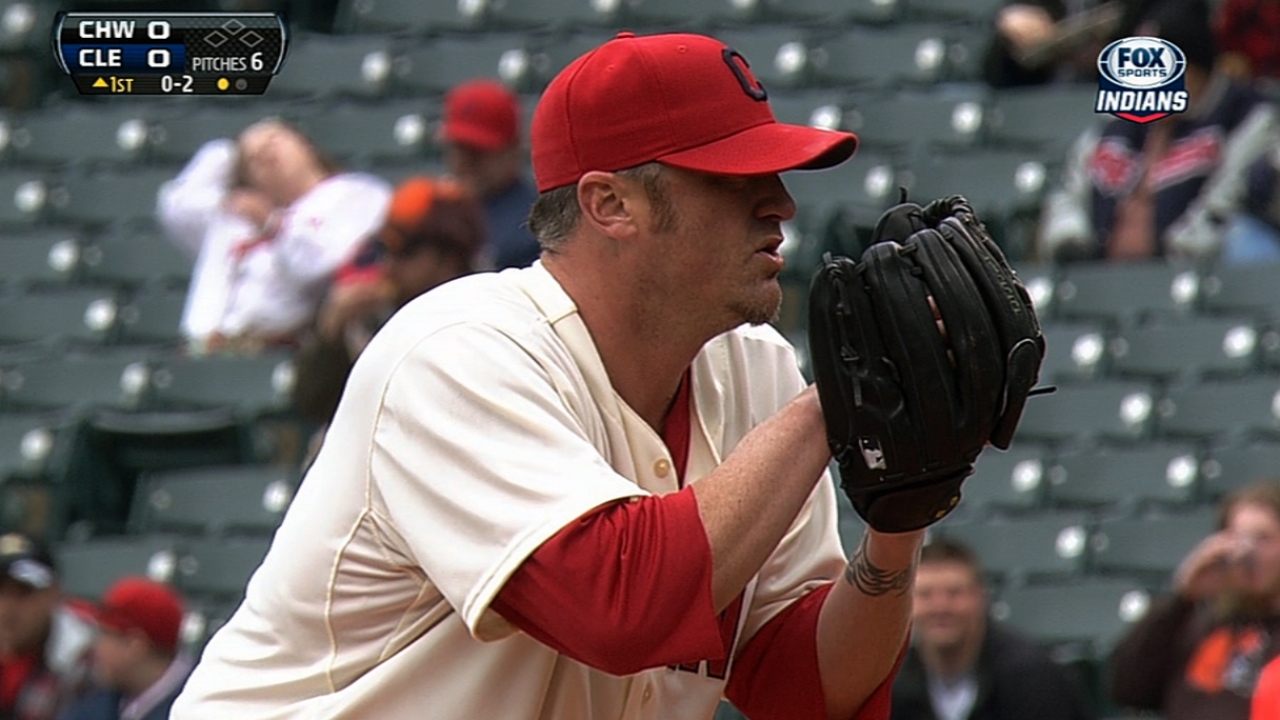 CLEVELAND -- The Indians have been waiting to see the pitcher who showed up on Sunday afternoon. Brett Myers finally looked like the starter Cleveland had in mind when the ballclub signed him over the offseason to strengthen the middle of the rotation.
Unfortunately for the Tribe, Myers' solid effort against the White Sox was not enough to avoid a 3-1 loss against righty Jake Peavy in the finale of a three-game series at Progressive Field. Despite the defeat, Cleveland took two out of three from the White Sox, and can head into Monday's off-day with a bit more confidence in Myers' ability to shore up the starting staff.
"He threw the ball really well," Indians manager Terry Francona said. "That's the guy that you're looking for. Pitching to contact. Spotting the fastball, then pitching off of that. Keeping guys off-balance. Taking something off, adding some. Going in, up, down. That was good."
The veteran right-hander -- inked to a one-year, $7 million deal over the winter -- held the White Sox to two runs on six hits over six innings. It was a drastic contrast from Myers' rough showing in the spring, and his pair of forgettable appearances to open his first season with the Tribe (5-6).
Myers allowed only one hit through his first three innings against Chicago and wiggled out of a handful of jams as his outing progressed. In the fourth, Jeff Keppinger and Alex Rios had consecutive singles to open the frame before Myers retired the next three hitters. Chicago again had two hits in the fifth, including a two-out double from catcher Tyler Flowers, but Myers stopped the rally.
The performance provided some sense of relief for the pitcher.
"I was really encouraged," said Myers, who finished with four strikeouts and one walk. I got the ball down today. I worked on it in my bullpen [session] after the last outing, so I felt comfortable today and was able to get the ball down. It showed."
With two outs in the sixth inning, the White Sox (5-7) finally broke through.
Myers fell behind slugger Adam Dunn and then walked him, setting the stage for Sox slugger Paul Konerko, who has been a thorn in Cleveland's side for years. Konerko proceeded to hammer a 3-1 pitch from Myers to deep left field for a two-run home run to give the White Sox a 2-1 lead. Chicago's designated hitter leads all active players with 47 home runs against the Indians.
Myers induced an inning-ending flyout off the bat of Dayan Viciedo, but the damage was done.
"I'm definitely happy that I got the ball down," Myers said. "But I'm not happy with the way the game turned out. One pitch hurt me."
Konerko's blast -- the Major League-leading eighth home run surrendered by Myers this season -- helped Peavy's strong performance hold up for the victory. Alejandro De Aza's eighth-inning solo shot off Indians reliever Vinnie Pestano gave Peavy some insurance.
Indians center fielder Michael Bourn caught Peavy by surprise when he drilled the righty's first pitch of the game over the right-field wall for a leadoff home run. From there, though, the White Sox starter settled in, retiring 12 in a row during one stretch from the first to fifth. Peavy ended the afternoon with 11 strikeouts, five hits allowed and no walks in seven innings.
"[Peavy] is a competitor," Bourn said. "I think he's one of the best competitors that the league has seen. He's going to bring it every time. It looked like I got him going after I hit the ball. I hit that and he got even more fired up and he was tough on us today. We were only able to squeeze that one run off of him."
Bourn, who went 3-for-4 on the afternoon, exited the game in the eighth inning after injuring his right hand. On an infield single, Bourn slid headfirst into first base and was spiked unintentionally by pitcher Matt Thornton. Cleveland's center fielder -- signed to a four-year, $48 million contract in the offseason -- received five stitches and could miss a handful of games.
"It shouldn't take too, too long," Bourn said. "I'll probably be in a little bit of pain for the next day or two. Other than that, I should be fine."
The Indians are hoping Myers will be fine from here on out, too.
After the Indians right-hander posted a 9.00 ERA in Cactus League play this spring, and then put up a 12.19 ERA (14 earned runs on 18 hits in 10 1/3 innings) in his first two outings, his quality start against the White Sox was a sign of progress. Francona said Myers should have received a considerable confidence boost from that performance.
"It's easy to tell somebody to have confidence," Francona said. "But once you do it and you feel good about yourself, the idea then is to grow off of that and continue to do that. I'm sure it helped. It should. He threw the ball very well."
Myers was not worried about what Indians fans were thinking following his first two outings.
The veteran is hard enough on himself.
"It wasn't fun to deal with," Myers said. "Whether the fans like it or not, I don't like it. I dislike it more than they dislike it. I'm the one who has to deal with it and go home and put my head on my pillow at night, and have to deal with that. If anything, I'm working harder to try to please myself than I am them."
Jordan Bastian is a reporter for MLB.com. Read his blog, Major League Bastian, and follow him on Twitter @MLBastian. This story was not subject to the approval of Major League Baseball or its clubs.