Masterful Kuroda gets help from Gardner's bat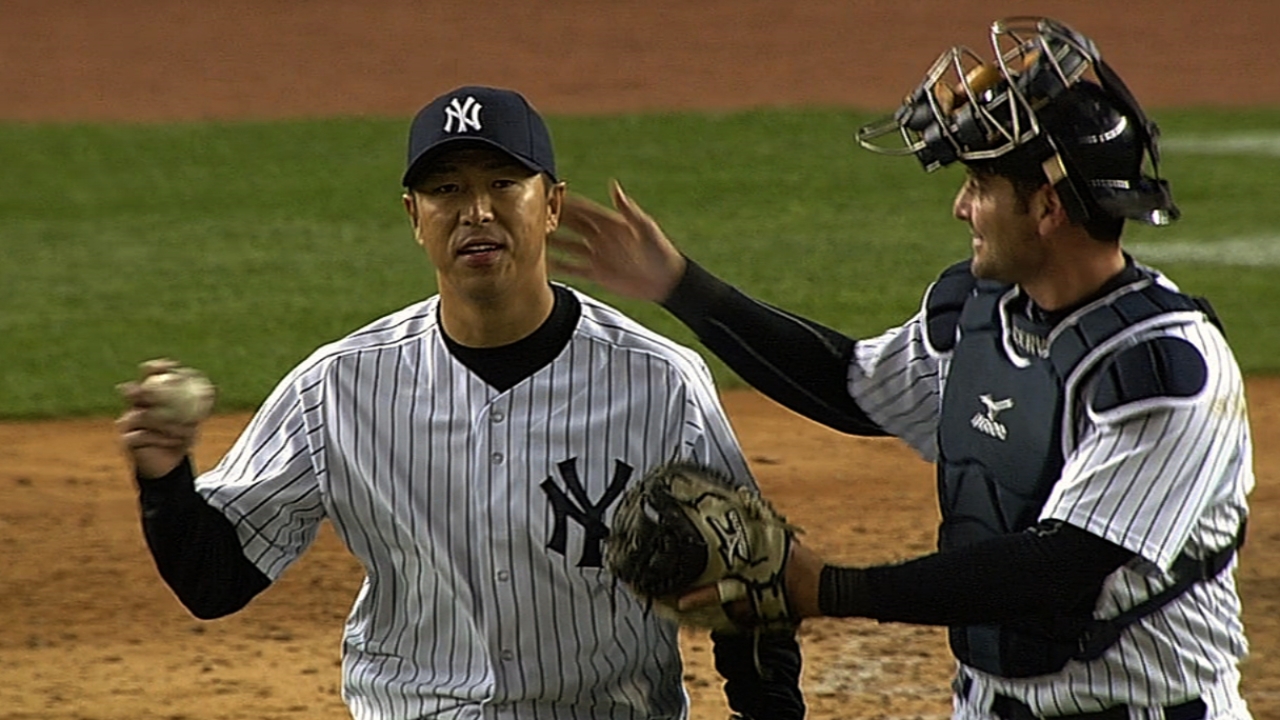 NEW YORK -- Hiroki Kuroda's arsenal was in top form, inviting the Orioles to pepper the Yankee Stadium infield with ground balls all night, and the right-hander went the distance for a complete-game victory on Sunday.

Kuroda scattered just five singles and struck out five in a masterful 113-pitch performance, leading the Yankees to a 3-0 win over the Orioles in the fifth shutout of his Major League career.

"I wasn't really thinking about that," Kuroda said through an interpreter. "I was trying to get outs one hitter at a time, and we have a great bullpen, so I didn't really think about the shutout."

Brett Gardner clanged a two-run homer off the right-field foul pole to provide the biggest blast of the night, helping the Yankees secure their fifth victory in their last six games.

"It's just nice to be able to come through in a situation like that," Gardner said. "Hiro pitched a great game to go the distance like he did. He's such a professional, he pounds the zone, he gets ahead of hitters and he's a lot of fun to watch."

Kuroda erased any lingering concerns about the right finger he bruised in his first start of the season, as he was in command all night, not permitting an Oriole to touch second base until the ninth inning. He allowed just two hits over his last 23 batters faced.

"He was throwing all of his pitches for strikes," said the Orioles' Chris Davis, who struck out three times. "It seemed like every time we had a guy up to the plate, he was getting ahead with strike one. He was throwing his offspeed for strikes, mixing his fastball. He was tough to hit tonight."

Manager Joe Girardi said that Kuroda's sinker was excellent, as evidenced by the 18 ground-ball outs he induced, and Kuroda agreed that he had been able to throw his sinker with precision to both lefties and righties as he notched his third shutout in a Yankees uniform.

Girardi also lauded Kuroda's slider and splitter, while catcher Francisco Cervelli deemed Kuroda's two-seamer "great."

"When I look at Hiroki, he's able to read swings, he's able to change speeds," Girardi said. "He has pitches that he can freeze hitters on, certain fastballs; he can get them to swing and miss on his split and slider. He has a curveball that he goes to just to get them off balance. I think he really knows how to pitch."

The shutout was the Yanks' first in the Bronx without a walk since David Wells' in April 2003, against the Twins.
The Yankees produced three runs in six innings against Orioles left-hander Wei-Yin Chen, doing all of their scoring in the fifth.

"[Chen] pitched really well," Orioles manager Buck Showalter said. "There wasn't much margin for error; we just didn't do much off Kuroda. There's not a whole lot else to critique."

Jayson Nix delivered a sacrifice fly to send home Brennan Boesch from third base with the first run off Chen, who then served up a fat pitch to Gardner that the speedster dinged for his second homer of the season.

"Every game is important, but especially against teams in your division," Gardner said. "The Orioles are a team that played us real tough last year, they've got a good team again this year, and it's going to be a battle all the way to the end. We were fortunate to win this series."

The homer was Gardner's first off a left-hander since July 3, 2010, when he homered off Ricky Romero of the Blue Jays.
With Kuroda cruising, the only late drama seemed to be if he would have the chance to put the finishing touches on his gem.

"The three-run cushion was crucial. Chen on the Orioles side, he was pitching well, too, so that three-run lead really helped," Kuroda said. "It was a three-run game, and the Orioles have a great lineup, so I tried to be focused throughout the game."

Robinson Cano made an excellent barehanded turn of a double play to get Kuroda out of the eighth inning, and Girardi said there was no question in his mind about sending Kuroda back out for the ninth.

With Mariano Rivera and Boone Logan warming up in the bullpen just in case, Kuroda pitched around a Nix error to finish the game with a strikeout of Davis.

"He's fun to catch, that guy," Cervelli said. "It's great, because he's able to throw every pitch whenever he wants, whatever place he wants. He has a plan for everybody. It's amazing."
Bryan Hoch is a reporter for MLB.com. Follow him on Twitter @bryanhoch and read his MLBlog, Bombers Beat. This story was not subject to the approval of Major League Baseball or its clubs.